P2P crypto exchange platform in Ghana: If you want to diversify your sources of income in Ghana, investing in cryptocurrencies is a great place to start. Trading cryptocurrencies has a lot of benefits in it if you get it right. There are lots of crypto exchange or P2P platforms available for crypto exchange services.
One thing you need to take note of is that there are fake and scandalous P2P crypto exchange platforms as there are authentic ones. This article will provide you with the information you need to identify the best P2P crypto exchange platform in Ghana. Before that, let us run through what P2P is.
P2P crypto exchange platform in Ghana
What is P2P?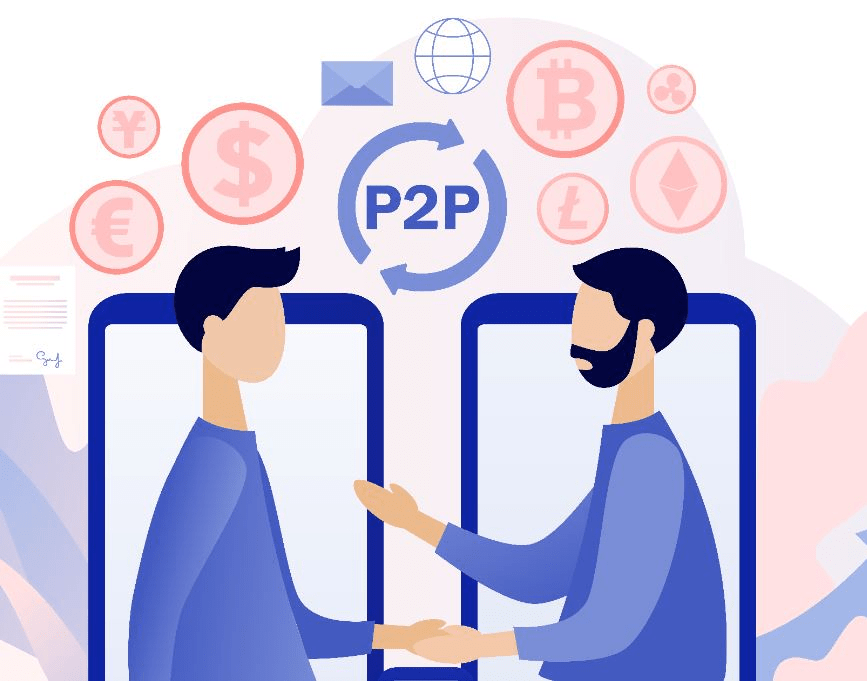 Crypto P2P in Ghana is also known as crypto peer-to-peer. It is a means by which Cryptocurrency traders in Ghana directly transact with each other through a secure and supervised system without using a third party. Cryptocurrency exchange platforms that offer this kind of service are called P2P trading platforms. On these platforms, a crypto trader can buy or sell cryptocurrencies directly from another user. P2P crypto exchange platforms may provide peer-to-peer crypto services by acting as escrow, screening, or payment processes.
Peer-to-peer crypto exchange can be done in two ways; selling and buying. Cryptocurrency Traders search through the list of crypto buyers or sellers and choose from the list the person they want to buy from or sell their asset to, or the crypto buyers and sellers post local adverts for the cryptocurrencies they want to sell or buy at an estimated price range.
Peer-to-peer or P2P crypto exchange platforms available in Ghana include Dart Africa, Binance, Paxful, and Bybit. The cryptocurrency seller and the buyer interact directly on these platforms, agree on a price, and perform their transactions. How P2P crypto exchange in Ghana works is that the crypto buyer will send the agreed payment to the account provided by the seller or vendor, he receives the cash, and the buyer will receive the assets paid for within a specific period.
How To Choose The Best P2P Crypto Exchange Platform in Ghana
As a cryptocurrency trader, you must be able to identify what makes a P2P crypto exchange platform in Ghana the best before choosing them. Many factors make up the best peer-to-peer crypto exchange platform. And investing in cryptocurrencies has high risks.
It even increases when you can not differentiate between reputable peer-to-peer crypto exchange platforms from fake ones. Therefore, it is paramount that you, as a cryptocurrency trader know cryptocurrency assets and the qualities you need in a platform before you trust them with your crypto assets. Imagine investing in a crypto asset and losing both your capital and profit all because you could not discern the exchange platform you used as authentic or fake. To avoid this heart-touching incident, the qualities you should assess in the crypto exchange platform you choose in Ghana as the best should include the following:
Before you tag a cryptocurrency exchange as "good for you", you need to evaluate its credibility. One way you can check this is through their customer reviews, including the long-term ones. You can easily discern a scam crypto exchange platform from a reputable one through its customer reviews. Through that, you can confirm how secure your transaction would be and what complications you may encounter while using the platform. Clients have minimal or no difficulties trading their cryptocurrencies with the best P2P crypto exchange platforms.
Best P2P crypto exchange platforms charge zero transaction fees on cryptocurrency trading on their platform.
Another factor to look for in the best P2P crypto exchange platform is how accessible its services and contacts are. If there is any transaction error, can you easily contact them? The best cryptocurrency exchange platforms place their clients first, so they do all things to make their services, as well as those in charge easily accessible, including the accuracy and speed of transactions.
Trade Your Cryptocurrency With The Best P2P Crypto Exchange Platform in Ghana
If you are still thinking about the best P2P crypto exchange platform in Ghana to trade your crypto assets with, Dart Africa is the one you should choose. Dart Africa focuses on how to make trading very easy. Dart Africa does this by ensuring that you are provided with the best rates possible for your crypto and eradicating transaction delays, the website and application are user-friendly, and you can easily reach out.
To exchange your crypto for some Cedis, follow the steps below:
Visit the Dart Africa website or download our mobile app on any app store.
Create an account, or log in if you already have an account. Add your local bank account.
Navigate to the Sell Coin section and fill in the necessary information. Ensure you fill in the correct details and follow the prompts after.
Your payment will be sent to your dashboard wallet once your transaction is confirmed. Withdraw your cash in Cedis.
P2P crypto exchange platform in Ghana – P2P crypto exchange platform in Ghana