In every thriving industry, introducing a new product sparks the emergence of numerous supporting businesses. A prime illustration of this phenomenon is the multitude of iPhone accessory brands that surfaced following the initial release of the iPhone, like iWatch, iPen, Airtags and so on.
This phenomenon is the same in the cryptocurrency world. The invention of Bitcoin brought up various digital wallets, Stablecoins, USDT, Ethereum, Smart Contracts, NFTs, Bitcoin ATMs and the like.
Bitcoin ATMs, also known as BTMs (Bitcoin Teller Machines), have gained popularity as an alternative to traditional banking channels for purchasing or cashing out Bitcoin (BTC). Their rise in prominence correlates with the increasing value of cryptocurrencies and the growing confidence placed in them by users.
What Is Bitcoin ATM or BTM?
Bitcoin ATMs function similarly to traditional ATMs, serving as portals for users to conduct financial transactions. However, the key distinction lies in the type of transactions facilitated. While traditional ATMs enable cash withdrawal and deposit, Bitcoin ATMs would allow users to buy and sell Bitcoin using cash.
In 2013, the pioneering Bitcoin ATM debuted at the Waves coffee shop in Vancouver, Canada. Although that particular ATM has been subsequently removed, its presence laid the foundation for other Bitcoin ATM companies to enter the market, driving innovation and establishing their unique positions within the industry.
There are approximately 28,000 Bitcoin ATMs distributed worldwide, with a significant concentration in the United States. North America dominates the global market, holding an impressive market share of nearly 90 per cent for Bitcoin ATMs. The leading manufacturers in this industry are Genesis Coin, commanding a market share of 41.5 per cent, followed by General Bytes.
Challenges Poised By BTM
Bitcoin ATMs have since faced many challenges concerning regulations. Finally, a consensus was reached upon agreeing that Bitcoin ATMs also had to adhere to the same laws and regulations as traditional ATMs. 
These limitations encompass restrictions on the number of deposits and withdrawals an individual can make per transaction and within a single day. For example, in the United States, Bitcoin ATM operators are required to register with the Financial Crimes Enforcement Network (FinCEN) and adhere to the Anti-Money Laundering (AML) regulations outlined in the Bank Secrecy Act (BSA). These measures are in place to ensure compliance with financial regulations and prevent money laundering activities.
The Bitcoin ATM might request your cell phone number to send a text verification code depending on the transaction amount. Additionally, before finalising a transaction, you may be asked to scan a government-issued identification document, such as a driver's license, as a verification requirement. These measures help ensure the security and legitimacy of the transactions conducted at the Bitcoin ATM.
To the disappointment of many cryptocurrency enthusiasts, the anonymity provided by numerous Bitcoin ATMs has significantly diminished. This change can be attributed to regulatory measures that mandate users to verify their identity, particularly for significant transactions. These regulations have been implemented to ensure compliance with financial security protocols and prevent illicit activities.
How Does BTM Work
There are two major steps to using a Bitcoin ATM, verifying your identity and deciding whether to buy or sell Bitcoin.
Verify Your Identity
When a user first comes up to a machine, they must verify their identity. This can be done in a variety of different ways depending on the machine. Most BTM requires users to provide a phone number to receive a verification code. Depending on the transaction amount, you might be required to provide a government-issued ID like a Driver's license for further verification.
Decide To Buy Or Sell
After logging into the BTM, users are presented with the choice of buying or selling Bitcoin. For purchasing Bitcoin, users can insert cash into the machine and generate a QR code from their cryptocurrency wallet on their mobile device. The BTM then scans the QR code to complete the transaction, and the purchased Bitcoin is transferred to the user's wallet.
For selling Bitcoin, users initiate the transaction by sending Bitcoin from their digital wallet to the QR code displayed on the Bitcoin ATM. The process may vary depending on the machine, with some Bitcoin ATMs instantly dispensing cash to the user while others may require a brief processing time. However, it's worth noting that these verification times are significantly faster compared to online exchanges, providing users with a more efficient experience.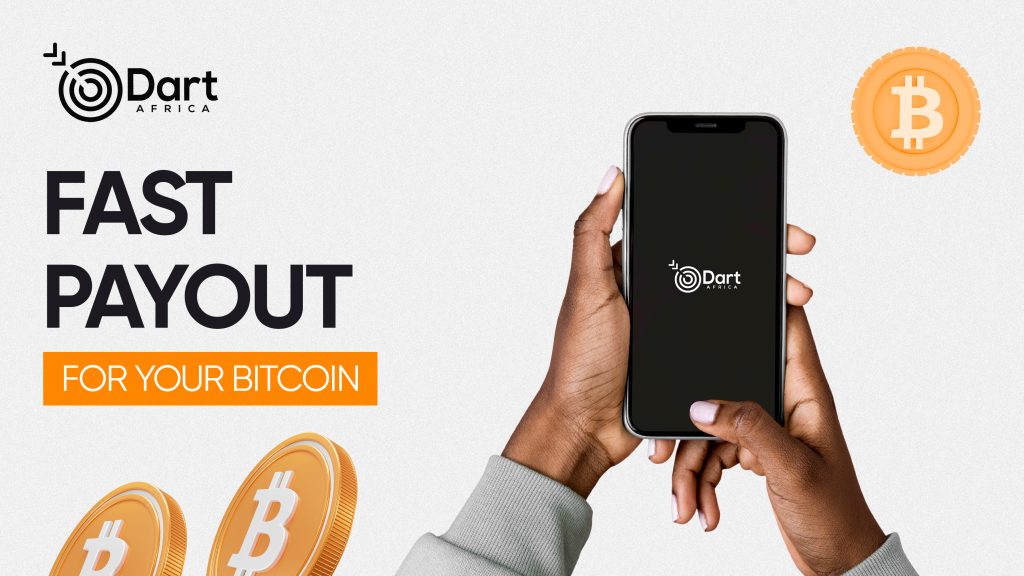 Also read: Bitcoin Halving: Understanding The Significance Of This Key Event In Cryptocurrency
We don't have an active BTM in Nigeria, so you have to rely on an exchange platform like Dart Africa to sell your cryptocurrency to get the highest value. Dart Africa is a local exchange platform that bases its operation in Nigeria and Ghana. You can sell your cryptocurrency for either naira or cedi, and the exchange rates are always competitive and favourable.