mobile money for BNB: Have you been looking for a platform where you can get mobile money for BNB in Ghana? Well, you are in luck. Welcome to the home of swift BNB to mobile money conversion in Ghana. Follow closely as we unveil the steps to getting mobile money for BNB in Ghana.
The best platform to get Mobile money for BNB
The most important thing to note when checking how to get mobile money for BNB in Ghana is to be sure of the credibility of the exchange(s) involved. To get familiar with the basic requirements of a credible platform for your crypto conversion, check the box on the features below:
Platform Security: The security of your identity and money is very important above all. Ensure the platform has a proven track record of secure payment and transactions before going into it. A popular litmus test to guarantee the security of a platform is to check for reviews on Google or other rating platforms. Reading the honest comments of others about a trading platform will help you get clarity with the use of a trading platform and also inform you on whether or not to go about trading on the platform. Another subtle means of checking is to see if the website is secure. A locked padlock icon on the browser right before the web address is an indication of a secure platform. However, getting reviews is a better yardstick for checking the credibility of a platform.
App rating: Reviews do not lie, they say. Checking for the app rating and reviews on reliable app stores like the Google Play Store for Android, Apple Store for iOS, and Microsoft Store for Windows is another reliable box to check. These platforms are open to the public; thus, anyone could write freely what they think about the services of any app. If there are too many bad reviews, the app will have a poor rating, thereby pointing to the fact that it is a terrible pick for a trading platform. Look for an app that has at least 4.5 of a 5-star rating.
Fast transaction: You do not want to get stocked with a trading platform when you need quick mobile money. Check for a platform that offers crypto to cedis in minutes and to rid yourself of unnecessary stress with crypto trading.
Sweet rates: Profit is always the sole purpose of venturing into any trade. Getting the best off of your BNB is very important. If you want to check rates on Dart Africa, click here to visit the coin calculator and enter the required details on the page. This will show you the current rate for converting any coin to cash in Ghana and Nigeria. If you are checking for BNB, select BNB as your coin type and enter the amount. The prevailing rates for USD, NGN, and GHS will appear at once.
All these and more are features that are often associated with Dartafrica.io. The trading interface here is easy-to-use and available at all times. Traders on Dart Africa have enjoyed these amazing features of Dart Africa for many years. You want to join this moving train.
How to sell BNB for mobile money in Ghana
Dart Africa offers two platforms that aid crypto trading for mobile money in Ghana; the mobile app and the website. The mobile app is available on the Google play store for Android users. Its interface is smooth, fast and easy to understand. Likewise, the website too. It is available on any browser on any device. You can make a trade on your personal computer if you so wish.
mobile money for BNB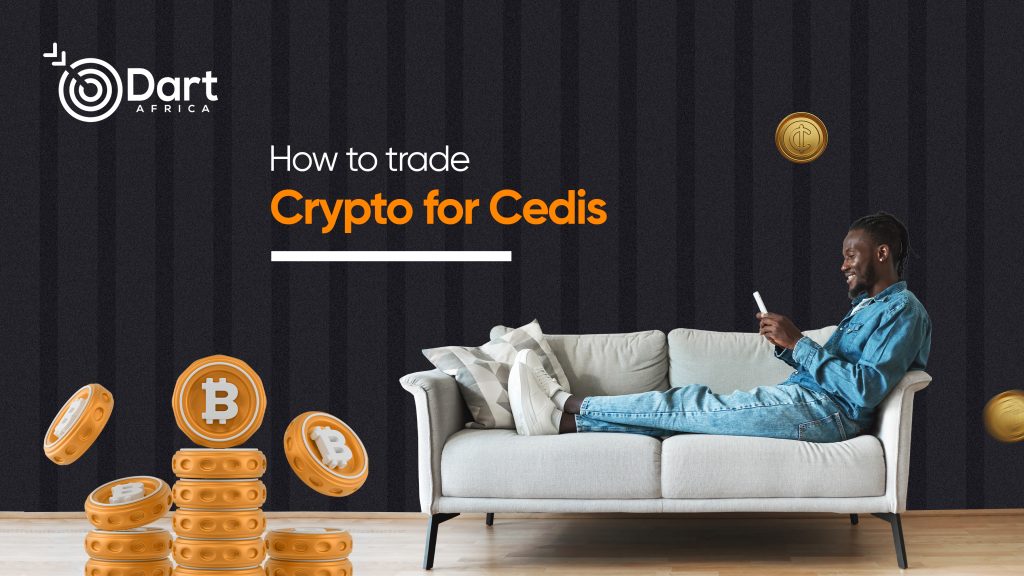 Getting the mobile app is simple. Launch the google play store on your Android device and search for Dart Africa. Hit install and ensure you are downloading the one from Flip Digital Technologies. Launch the app and follow through as the prompt guides you.
For the website, make sure you have your internet connection to any mobile or desktop device of your liking. Visit Dartafrica.io, and you are set to begin your trading process. The following steps will guide you to sell your BNB for mobile money in Ghana:
Click "sell coin" on the homepage.
Provide your login detail. If you do not already have an account, click the sign-up link below the page. Enter the details correctly as they are listed. Your username, email address, country, phone number, and secure password. This is the information that will represent your identity on Dart Africa and help us serve you well.
After submitting, verify your email address via a link you will receive on the email you submitted.
Login to your account.
Select a coin and enter the amount in the "sell coin" section and enter the amount. For instance, to trade 100 BNB, select BNB as your coin type and enter 100 as the amount. If you want to enter the amount in USD, enter the exact USD value in the field provided for the USD amount.
Submit a trade and make a BNB transfer to the wallet address displayed on your screen.
You will receive payment after 2 confirmations and can proceed to withdraw funds to your mobile money wallet.
Click the withdrawal button below the wallet balance and update your mobile money details. Enter the amount and submit. Your mobile money wallet will be credited in a few minutes.