How do I cash out my cryptocurrency: Cashing out cryptocurrency is dependent on several factors. What country are you trading from? What currency would you like to trade coins for? How many coins do you want to trade for local currency? In this post, we will be expounding on some of the best practices to get cash for your cryptocurrency.
How do I cash out my cryptocurrency
Firstly, you must identify what crypto trading platform works best for you. Getting the trading platform that works for you is country-specific, as several trading platforms operate in individual countries. In Africa, some of the leading trading platforms that offer the best rates and make trading easy for new and existing traders are Dartafrica.io, Binance, Luno, Roqqu, Busha, and more. If you want to try things out, we would be more than happy to show you around.
Are you looking for where to sell your coins in Nigeria and Ghana? Dart Africa is a TOP pick for several reasons. Talk about the rate for trading crypto in your country; you need to get the best rates to trade coins profitably. How about the speed of the transaction? You must go with a platform that processes your crypto trading completely immediately after you transact. There are more features that traders should look out for besides speed and rates that would come along later in this post.
Getting Cash for Cryptocurrency in Ghana and Nigeria
Dart Africa is the number one trading platform for selling crypto assets in Nigeria and Ghana. If you want to sell Bitcoin, Ethereum, Binance USD, and some other coins for quick cash, you have arrived at the right plug. Dart Africa has a Mobile app for Android on the Google Play Store that allows for swift and easy trading. If you would like to get the app for your Android mobile, search "Dart Africa" on your google play store and hit the install button. Launch the app and follow the prompt accordingly.
How do I cash out my cryptocurrency?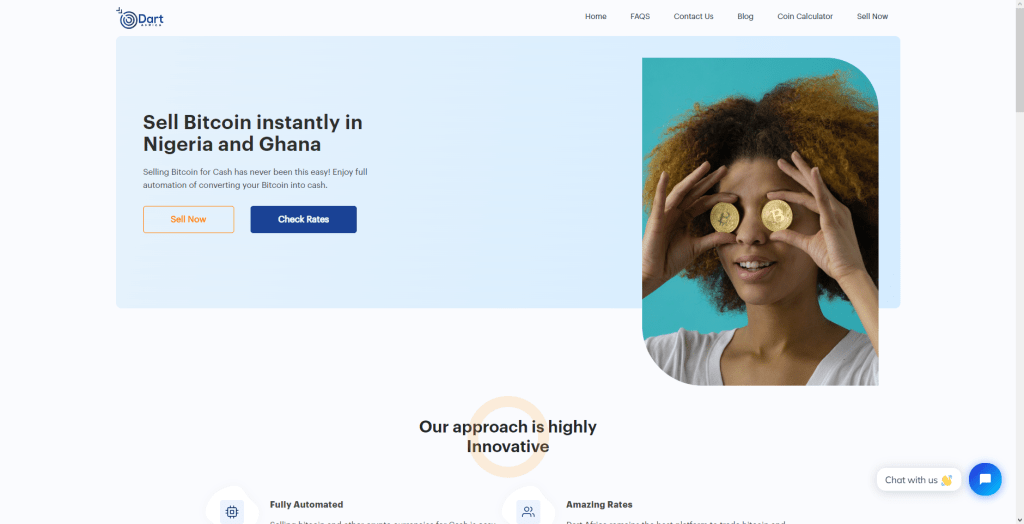 If this is your first time trading, here's a comprehensive step-by-step guide on how to sell your first cryptocurrency in Ghana and Nigeria:
Visit https://dartafrica.io with your mobile or desktop browser. Ensure you have a good internet connection on your device to facilitate smooth page loading.
Click the SELL COIN button on the homepage to visit the sign-in page. If this is your first time on Dart Africa and you do not have an account registered yet, click on the SIGN-UP link below the page to create your account. The prompt requires the user to enter basic details to create an account. Username, email address, country, phone number, and password. If you have an account already, enter your login details and proceed to your trading dashboard. New users will have to verify their email address after registering before they can log in though. So, ensure you have provided a correct email address where you can receive and verify email.
Login to the account you just created.
Look for the sell coin section on the trader's dashboard or among the tabs on the right top corner of the page. Select your preferred coin type and the amount in coins or USD. This automatically displays your exchange value in GHS and NGN. Once you are cool with the rates displayed, hit the button below to proceed.
Send coins to the wallet address provided. To do this, you can easily copy the wallet address on display and paste it into the app you want to send from. Confirmations might take a while, but as soon as two confirmations are complete, Dart Africa will send your funds to your wallet.
After receiving funds in your wallet, you can now withdraw to your local bank. The wallet balance is available on your dashboard. Hit the "withdraw funds" button below the wallet balance and follow the prompt.
Check rates for selling Bitcoin, Ethereum, USDT, and BUSD in Nigeria and Ghana
If you only want to check for the current rates for your crypto assets, there is no need to register an account at all. Dart Africa has a coin calculator that is capable of bringing you the latest rates for all trades. Follow the steps outlined below to check coin rates in a matter of seconds:
Goto Dartafrica.io and click the "check rates" button. Or, directly visit dartafrica.io/coincalculator.
Select the coin. You have a variety of coins you can check from. BTC, BUSD, USDT, and more. Choose the coin you want to check the rate for. Note that you can check for more than one coin and for as much time as you want.
Enter the coin amount or amount in USD. If you are going with the coin amount, enter the quantity of the coin that you want to check. For instance, enter 50 if you want to check for 50 USDT. If you are checking with USD, enter the amount of USD that you want to sell. Enter 200 in the area provided if you want to check the sell value of $200 worth of BTC.
The exchange value will display instantly on top of the screen.
How do I cash out my cryptocurrency – How do I cash out my cryptocurrency