exchange Bitcoin for mobile money: Due to the rise of mobile money services and the growing number of Bitcoin owners, exchanging Bitcoin for mobile money has become increasingly popular. Throughout this article, we will examine the process of converting Bitcoin into mobile money and offer tips for making the most of it.
Exchange Bitcoin for mobile money
Step 1: Choose a Bitcoin exchange platform
The first step in exchanging Bitcoin for mobile money is to choose a reputable and secure Bitcoin exchange platform. With the growth of the cryptocurrency market, many platforms have emerged, making it important to choose one that is reliable and has a good reputation in the market.
When choosing a platform, it is important to consider several factors, including the security of the platform, the fees charged, the available payment methods, and the supported currencies. It is also good to read reviews and check the platform's track record before deciding.
A platform that we recommend that fits all the descriptions of things you need in an ideal bitcoin exchange platform is DartAfrica. However, DartAfrica is more than just an exchange platform; it is a brand that communicates the intricate values of transparency, speed, and reliability.
Step 2: Create an account on the exchange platform
Once you have chosen a platform, you must create an account. This will typically involve providing personal information such as your name, address, and email address. You may also be required to provide identification documents to verify your identity.
This verification process is important for ensuring the security of your funds and for complying with regulatory requirements. Therefore, it is important to choose a platform that has a robust verification process to protect your funds and personal information.
To create an account on DartAfrica, follow these steps:
● Follow this link – dartafrica.io – and click on "Get started." This takes you to a page where you will be asked to sign up.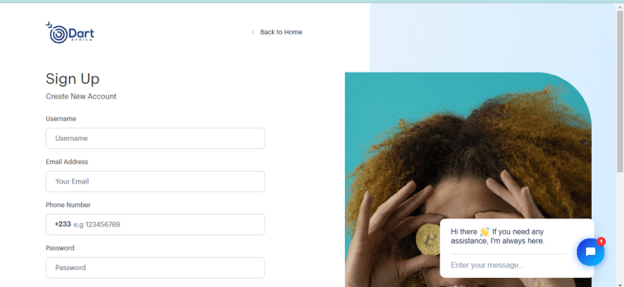 Follow the instructions that have been provided and set up your account.
● After creating your account successfully, log in to your account to access your dashboard.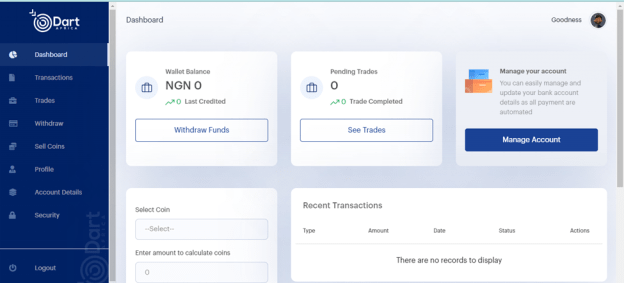 Step 3: Transfer Bitcoin to the exchange platform
The exchange platform allows you to transfer your Bitcoin once you have created your account. This can be done by transferring your Bitcoin wallet to the exchange's wallet. You will need to provide the exchange's Bitcoin address and the amount you wish to transfer.
It is important to make this transfer and double-check the details before confirming the transfer. A mistake in the transfer process could result in losing your funds.
For DartAfrica, follow these steps:
On your dashboard, click on "Sell Coins." Here, you will select the cryptocurrency you want to trade. In this case, select "BTC'. Then fill in the amount of bitcoin you want to sell and check out the naira equivalent of this. When you've done that, you will need to transfer that amount of bitcoin to the wallet provided on the platform. You can also scan the QR code provided if you can.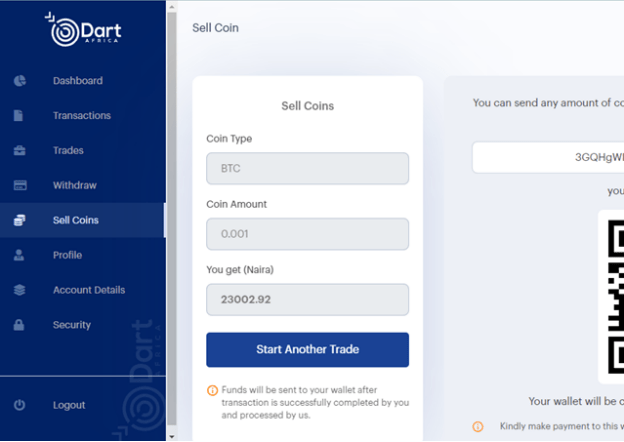 Follow the other instructions given to complete the transaction.
Step 4: Choose the option to exchange Bitcoin for mobile money
Once your Bitcoin is in the exchange's wallet, you can then choose the option to exchange it for mobile money. This process may vary from platform to platform, but generally, you will need to select the option to exchange Bitcoin for mobile money and provide the details of your mobile money account.
You should also make sure to carefully review the exchange rate and any fees that may be associated with the exchange. For example, some platforms may charge a flat fee for the exchange, while others may take a percentage of the total amount exchanged.
For DartAfrica, follow these steps:
After selling your bitcoin, the cash will reflect in your DartAfrica Naira wallet. You will then need to withdraw this money from your naira wallet to your bank account.
To do this, follow these steps
● Click on "Withdraw" in your dashboard

● Add your account if you've not done that.
After that, you will include the amount you would like to withdraw and other necessary details requested. Then, click "Withdraw."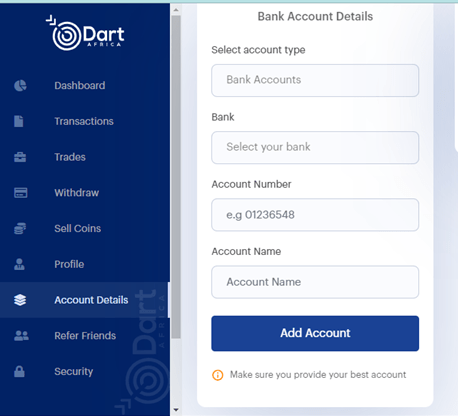 Step 5: Confirm the exchange and transfer
Finally, you will need to confirm the exchange and transfer. You will see the amount of mobile money you will receive in exchange for your Bitcoin and any applicable fees. You should carefully review this information before confirming the exchange.
Take the time to review this information carefully and ensure all the details are accurate. A mistake in the confirmation process could result in losing your funds or receiving an incorrect amount of mobile money.
Step 6: Receive mobile money
Once the exchange is confirmed, the mobile money will be transferred to your account. This process may take a few minutes or up to several hours, depending on the exchange platform and the volume of transactions.
When you receive mobile money, it is important to check the amount to ensure it is correct. In addition, you should contact the exchange platform for clarification if there is a discrepancy.
Exchanging Bitcoin for mobile money is a convenient and efficient way to access the value of your Bitcoin. By following the steps above, you can make the most of this process and ensure that your funds and personal information are protected.