HOW TO SELL BITCOIN FOR CEDIS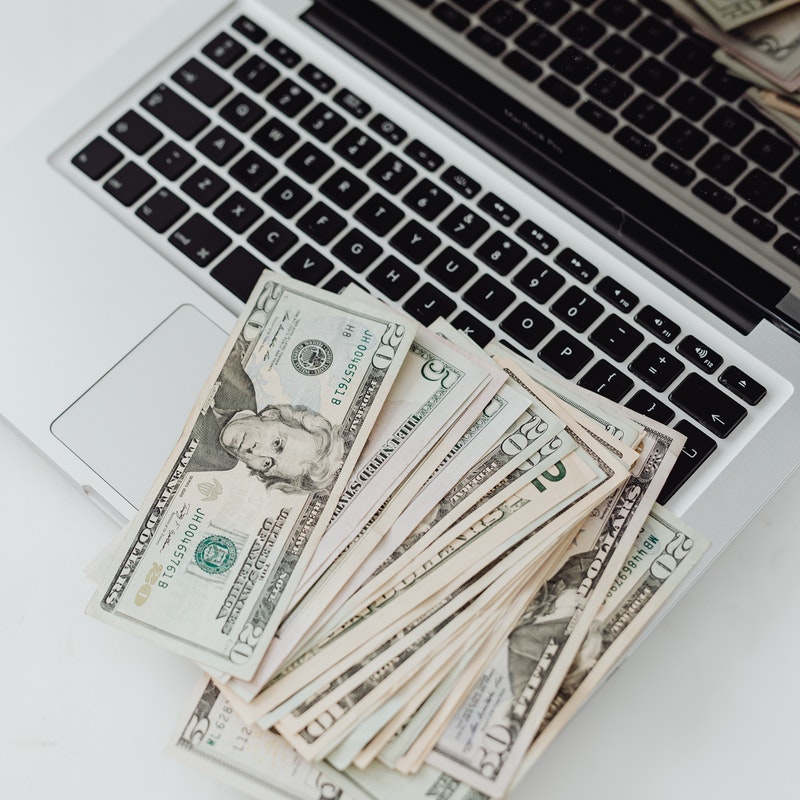 HOW TO SELL BITCOIN FOR CEDIS: It is difficult to determine how exactly to categorize Bitcoins. Does it function as a type of currency, store of value, payment network, or asset class? Bitcoin is, fortunately, a bit easier to define. It's software. Please don't be fooled by stock images of shiny coins bearing Thai baht symbols altered from their original. Bitcoin is an entirely digital phenomenon, a system of protocols and transactions.
Cryptography, the science of making and breaking codes, was selected as a method of creating virtual money since it was also the most successful of the hundreds of attempts. There have been hundreds of Bitcoin imitators, but Bitcoin remains the largest cryptocurrency by market capitalization, a title it has maintained throughout its history.
The Bitcoin Foundation states that the term "Bitcoin" is capitalized when referring to the cryptocurrency as an entity, but it is spelled out "bitcoin" when referring to a quantity or individual units of the currency. Bitcoin is also known as BTC
Blockchain technology allows Bitcoin to be used for payments, but there are a few reasons why you may desire to sell your bitcoins. It is possible for you to receive bitcoins directly to the best bitcoin wallet address in Ghana without delays or questions thanks to Dart Africa.
DartAfrica, on the other hand, is a fully automated cryptocurrency trading platform with the ability to purchase and sell bitcoin, Ethereum, and perfect money. Coins sold to us are credited in Cedis automatically once they are received
The company with a strong understanding of fundamentals of effective communication intends to use this knowledge to benefit its clients as it grows. The goal of DartAfrica is to make trading a pleasant and memorable experience for its customers. Dart Africa is not looking to further clog up the already overcrowded market of bill payment platforms, rather to fulfill its mission to enhance the customer experience.
Our success has been fueled by understanding things and how they work. Because of this, we can understand our clients' needs and develop solutions around them. Our structure has been designed to enable us to work individually with each client, helping us better understand how they use our products. This allows us to understand what they are looking for and provide the right solution for them.
When you create a Dart Africa account, you instantly are eligible for an operational bitcoin wallet that is unique to you with which you can use to sell bitcoins in exchange for cedis at anytime, be it bank transfer to any Ghana bank or mobile money.
Choose the currency with which you want to cash out
Choosing which form of currency (Cedis) to accept for Bitcoin is the first thing you need to do. The likelihood is that you in the US aren't looking to sell your Bitcoin for Euro (EUR) or Pound sterling (GBP). This is crucial, since some services don't accept US dollars. There are some exchanges that do not support fiat currencies at all.
Sign up on a selling platform with a cryptocurrency account
After you've determined which currency you wish to exchange for your cryptocurrency, it's time to sign up for a website that allows you to sell your bitcoins, dartafrica.io Check that the platform can cash out in the currency you determined in step 1, even though it's obvious. We like all the ones below because they support many different fiat currencies!
There are tons of platforms to sell Bitcoin on, and the easiest, by far, is Dart Africa. Signing up on Dart Africa is really simple – it's like making an account on Amazon!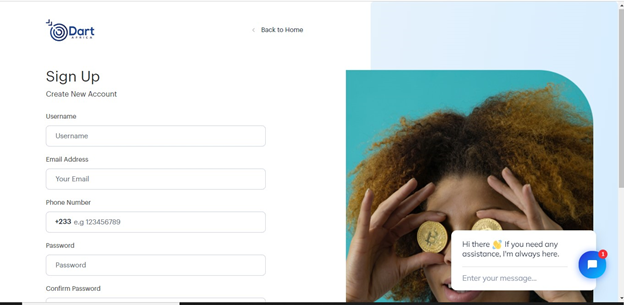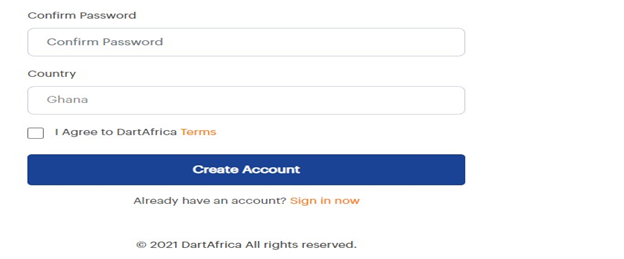 You'll now need to deposit your cryptocurrency assets on the exchange once you've created your account.
Select "Deposit" or "Sell" on the interface. It will be possible to see an address for your wallet or a QR code. Using your Bitcoin wallet, you can send the coins you wish to sell.
Here is your chance to make a sales offer on the platform you are selling on. Essentially, you have to determine how much Bitcoin you are willing to sell for. Each platform has its own ways of doing this, but it generally works the same. Use the "sell" or "trade" tab, and either sell at the price offered by the broker or use an exchange order book to create a custom sell order.