Trust Wallet is a very popular cryptocurrency wallet that many crypto traders use. Renowned for its features and usability, Trust Wallet has secured a significant user base as it provides users with a reliable platform to store, manage, and trade their digital assets.
Trust Wallet is compatible with many blockchain networks and tokens, which makes it versatile. Users can easily use different decentralized applications (DApps) and participate in the burgeoning world of decentralized finance (DeFi).
Trust Wallet offers a range of functionalities and benefits to its users. Some of its features include:
Secure Storage: Trust Wallet provides a secure storage solution for cryptocurrencies, keeping users' funds protected from unauthorized access.
Decentralized: Trust Wallet allows users to have full control over their private keys, ensuring the privacy and ownership of their digital assets without relying on a centralized authority.
Multi-Currency Support: With Trust Wallet, users can manage and store a wide variety of cryptocurrencies, providing flexibility in handling different digital assets.
DApp Browser: Trust Wallet includes a built-in decentralized application (DApp) browser, enabling users to access and interact with various decentralized applications directly from the wallet.
User-Friendly Interface: Trust Wallet offers a user-friendly interface that is easy to navigate, making it accessible even to those new to cryptocurrencies.
Trust Wallet is not only available on mobile devices but also has a helpful extension for desktop users. This extension lets people use the wallet directly in their desktop browsers.
Also Read: Hodling vs. Trading: Key Differences You Should Know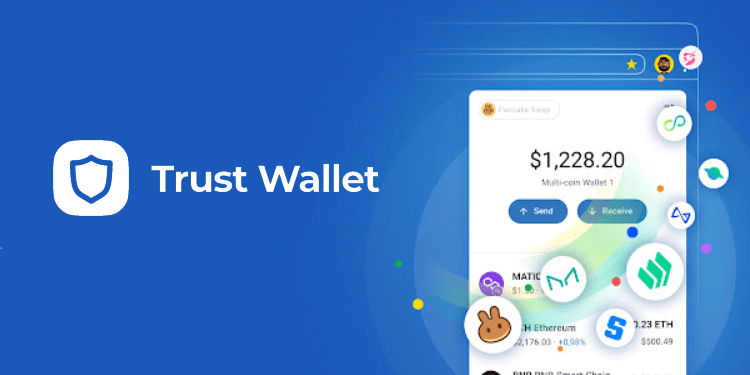 Where to Download Trust Wallet Extension
Setting up the Trust Wallet Extension is a straightforward process. Here are the steps to follow:
Open your desktop browser (compatible with Trust Wallet extension) and visit the browser's extension store (e.g., Chrome Web Store for Google Chrome).
Search for "Trust Wallet" in the extension store's search bar.
Locate 'Trust Wallet extension' from the search results and click on it to access the extension's page.
Click on the "Add to [Browser Name]" or "Install" button to begin the installation process.
Wait for the extension to download and install. Once installed, you may see a confirmation message.
Look for the Trust Wallet icon in your browser's toolbar or extension area. It may appear as the Trust Wallet logo or a small wallet icon.
Click on the Trust Wallet icon to launch the extension.
Follow the on-screen prompts to set up your Trust Wallet extension. This may include creating a new wallet or importing an existing wallet using your recovery phrase.
Once the setup is complete, you can start using the Trust Wallet extension to manage your cryptocurrencies, access DApps, and perform transactions on your desktop.
Remember to always keep your wallet's recovery phrase safe. The recovery phrase helps you access and restore your wallet if something unexpected happens, like losing your device or it getting damaged. With the Trust Wallet extension, users can easily handle their cryptocurrencies, access decentralized applications (DApps), and make transactions without any trouble.
For crypto traders, it is common to sell their holdings in Trust Wallet and convert them into cash. Dart Africa is the easiest way to do this. Users can easily transfer their assets from Trust Wallet to Dart Africa by simply sending them to the wallet address generated by Dart Africa. Once the transfer is initiated, users can expect instant payment in their local currency. Dart Africa provides a secure platform for selling cryptocurrencies for cash.