Sell USDT In Ghana: USDT (Tether) is a digital currency on the blockchain (just like most crypto coins) its tokens are backed by an equivalent amount of United States dollars, making it a stablecoin i.e. every dollar worth of USDT is backed by $1. Stablecoins track traditional fiat currencies, like the dollar, the pound, or the Japanese yen, which are held in a designated bank account. Stablecoins just like the name implies are known for their stable price which is strange in the crypto economy.
Sell USDT In Ghana
USDT tokens, created by the crypto exchange BitFinex, are the native tokens of the Tether network and trade under the USDT symbol. As of April 2022, USDT is the third-largest cryptocurrency by market capitalisation, worth more than $80 billion, the current bear market has however reduced the market capitalisation to around $60 billion.
Tether belongs to the category of cryptocurrencies called stablecoins, it aims to keep cryptocurrency valuations stable, unlike the wide swings in the prices of other types of cryptocurrencies like Ethereum and Bitcoin. USDT just like traditional currencies is designed to be used as a medium of exchange and a mode of storing value, instead of a tool for speculative investment in crypto assets like Bitcoin and other altcoins (altcoins are other crypto coins apart from Bitcoin).
Tether was explicitly designed to create the vital bridge between fiat currencies and cryptocurrencies and offer stability, transparency, and low transaction cost to users
As stated earlier, USDT is a safer option for cryptocurrency users because it offers a way to avoid the price volatility associated with other cryptocurrencies like Bitcoin, Ethereum, Arbitrum, BNB and others. Furthermore, having USDT reduces transaction costs and delays that hinder trade execution within the crypto market.
To sell your USDT in Ghana, you have to go through a cryptocurrency exchange platform. The best ones in the exchange market will ensure you receive payment immediately after confirming the cryptocurrency (in this case USDT transaction). Getting a trusted platform can be a hassle because the crypto exchange market is somewhat still at its emerging stage and is filled with mediocre platforms and sometimes fraudulent ones. If you are familiar with the cryptocurrency world, this statement won't surprise you.
However, platforms like Dart Africa can be trusted to sell your USDT (Tether) and you will certainly get a good exchange value for your USDT and other tradeable cryptocurrencies on the platform.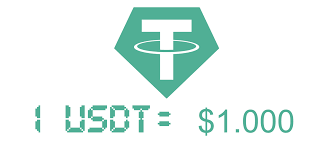 1 USDT In Cedi
You can get the exchange value for your USDT using the in-built coin calculator on Dart Africa. This can be done without committing to any sort of trade on the platform. Currently, 1 USDT is valued at GHS 9.40 on Dart Africa. Prices are subject to changes, confirm the prevailing exchange rate using Dart Africa Coin Calculator.
The first thing most people consider while choosing a platform to sell their cryptocurrency is the exchange rate offered on the platform. At Dart Africa, the exchange rate offered is designed to favour the customers, when you trade your cryptocurrency on Dart Africa, you will get the best market value for it.
At Dart Africa, we've also ensured that our users can easily access and use the platform to sell any of their cryptocurrencies. If you are familiar with sending and receiving crypto coins, then you can easily sell your cryptocurrency on our platform.
Another reason to consider Dart Africa for your cryptocurrency trade is the speed of transactions on our platform. Apart from the time it takes the blockchain to authenticate a cryptocurrency transaction, which varies depending on the type of crypto coin you are transacting, your traded amount will reflect on your account within 5 minutes.
At Dart Africa, we understand the need for a customer support service. Hence, we have implemented a 24/7 customer support service to attend to our customers in case of any enquiry or any issue that needs resolving.
How To Sell USDT On Dart Africa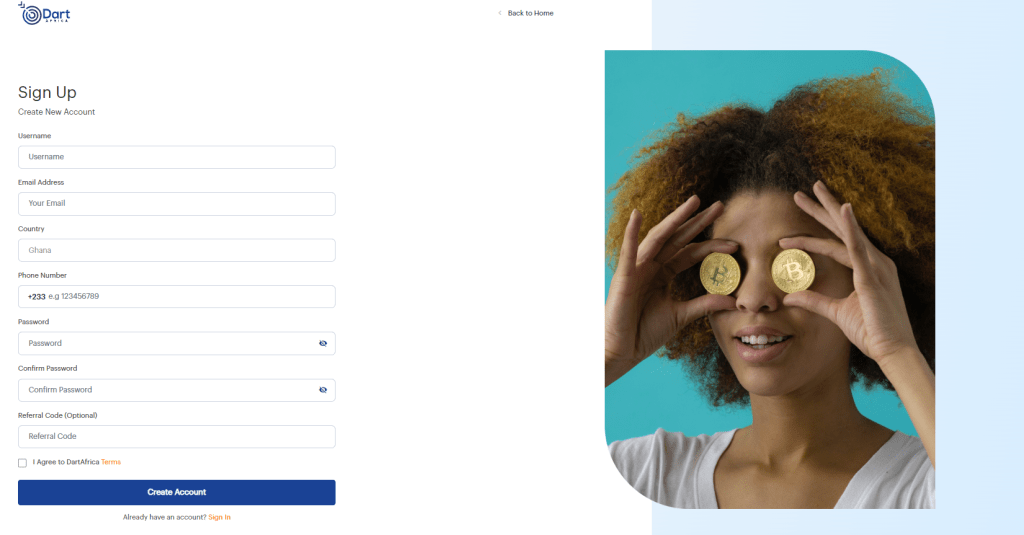 Simply create an account using your correct credentials on our platform. Or you can just log in if you already have one.
After you have successfully logged in, you will gain access to your account dashboard which will show you, your wallet balance, the Sell Coins interface, Pending transactions and recent transactions.
Go to the Sell coin interface and choose USDT as the coin you want to sell, input the amount and the Dollar and Cedi value will be displayed. Note, the minimum amount of crypto coin you can sell is $20.
Send the USDT to the wallet address provided by scanning the QR code or manually inputting the address. The former is suggested since it eliminates the risk of inputting the wrong address.