bitcoin trading in Nigeria: Bitcoin trading in Nigeria grows by the day irrespective of the legal restrictions posed by the government. In recent years, many young citizens of Nigeria have now made bitcoin, amongst other cryptocurrencies, an alternative to the country's unstable fiat currency (Naira). Despite the CBN's prohibition of crypto transactions from Nigerian deposit money banks, many individuals still trade bitcoin, even corporate organizations. Allegedly, some businesses accept Bitcoin as a means of payment in the country.
Bitcoin trading in Nigeria
There are several ways to trade crypto in Nigeria without dealing with its legal consequences. Many crypto exchanges have devices for new methods of trading bitcoin to evade these litigation issues; one of the commonest solutions is P2P trading. Instead of conventional trading crypto from local bank accounts to crypto wallets and exchanges, P2P trading puts crypto trading in the hands of the crypto traders themselves. More than that, there are platforms where you can sell bitcoin easily without issues in Nigeria. DartAfrica.io is one of those trusted and reliable platforms for bitcoin trading in Nigeria.
To trade bitcoin successfully in Nigeria, there are a few pros and cons to consider before you get into the deal or make investment decisions. Here are some of the upsides and downsides of crypto trading in Nigeria.
Disadvantages of Bitcoin trading in Nigeria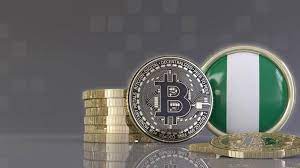 Risk of fraud: As common with many financial investments and transactions, the risk of fraud is one of the most dreadful downsides to trading bitcoin in Nigeria. There are a host of bitcoin fraudsters posing as reliable exchangers wanting to rip crypto investors and traders off their funds. To avoid this, ensure to trade with the best platforms and avoid platforms that offer ridiculously high rates or turnover. Many have lost their funds to crypto investments that promise them a certain high percentage of turnover over a short time of investment. Also, check for the reviews of other traders on the trading platform you are choosing to trade with. Reviews are some of the easiest and most reliable ways to know a scam site different from a platform that functions well and upholds professional trading ethics.
Market volatility: The value of Bitcoin is prone to fluctuate momentously, as it responds to the wave of demand, supply, and market speculators. This has thrown a great challenge to Nigerians and even Non-Nigerian around the world. If a trader does not have the proper training on how to predict the market and strategies for determining stop loss, it might lead to a significant loss of the trader's Bitcoin funds. Hence, traders should get learning on how to determine their best entry and exit strategy.
Limited information and infrastructure: The infrastructure for buying and selling crypto in Nigeria is still relatively restricted compared to that of other countries. The litigation issue also poses a threat to the release of relevant information on recent happenings that can help traders perform better in the crypto world. However, with a good trading platform like Dartafrica.io, you can get all that you need to be a successful bitcoin trader in Nigeria.
Advantages of bitcoin trading in Nigeria
The advantages of trading Bitcoin in Nigeria are enormous. From the profits made to the financial security that comes with it and more. Here are a few upsides to trading crypto in Nigeria:
Decentralization: Bitcoin is a decentralized digital currency, meaning the government of the state or financial institutions have no control over the funds there. Hence, it is a fine way to guarantee the security and stability of your investment. The issue of the Dollar gaining against the Naira is not an issue when you invest in BTC. All investments will be traded at the current dollar market rate. Therefore, saving you from the incessant degradation in the value of the Naira.
Zero entry barrier: Besides the restriction of transacting directly with deposit money banks, anyone can enter into trading crypto at any time with a few clicks. All you need to do is to learn the basics and follow through.
Anonymity: Bitcoin transitions are often referred to as pseudonymous, meaning that the identity of parties involved in a transaction remains hidden. This is a very useful feature for people who like to keep their business dealings anonymous while still in charge.
Global accessibility: Unlike the Nigerian Naira and many other fiat currencies, bitcoin is a globally recognized means of exchange. Business owners across different countries can make payments across borders without going through conventional banking processes.
How to trade with the best Nigerian Bitcoin Trading app

Visit Dartafrica.io
Create an account
Login account
Select a coin and enter the amount in the area provided
Transfer bitcoin to the address provided
Await instant payment after two confirmations
Add bank details and withdraw funds to a local bank account.