What is P2P Trading, and how does it work in Nigeria
What is P2P Trading: P2P trading is known as peer-to-peer trading or people-to-people trading more recently. It is a decentralized financial system of trading where individuals can trade currencies and other tradable items with fellow traders.
In crypto trading, P2P trading is a system of buying and selling cryptocurrencies between individuals without the need for intermediaries like exchanges, banks, and financial institutions. P2P transactions occur on networks that link buyers and sellers, facilitate transactions, and frequently offer escrow (dispute resolution) services.
What is P2P Trading
According to many studies, P2P trading happens to be one of the fastest, cheapest, and most flexible trading systems. It is even more useful for individuals who may not have access to traditional financial services or those who find some processes too complex.
P2P Trading in Nigeria
In recent years, P2P trading has gained reasonable popularity due to the raising development of online marketplaces that connects buyers and sellers. These platforms often serve as a great alternative to traditional financial services and do next to the same or better than what local banks offer. Most recent marketplaces offer distinctive features like fast transactions, lower fees, and increased flexibility.
Another event that has contributed to the heightened need for P2P trading in Nigeria is the constant development of policies against the use of Cryptocurrencies. Since the ban on cryptocurrencies in 2021, most crypto traders in Nigeria now trade their cryptocurrencies with each other over the P2P trading system instead of the regular trader-to-exchange service. Hence, P2P trading represents one of the most used and preferred methods of trading in Nigeria.
Some of the popular trading platforms that offer crypto trading on peer-to-peer include Paxful, Binance, Roqqu, BuyCoins, and Busha. These platforms (exchange sites and apps) have developed a system that allows traders to connect and trade their favourite crypto assets. By connecting buyers and sellers directly, P2P trading platforms have the potential to revolutionize the financial landscape in Nigeria and provide new opportunities for economic growth and development.
How does P2P trading work?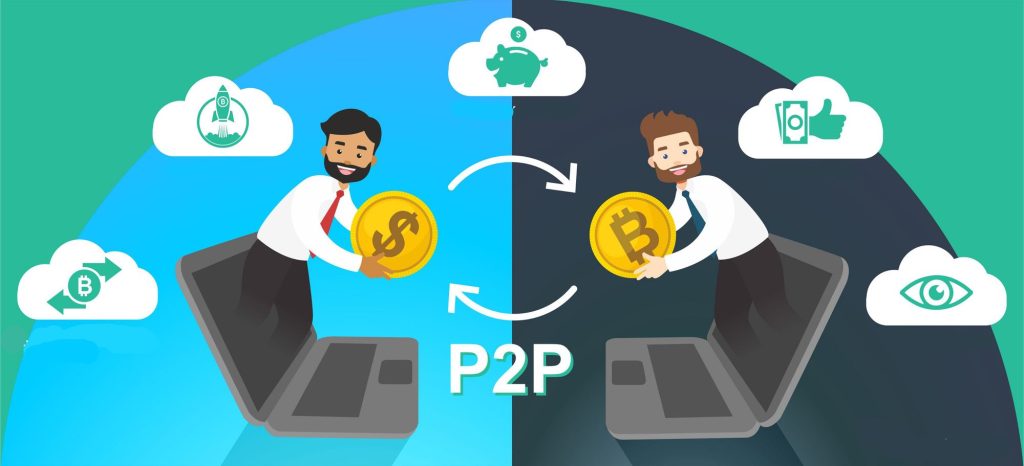 Trading the P2P way is one of the most efficient methods to transact crypto, and anyone should know how to get around it. Essentially, P2P trading works like an escrow system. It employs the role of a third party (the exchange) to facilitate, supervise and complete trades between two independent traders. Buyers go on the exchange service, skim for a seller that is willing to sell at the price they are willing to buy, make payment, and get coins in exchange.
Note that the process may be a little different on various trading platforms. However, with the following steps, you should get a hang of things quickly:
Register on a platform that supports P2P trading: Of course, not all Nigerian Crypto trading platforms offer P2P trading as a trading method. One needs to be sure to choose a platform that allows crypto traders to interact on the P2P network. Some of the commonest crypto trading sites and apps that support P2P trading are Binance, Paxful, InstaShift, Remitano, CryptoLocally, OKEx, BuyCoins, Roqqu, BitValve, Coindirect, and Blockvila.
Register and Locate a seller: The next stage is to create an account and find a seller that has the number of coins you want to buy and is willing to sell at the price you want to buy. Sellers are often listed on the peer-to-peer trading platform where buyers can see them and select the seller they want to buy from. If you want to sell, register as a seller on the exchange and choose the price at which you are willing to sell. The most affordable and reputable traders are often on top of the list. So, having an attractive price puts you on a clearer pedestal to sell coins faster.
Make payment: When you are sure of the seller you want to trade with, send money to the account details provided and wait for approval from the seller. The seller is obliged to send coins as soon as he/she receives the payment.
If it takes too long before the seller responds, the buyer can file a dispute with proof of payment. The exchange can now step in and resolve the dispute as it is due. The buyer will get credited regardless of if the seller responds or not. This is possible because the exchange ensures that the quantity purchased is available before and after the buyer makes payment.
The fastest way to sell cryptocurrency for cash in Nigeria
In Nigeria, Dartafrica.io holds the record as the fastest crypto trading platform. Trading here takes just a few minutes, and withdrawal is swift and easy. You can sell Bitcoin, USDT, USDC, BUSD, and more for instant naira to your bank account. Here is a quick DIY step-by-step for trading crypto with Dartafrica:
Visit Dartafrica.io
Register/create an account
Verify account via email
Log in to your dashboard
Select a coin to sell
Enter the amount of coin
Check exchange in USD and local currency
Proceed to trade by sending crypto to the address provided
Receive payment on your Dart Wallet
Withdraw money to your bank account
What is P2P Trading – What is P2P Trading