current Ethereum price in Nigeria: The current exchange rate for selling Ethereum for cash in Nigeria is 1,208,296.76 per coin. At this rate, the USD exchange value would be 1,639.48 and 19,509.81 in Ghanaian cedes.
The rates may vary on different exchanges, but getting the best rate would certainly be the prize for any smart crypto trader. Dart Africa offers some of the best rates to trade gift cards in Ghana and Nigeria. Besides getting the best rates, Dart Africa is also an easy-to-use platform and is available to support new traders on their quest to become successful crypto traders in Nigeria and Ghana.
Current Ethereum price in Nigeria
Another thing that is important to note is that crypto assets like ETH, BTC, LTC, and more are not stablecoins. Hence, their value in the crypto market is subject to constant change. Their high volatility makes their value fluctuate significantly and unpredictably over a short period. Several factors can be responsible for this high level of volatility of cryptocurrencies. Let us quickly understand why cryptocurrencies might fluctuate in the market.
Reasons for high Volatility in Cryptocurrencies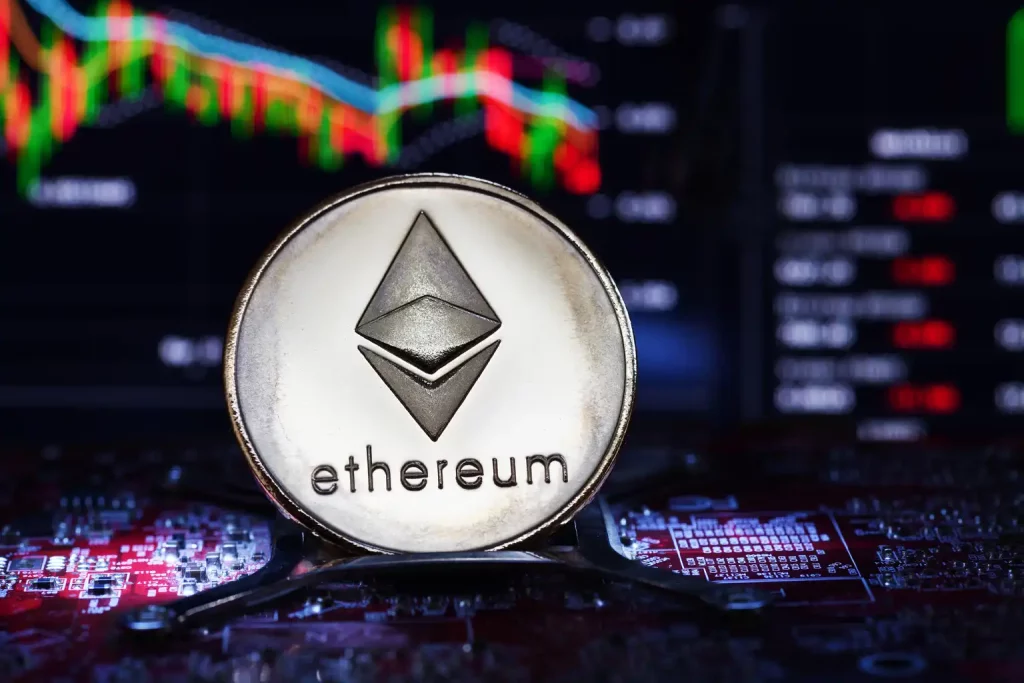 Limited supply: Most cryptocurrencies have a limited supply. Cryptocurrencies are immaterial commodities but are still subject to the general laws of demand and supply. Hence, their value can be influenced by changes in demand. If there is high demand for a particular cryptocurrency and the supply is limited, the price can increase rapidly. Similarly, if there is low demand and the supply is high, the price can decrease rapidly. Bitcoin, for example, has a maximum coin supply of 21 Million units.
Lack of regulation: The cryptocurrency market is largely unregulated, which can contribute to its volatility. Without regulation, there is no oversight of the market, and price manipulation can occur more easily. Market speculators can make large investments or move investments to control the market.
Market sentiment: The cryptocurrency market is highly influenced by market sentiment. It can be driven by news events, social media, and other societal factors. When there is positive news or sentiment surrounding a particular cryptocurrency, its value can increase rapidly, and when there is negative news or sentiment, the value can decrease rapidly.
Speculation: Because of the high volatility of cryptocurrencies, many traders and investors use them for speculative purposes, which can contribute to their volatility. When traders and investors buy and sell cryptocurrencies based on speculation, it can create large price swings in the market.
Overall, the volatility of cryptocurrencies can present both risks and opportunities for traders and investors. It is important to remember that the cryptocurrency market is highly unpredictable, and investors should do their research and be prepared for the risks involved. Taking advantage of these irregularities is one of the strategies that big traders employ to stay on top of their game in the crypto trading industry. However, you must first have some things on the check. Getting steadily informed on the rate for trading your favourite cryptocurrencies in Nigeria would be a step to trading at the best rate.
Do you want to check the current rate for trading ETH in Nigeria from your mobile device? Dart Africa can help you with that. To keep your eyes on the rates and know the best time to sell, Dart Africa offers a 24/7 coin calculator that will help determine the best current price to sell your crypto asset at per time. This tool is free and accessible to literarily anyone. There is no need to register or enter any personal detail to check rates here.
How do I Check ETH to Naira current rate?
This process is not just peculiar to trading Ethereum but also trading most of your favorite cryptocurrencies like Bitcoin, USD Tether, USD Coin, BUSD, and more. The process is also easy and fast. All you will need is a mobile or desktop device with a browser connected to the internet. The easy steps are as follows;
Go to Dartafrica.io
Click on "check rates" on the displayed homepage.
Select a coin. Here you are expected to choose the currency you would be checking. If your preferred coin is not listed, please reach out to customer support through the various channels provided in the contact us section. Or, look up Dartafrica on social media and send a DM. There is also an option to live chat in the right-bottom corner of the homepage.
Enter the coin amount. This is the amount of the afore-chosen coin that you want to check. For example, 0.5. assuming we are checking the rate for ETH.
The exchange value at the time of checking will display immediately in USD, GHS, and NGN. These rates are constantly updated as the crypto market changes value.
Sell cryptocurrency on Dart Africa
It is not enough that you check rates on Dartafrica. Our seasoned app and website features set us as one of the most reliable and profitable crypto trading platforms in Ghana and Nigeria. These qualities also make us one of the most preferred among many trading platforms in Africa. Would you like to take a swing at what is lurking for you here? Visit Dartafrica.io today and get yourself an account. No stress, No fees!
current Ethereum price in Nigeria – current Ethereum price in Nigeria