Capital in cryptocurrency refers to the financial resources, typically in the form of fiat currency or other digital assets, that individuals allocate towards investing, trading, or participating in the cryptocurrency market. With the rise of cryptocurrencies like Bitcoin and Ethereum, capital has become a vital component in this evolving financial ecosystem. Investors utilize their capital to acquire, hold, or trade cryptocurrencies, aiming to generate profits or diversify their investment portfolios.
The allocation and management of capital in cryptocurrency require careful analysis, risk assessment, and strategic decision-making to navigate the volatile nature of the market. As the cryptocurrency landscape continues to grow, understanding the role of capital becomes essential for individuals seeking to participate in this emerging asset class.
Capital plays a vital role in the world of cryptocurrency, and its importance can be attributed to several key factors. Here are four reasons why capital is significant in cryptocurrency:
Investment Opportunities
Capital allows individuals to participate in the cryptocurrency market by acquiring digital assets such as Bitcoin, Ethereum, Litecoin, USDT or other altcoins. Investing capital in cryptocurrencies presents opportunities for potential returns and portfolio diversification. By strategically allocating capital, investors can benefit from the growth and value appreciation of these digital assets.
Trading
Capital is essential for traders who engage in buying and selling cryptocurrencies for short-term profits. With sufficient capital, traders can take advantage of market fluctuations and volatility to execute profitable trades. Having capital readily available enables traders to enter and exit positions swiftly and capitalize on price movements in the market.
Initial Coin Offerings (ICOs)
Capital is instrumental in financing blockchain projects and startups through ICOs (Initial Coin Offerings). ICOs provide a means for these projects to raise capital by selling their native tokens to investors. By investing capital in ICOs, individuals can support promising projects and potentially earn returns if the project succeeds.
Building the Crypto Ecosystem
Capital is necessary for the growth of the overall cryptocurrency ecosystem. It enables the establishment of cryptocurrency exchanges, wallet providers, payment platforms, and other infrastructure components that support the adoption and use of digital currencies. Capital injections into these projects contribute to the advancement of the cryptocurrency industry as a whole.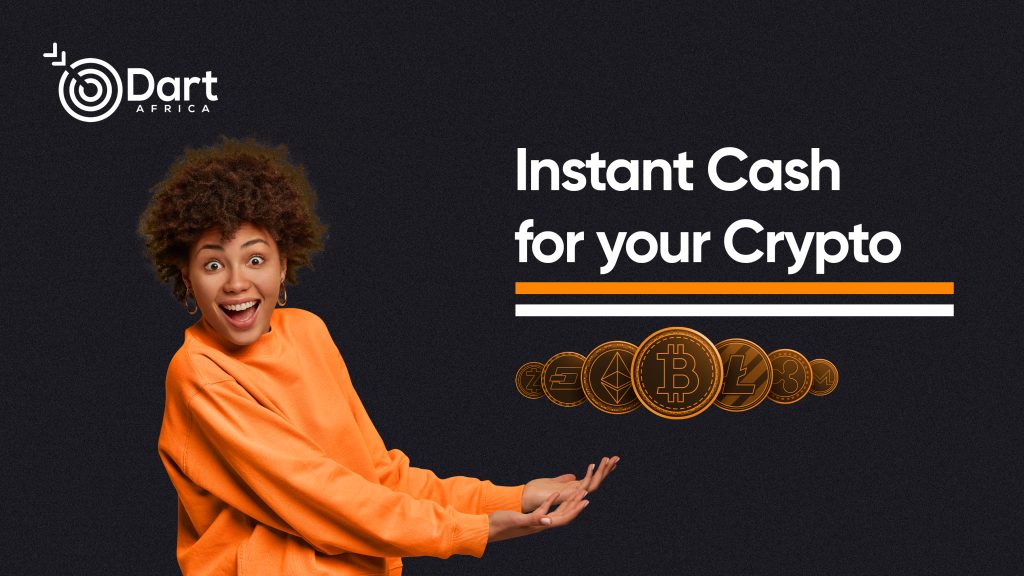 Also Read: Why You Should Consider Accepting Cryptocurrency in Your Business
Exchanging Cryptocurrency for Cash
Exchanging cryptocurrency for cash has become a common practice in the digital era, driven by various reasons. Whether it's to realize profits, meet financial obligations, or simply access traditional currency for day-to-day expenses, individuals choose to convert their cryptocurrencies into cash for a multitude of purposes.
When it comes to exchanging cryptocurrency for cash, Dart Africa stands out as the best platform in the industry. With our user-friendly interface and best rate offer, we have earned a reputation as the go-to platform for individuals looking to seamlessly convert cryptocurrency into tangible cash.
To sell cryptocurrency for cash on Dart Africa, follow these steps:
Create and verify your account by providing necessary information; your email address and phone number.
Log in to your dashboard and go to the trade section. In the trade section, choose the cryptocurrency you wish to sell.
Input the amount you want to sell and receive a wallet address for the transfer.
Use your crypto wallet to transfer the specified amount to the provided Dart Africa wallet address.
After the transaction is confirmed, you will receive cash in your Dart Africa account.
Manage your funds in the wallet section of your dashboard.
To withdraw, select the withdrawal option and enter your bank details accurately.
Submit the withdrawal request, and your funds will be processed instantly, arriving in your bank account within minutes.
With a wide range of supported cryptocurrencies and multiple cash withdrawal options, including bank accounts and mobile money, Dart Africa offers unparalleled convenience and flexibility. Also, our competitive rates and fast transaction processing further improves our overall user experience.