Cryptocurrency To Naira: Converting your cryptocurrency to cash should be easy as withdrawing money from an ATM if you choose a good and reputable platform to do your dealings. There are numerous crypto exchange platforms within Nigeria and Ghana to convert your crypto assets to cash, however, you have to be careful while choosing the platform to convert your crypto on since the market is filled with both good and bad platforms.
In Nigeria, the bad platforms are popularly referred to as "Rippers" they either trade at a low exchange rate or do not pay customers at all. 
This article aims to introduce you to Dart Africa, the best cryptocurrency exchange platform in Nigeria and Ghana.
Dart Africa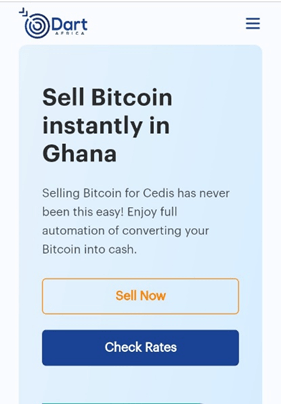 Cryptocurrency To Naira
Dart Africa is a modern cryptocurrency exchange platform that operates within Nigeria and Ghana. At Dart Africa, selling bitcoin and other cryptocurrencies for Cash is easy and straightforward. The process of converting your cryptocurrency to cash has been simplified to be easy for both professionals and newbies.
Cash is paid out instantly once your crypto transaction is confirmed. At Dart Africa we understand the need for online security, hence, we guarantee 100% security for your data and trade with Dart Africa. We have an all-encompassing firewall that helps keep your information secure and intact.
Tradeable Cryptocurrency On Dart Africa
Bitcoin
Ethereum
USDT
USDC
BUSD
Why Trust Dart Africa With Your Cryptocurrency?
Trust is an important factor when it comes to trading cryptocurrency, you have to trust the platform to offer the best exchange rate, actually, pay you for the trade, not stress you while using their platform and be reachable when you want to lodge a complaint. These are few things that communicate trust between customers and crypto exchange platforms, and these features can all be found on Dart Africa. At Dart Africa we:
Offer the best exchange rate in the crypto exchange market. You get offered one of the best rates in the OTC exchange market. Dart Africa is a customer-centric platform and we do everything to satisfy our customers. If you are familiar with the cryptocurrency market, you will know that the market is a volatile one, hence, rates are subject to changes, use Dart Africa's rate calculator to check the prevailing exchange rate.
Also, ensure timely disbursement of payment. When you convert your cryptocurrency to cash on our platform, you get paid within minutes after the cryptocurrency transaction has been confirmed. The time it takes for the blockchain to authenticate transactions differs based on the crypto coin, Ethereum network is quite fast while Bitcoin might take some time.
Designed our platform to be easily accessible and used by prospective customers. Our website requires no technicality to use or extra tech knowledge. You just have to be familiar with how cryptocurrency transactions are executed.
Equipped our platform with an industry-standard customer support service. We understand that they might be an issue sometimes when customers try to trade their crypto coin or need to enquire about a specific service before committing to a trade. We have a 24/7 customer support system to resolve all issues you might encounter.
How To Convert Cryptocurrency To Cash On Dart Africa
Log in to your account with your credentials or create an account if you don't have one.
Click on the toolbar icon ( three straight vertical lines in the top left corner). This is available on your account dashboard.
Click on Sell Coins.
Select the cryptocurrency you want to sell in the coin column.
Enter the volume of the crypto coin you want to trade, and the corresponding Dollar and Naira value will be displayed in columns. Note: the minimum dollar price of any cryptocurrency you can sell is $20.
Click on sell coins now.
A wallet address will be provided coupled with a QR code. You can send the crypto amount you selected from the step above by manually inputting the address or by scanning the QR code. You will be credited immediately after payment is confirmed.
Keep Reading How to become a bitcoin vendor in Nigeria