Best crypto app in Nigeria : Cryptocurrency is the future of money, and Nigeria is no exception. With the rise of blockchain technology, there has been an increase in the number of cryptocurrency exchanges in Nigeria. However, not all of these exchanges are reliable, trustworthy, or offer the best rates. This is where Dart Africa comes in. Dart Africa is a cryptocurrency exchange platform that offers fast, reliable, and transparent services. 
In this article, we will discuss why Dart Africa is the best crypto app in Nigeria.
Why Dart Africa is the best crypto app in Nigeria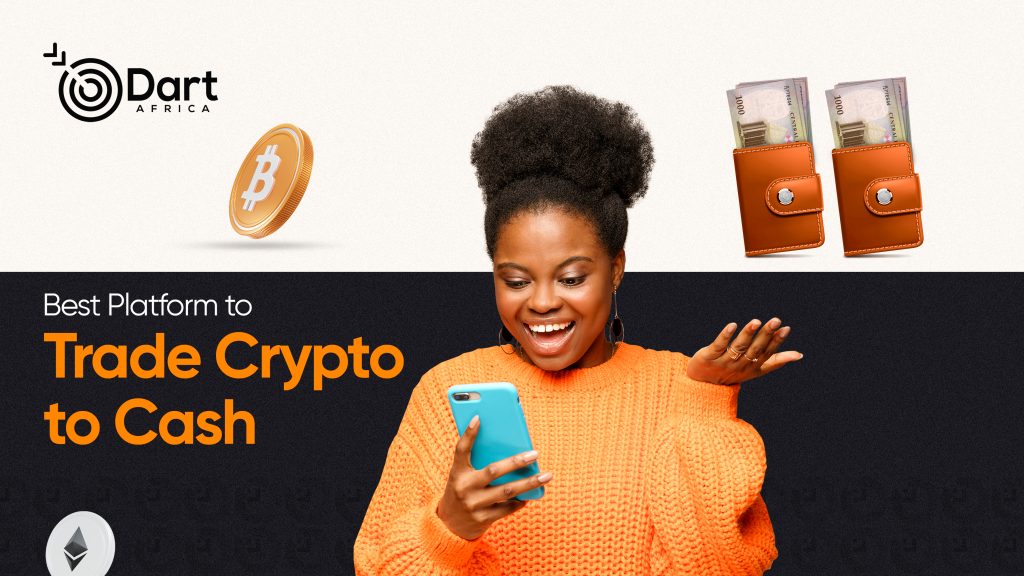 Security and Reliability
One of the primary concerns of cryptocurrency traders is security. With the increasing number of hacks and scams in cryptocurrency, traders need a platform they can trust. Dart Africa provides this trust by employing state-of-the-art security measures. The platform uses a secure mainframe to keep customers' money and wallet information private, ensuring total security. In addition, all transactions are automated for fast, reliable, and transparent processing.
Best Exchange Rates
When trading cryptocurrencies, traders want to get the best exchange rates possible. Dart Africa offers the best exchange rate for Bitcoin in Nigeria. Rates are automatically updated, so customers enjoy the best possible exchange rate. This means that traders can get more value for their money when they trade with Dart Africa.
Easy to Use
The Dart Africa platform is user-friendly and easy to navigate. The website is well-designed to deal with multiple transactions concurrently. This makes it easy for traders to buy, sell, or exchange cryptocurrencies hassle-free. The interface is not plagued by inconvenient user interfaces, low rates, or slow customer service. The website provides an upgrade rather than employing traditional bitcoin trading websites and apps. As a result of incorporating the shortcomings of other platforms, Dart Africa has created a truly superb platform for selling bitcoin for naira.
Fast Transaction Speed
Time is money, and traders want a platform that offers fast transaction speeds. Dart Africa provides this by offering a fast transaction speed. Upon confirmation of your bitcoin exchange, you can receive your cash. Your payment is sent to your bank account within a few minutes of payment confirmation. This means traders can complete their transactions quickly and efficiently, saving time and money.
24/7 Customer Service
Dart Africa offers 24/7 customer service. This means that traders can chat with any of their agents and customer service representatives at any time with their unique system. In addition, customer service representatives are available 24/7. This ensures that traders can get help whenever they need it, ensuring a hassle-free trading experience on Dart Africa.
Additional Features
Dart Africa offers a wide range of extra features. For example, traders receive instant cashback when using their platform, providing a better rate than competitors. Additionally, traders will not be affected by downtimes or delays in card fund transfers when trading with them. These extra features make Dart Africa the best crypto app in Nigeria.
How to use DartAfrica
If you are interested in trading with Dart Africa, there are five steps that you can follow to get started:
Step 1: Visit the website
The first step is to visit the Dart Africa website at dartafrica.io. Once you are on the website, you must create an account by clicking on the "Sell Now" tab.
This tab will take you to a page where you can create an account by providing your contact information.
Step 2: Secure your account
Once you have created your account, you must secure it with a transaction PIN. This PIN will be used to authenticate all your withdrawals, so it is important to choose a PIN that is easy for you to remember but difficult for others to guess.
Step 3: Sell your coin
After securing your account, you can start selling your coins. To do this, click on the particular coin you want to sell, enter the amount you want to sell, and click "sell coin now." This will initiate the selling process and allow you to exchange your coins for cash.
Step 4: Make payment
Once you have sold your coins, you must pay through the wallet address provided by Dart Africa. You can copy the wallet address or scan the barcode displayed on the screen. However, you must ensure you send the payment to the correct wallet address to avoid any delays or complications.
Step 5: Withdraw your funds
Finally, you can withdraw your funds once your payment has been received. This can be done by clicking the "withdraw" button in your account and entering the amount you want to withdraw. The funds will be sent to the bank account that you have linked to your Dart Africa account. It is important to note that some fees may be associated with withdrawing funds, so be sure to check the fee schedule before withdrawing.