trade Bitcoin in Ghana: Trading Bitcoin in Ghana has become increasingly popular as more people seek to invest in this digital asset. Bitcoin is a digital currency that allows people to transact without intermediaries such as banks. If you are a beginner or an experienced trader, this article will show you how to trade Bitcoin in Ghana easily.
Step 1: Choose a Reliable Bitcoin Exchange
The first step in trading Bitcoin in Ghana is to choose a reliable Bitcoin exchange platform. A Bitcoin exchange platform is an online platform that allows you to trade cryptocurrencies but primarily Bitcoin. When selecting a Bitcoin exchange, you want to ensure it is safe, secure, and trustworthy.
Some of the factors to consider when selecting a Bitcoin exchange include security, user interface, customer support, fees, and reputation. In addition, you want to choose an exchange that offers robust security features such as two-factor authentication, cold storage for funds, and SSL encryption for secure data transmission.
The user interface is also an essential factor to consider when selecting a Bitcoin exchange. You want a user-friendly platform that is easy to navigate and provides clear instructions. Customer support is crucial in case you encounter any issues during the trading process. Ensure that the exchange you choose has a reliable customer support team that can quickly respond to your inquiries and resolve any problems that may arise.
Finally, fees are another important consideration when choosing a Bitcoin exchange. Different exchanges charge different fees, so it's essential to compare their fee schedules and choose the one that offers the best value for your investment.
One exchange platform that ticks all these boxes is DartAfrica. It is a reliable and secure platform that offers a user-friendly interface, 24/7 customer support, and competitive fees.
Trade Bitcoin in Ghana
Step 2: Create an Account on the Bitcoin Exchange
After selecting a Bitcoin exchange, the next step is to create an account. This typically involves providing your email address, phone number, and password. Some exchanges may also require you to provide additional personal information, such as your full name and address.
After providing the necessary information, you must verify your account by providing a valid ID. This is standard practice to ensure that the exchange complies with Know Your Customer (KYC) and Anti-Money Laundering (AML) regulations.
To create an account on DartAfrica, follow these steps:
Trading is very quick with Dart Africa. Here are the steps to follow to create an account on DartAfrica.
To get started, visit the Dart Africa website – dartafrica.io.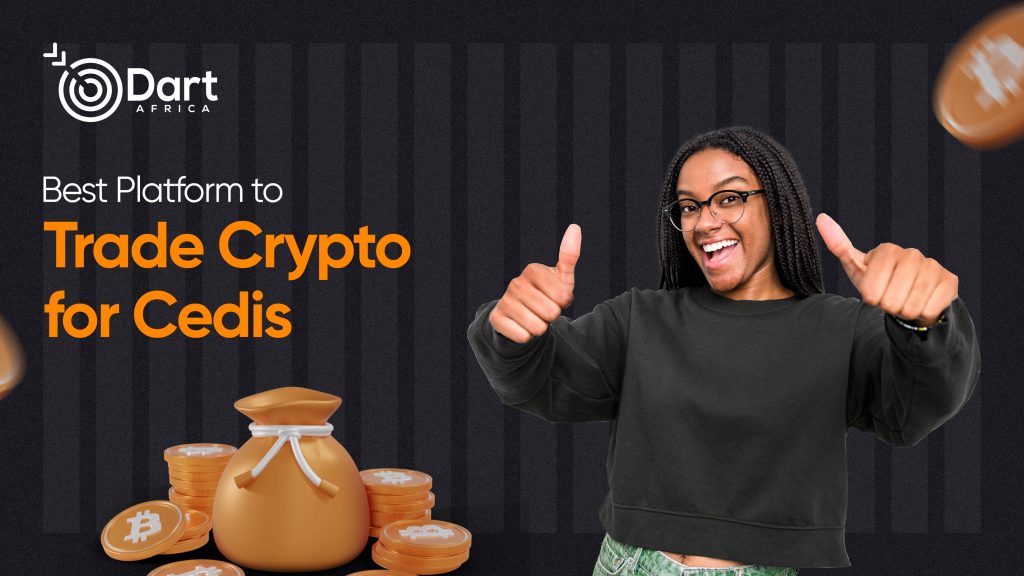 When you get to the website's homepage, click "Sell now". This will take you to the webpage where you will need to sign up on the platform. Make sure you fill in the required information correctly.
After this, you will be sent an email to the email address you provided to confirm the creation of your account. After that is done, you will be required to log in to your account.
Step 3: Sell Your Coin
Once you have set up and secured your Dart Africa account, you can start selling your coins. To begin, you must select the coin you want to sell from the list of supported coins on the platform. Once you've selected the coin, you'll be asked to enter the amount you want to sell. Depending on your needs, you can sell all or a portion of your coins. After entering the amount, click on the "sell coin now" button to initiate the selling process.
Step 4: Make Payment
After you've sold your coins, you'll be asked to make a payment. Dart Africa provides you with a wallet address to send your payment. You can copy the wallet address or scan the barcode displayed on the screen to make the payment. It's important to note that you must ensure you send the payment to the correct wallet address to avoid any delays or complications. Double-check the wallet address before making the payment.
Step 5: Withdraw Your Funds
Once your payment has been received, you can withdraw your funds. Simply click on the "withdraw" button in your account and enter the amount you want to withdraw. The funds will be sent to the bank account linked to your Dart Africa account. It's important to note that some fees may be associated with withdrawing funds, so be sure to check the fee schedule before withdrawing.
Overall, selling your coins on Dart Africa is a simple process. The platform is designed to make it easy for anyone to sell their cryptocurrency quickly and securely. By following these steps, you'll be able to sell your coins, make your payment, and withdraw your funds in no time.