The loan provider industry in Nigeria has seen significant growth, with platforms like FINT offering a unique approach to loan disbursement. FINT allows individuals to both borrow and lend money, acting as a connector between borrowers and lenders.
In this post, we will review the FINT platform, starting with some general information about the platform.
About FINT
Established in 2017, FINT is a financial technology company dedicated to facilitating access to affordable credit and appealing lending options for individuals and small businesses in emerging markets. Leveraging its technological infrastructure, FINT supports existing businesses in offering loan access and lending opportunities to their clients.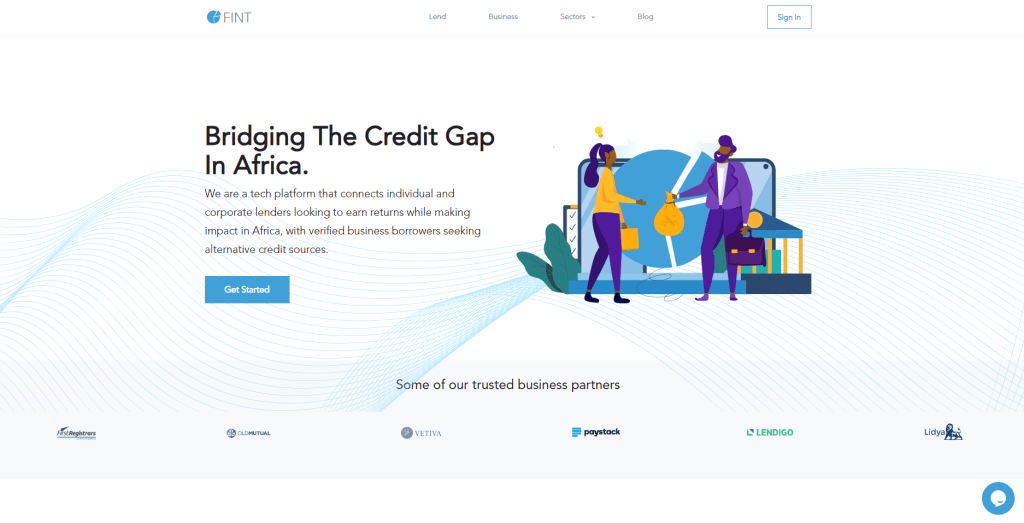 How FINT Work
FINT Loan is a distinctive lending solution that acts as a bridge between borrowers and lenders. Investors register on the platform as lenders, and Fint Loan connects them with individuals seeking loans. The loans feature pre-agreed interest rates based on the loan duration.
FINT Loan caters to both individuals in need of loans and investors looking to grow their money by lending to others.
Individuals can borrow little as N20,000 with a maximum of 1 million while businesses can borrow up to 20 million.
Currently, Fint has no mobile app, so all operations are available on their website.
What are Fint Loan Requirements?
Some of the requirements for Fint loans include
You must be 21 and above
Valid Nigerian bank account
Bank Verification Number
Account Statement
Is FINT Legit or Scam?
FINT is a legitimate loan provider in Nigeria. It is among the list of approved loan platforms published by Punchng (registered as FINTCRED INNOVATION LIMITED). The loan provider does not have a mobile app for some reason, but this shouldn't be seen as a red flag because it is approved and the website is standard enough and clearly displays its license number in the footer of every page.
What are Fake Loan Apps?
Fake loan apps are deceptive mobile applications that pretend to be legitimate loan providers but are designed to either steal personal and financial information from users or deceive them into paying upfront fees for loans that are never actually provided or disburse loans without following the industry set standards.
How to Spot Fake Loan Applications in Nigeria
Identifying fake loan applications in Nigeria requires careful scrutiny and awareness of potential red flags. Here are some tips to spot fake loan apps:
Not available on the Google Play Store: Despite the large number of fake loan apps on the Google Play Store, most of the fake loan apps can only be obtained from unofficial platforms. Due to the rising number of fake loan apps on the platform, led the Federal Competition and Consumer Protection Commission (FCCPC) to urge platforms to eliminate certain apps from their listings. One such app, Sokoloan, was removed from the Play Store following directives from the company.
Check Permissions: Review the app's permissions before installation. Be cautious if the app asks for unnecessary access to your personal data or device features.
Request for advance payment: If a loan application requests a down payment before disbursing the loan amount, it is a clear indication of a fraudulent loan application. These fake applications might claim that the down payment is a way to secure the loan or act as insurance, but you see this as a red flag.
Also read: Is Afriex Legit or a Scam?

Aggressive collective behaviour: Fake loan platforms are known to use aggressive techniques when pursuing loan repayment. Once the loan, often a fraction of the requested amount, is approved by the fake loan application, borrowers are immediately bombarded with text messages and phone calls demanding payment of exorbitant interest rates. These communications quickly escalate into harassment and threats not only against the borrower but also their family members.
No website: Every legitimate loan application should include essential details such as the company's background, history, objectives, and vision. Additionally, comprehensive company information should be available to verify the authenticity and relevance of the lender.
Some fraudulent loan apps can be identified on the Play Store by their lack of a credible website or online presence.