Instarem, short for Instant Remittance, is a financial service founded in 2014 for businesses and individuals to transfer funds around the world. Instarem is used for international payments in more than 55 local currencies with a market-competitive exchange rate.
Instarem uses competitive rates for currency exchange, but a markup is still added to the mid-market rate, which can push up costs. In this post we will review the Instarem app and answer questions like, Is Instarem Safe? How Instarem Works? Is Instarem Legit? Does Instarem operate in Nigeria and a whole lot more?
How Instarem Work
Instarem allows customers to make direct international payments to bank accounts in 55 countries worldwide. Setting up your transfer can be done conveniently through the Instarem website or app (the mobile app is available on Google Play and Apple Play Store ). After Instarem receives your funds, they are promptly deposited into your recipient's local currency account, ensuring a straightforward process.
Instarem offers transparent fees for currency transfers, calculated based on a low commission rather than a fixed fee. This pricing structure makes them particularly appealing for those looking to transfer smaller amounts, as it ensures cost-effectiveness and transparency throughout the process.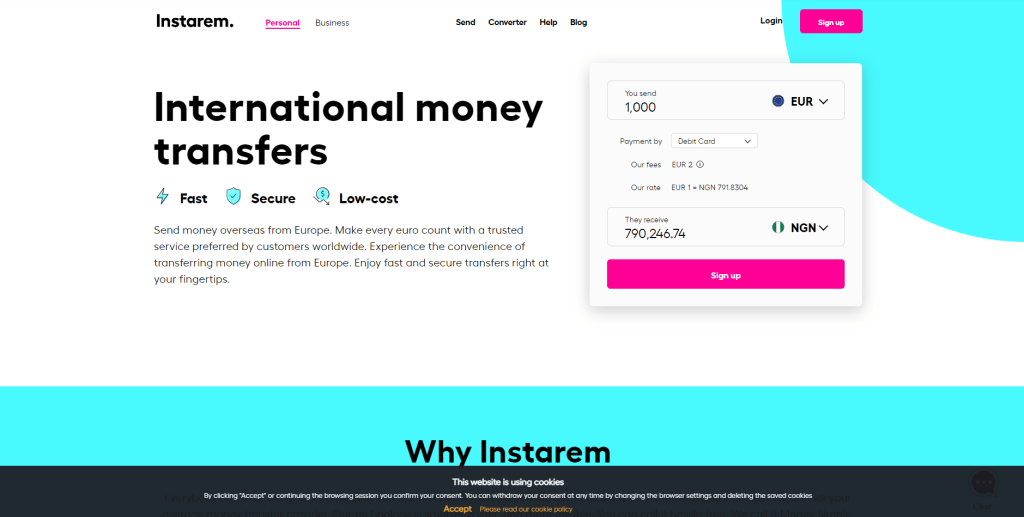 Is Instarem Safe?
Instarem is a well-established and trusted financial service provider with more than $4 billion moved on the platform annually and with over 2 million customers. So, yes, Instarem is a safe and secure money transfer service.
Instarem has an excellent rating on Trustpilot. With over 8,000 reviews on Trustpilot, it has a 4.4-star rating. The platform has a lot of reviews on Trustpilot and most of them are positive, while there are some negative ones here and there, just like any platform will have, the Interem customer care account is always under the comment of this kind of post to offer bible solution to the customer.
Is Instarem Legit?
Yes, Instarem is a legit platform. Since its inception in 2014, Instrem has become a popular currency exchange provider.
Instarem is currently licensed in the EU, Australia, Canada, Hong Kong, Malaysia, India and Singapore.
Does Instarem Work With Nigerian Banks
No. Due to tight restrictions imposed by Nigeria's central bank, Instarem is currently not permitted to send money to Nigeria from abroad
African countries that can use Instarem according to the website
Ghana – currency pair GBP to GHS
Kenya – currency pair GBP to KES
Tanzania – currency pair GBP to TZS
Uganda – currency pair GBP to UGX

Also read: Is Riby Legit Or A Scam?
What Exchange Rate Does Instarem Charge For International Transfers?
Instarem calculates all of its fees by adding a small premium to the mid-market currency exchange rate, establishing a clear and predictable cost structure for businesses and individuals engaging in money transfers. Their pricing is competitively low, typically falling within the range of 0.25% to 0.5% of the transferred amount.
Remarkably, this premium margin makes up the majority, approximately 98%, of Instarem's overall fees, ensuring transparency and affordability for their customers.
Conclusion
Instarem is a reliable financial service provider for international money transfers. However, there may be a regulatory issue affecting transfers to Nigeria at the moment. While you can't send funds to Nigeria presently, the payment gateway for transfers from the UK to Nigeria with the correct exchange rate is available on the platform. It's possible that this feature could be introduced in the future, pending regulatory changes or updates.