Market gains hope as Bitcoin hits its highest level since May 12: A price decline in Bitcoin among other cryptocurrencies, including Ethereum (ether), and dogecoin, resulted in those currencies falling from above $52,000 to below $44,000.
Cardano (ADA), Solana, as well as other altcoins that recently hit record highs were also impacted by bitcoin's crash on Wednesday, and the global crypto market fell nearly 15 percent to $1.99 trillion compared to its value on Tuesday.
Market gains hope as Bitcoin hits its highest level since May 12.
The crypto market has shown some signs of recovering on Thursday, with Solana gaining nearly 20 percent in value in the last 24 hours and Ethereum recovering slightly from its lowest price a day earlier.
According to Standard Chartered recently, bitcoin value will reach new all-time heights sometime in 2021 or early 2022. However, other forecasts suggest current trends could cause bitcoin prices to dip to $20k by year's end.
In Tuesday's trading, Bitcoin, Ethereum, Litecoin, and Ripple traded mixed. As behemoths gained, altcoins booked profits and faced consolidation.
At $2.06 trillion, the crypto market capitalization was marginally lower compared to yesterday's level. However, total crypto market volume soared about 20 percent to $107 billion during the same period.
The crypto markets were sold off in the last 24 hours, with the most valuable bitcoin trading just above $47,000. If bitcoin drops below this significant support level, the markets will turn bearish for the foreseeable future," explained Edul Patel, CEO, and co-founder of Mudrex.
The price of bitcoin was up $445.24, or 0.49 percent, at $50,188.4 by 1004 GMT on Sunday.
World's largest and most well-known cryptocurrency is up 81 percent from its low on Jan. 4 of $27,734.
Ethereum, the coin underlying the ethereum blockchain network, rose 1.16 percent to $3,932.07 on Sunday, adding $44.97 to its previous close.
A total of five out of the top ten cryptocurrencies were trading higher in the early hours of IST. The ongoing rally has more legs as Solana surged over 23 percent in the last 24 hours. Digital token Bitcoin passed the $ 52,000 mark on Wednesday.
Compared to yesterday, the global crypto market cap increased by over a percent to $2.36 trillion. However, the crypto market volume increased rapidly, over 18 percent to $141.47 billion.
The Bitcoin market has been booming over the last few days. Ether's performance also increased. CoinDCX Research Team reports that cryptocurrencies' price moves this week are correlated with a rally in global stocks, suggesting investors are more willing to take risks.
With Bitcoin's price approaching $53,000, the price of the instrument is approaching the $1 trillion mark. The current market capitalization of ETH stands at $465 billion, and its trading price is $3,950.
The market cap of all cryptocurrencies has increased to approximately $2.4 trillion this week due to gains in altcoins. In addition, BTC has been made legal tender in El Salvador today, said ZebPay Trade Desk, as the country's first sovereign launch of BTC as legal tender.
"This is likely to be closely monitored by other nations, as other nations will want to know if the act can be implemented operationally. As the supply of Bitcoin increases, the upward price pressure on the asset seems to be increasing, making it more valuable as demand continues to grow," it continued.
A leading cryptocurrency exchange, Binance, said it would no longer offer its services in Singapore days after Singapore's central bank instructed the company to stop doing so.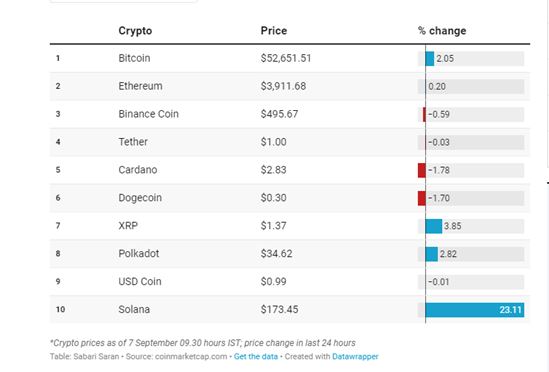 Cryptocurrency Exchange – Giottus Tech View
A blockchain platform often referred to as an "Ethereum killer," Solana supports multiple blockchain projects, including Defi, NFT, and others. During the second half of July, the token's price surged from under $25 to over $172, nearly seven times the level in less than two months.
The breakout of Sol's $150 resistance with significant volumes on its backtest led to it flipping decisively to support. The RSI is fairly bullish, with levels over 55. However, it has been hovering over 80 for some time now, making it overbought.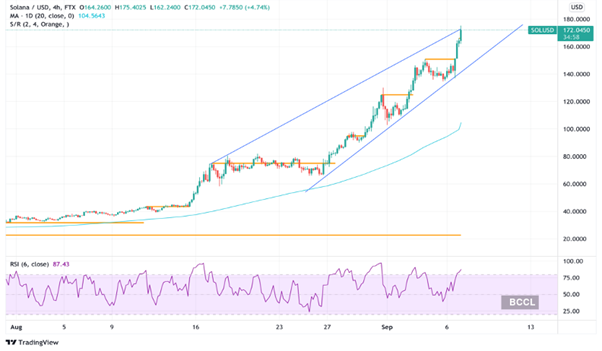 It is difficult to pinpoint SOL's top as the index continues to form higher lows. However, assuming that it continues its further uptrend in the coming days or weeks, SOL may offer opportunities to buy on dips while its MACD indicates that bullishness has peaked. Subsequent support levels at $150 and $125 support its further climb.
Currently, its 20-day moving average is hovering around $104-110, and it is likely to land on its support level of $125 in the weeks to come. If Bitcoin moves towards $58,000 for an extended period, SOL may continue its upward trend after bouncing off its local resistance of $160, potentially reaching $200.