HOW MUCH IS 1BTC IN GHANA CEDIS: Using the exchange rate and calculator of Dartafrica, the cost of 1BTC in Ghana Cedis is GHS 243, 306, which is the best rate around.
HOW MUCH IS 1BTC IN GHANA CEDIS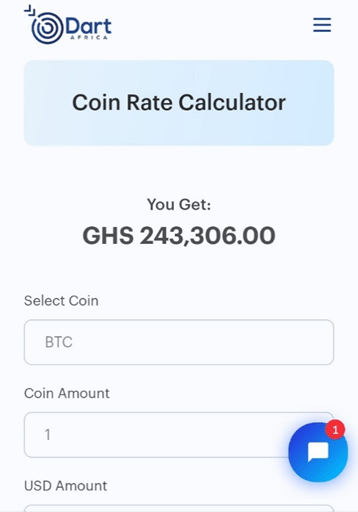 Note; This price is as of the day this article was compiled.
DartAfrica offers an automated cryptocurrency trading platform, which allows users to purchase and sell bitcoin, Ethereum, and perfect money. We credit coins sold to us in Cedis automatically as soon as they are received
In its growth, the company intends to utilize its strong understanding of basic communications in order to benefit its clients. With DartAfrica, we aim to make trading a pleasant, memorable experience for our customers. The goal of Dart Africa is to enhance the customer experience, rather than further clog up the overcrowded market of billing platforms.
The bitcoin network allows users to send coins directly among themselves without the need for intermediaries. It is a decentralized digital currency without a central bank or single administrator.
There is no central authority or oversight of any bank or government over Bitcoin, which is a digital currency. It relies instead on peer-to-peer software and cryptography. All bitcoin transactions are recorded on a public ledger, and copies are held on servers throughout the world.
There is a public ledger containing details of all bitcoin transactions, and copies are kept on servers all over the world. One of these servers, known as a node, can be set up on any computer with an internet connection. Rather than rely on a central source of trust like a bank, cryptography is used across these nodes to reach a consensus about who owns what coins.
Node-to-node sharing of transaction information is publicly broadcast across the network. The network of miners collects these transactions every ten minutes or so into blocks that are added permanently to the blockchain. A blockchain is an electronic ledger that keeps track of all bitcoin transactions.
In a similar way to keeping traditional coins in a physical wallet, virtual currencies are handled through digital wallets, which can be accessed using client software as well as a variety of online and hardware tools.
Currently, bitcoins are subdivided into seven decimal places: a 1,000th of a bitcoin is termed a milli, and a 100 millionth of a bitcoin is termed a satoshi.
The only thing that exists is agreement among network participants about ownership of a coin, not bitcoins or wallets. Making a transaction on the network requires a private key. A private key serves as proof of ownership. One could simply memorize their private key, which would allow them to retrieve or spend their virtual cash without the need for anything else. This is known as a "brain wallet".
A bitcoin is a way for people to send money over the internet. As a decentralized payment system, the digital currency was envisioned as an alternative payment option that could operate without centralized control, but otherwise function as traditional currencies do.
IS IT POSSIBLE TO CONVERT BITCOIN TO CASH?
You can exchange bitcoin for cash just like you would any other asset. People can conduct these transactions online on any number of cryptocurrency exchanges, but they can also do so in person or by communicating using any communication platform, allowing even small businesses to accept bitcoins. The bitcoin currency is not designed to be converted into another currency.
There is nothing intrinsically valuable about the bitcoin network. Since the gold standard was abandoned, many of the world's most stable currencies, including the US dollar and the pound, have declined in value.
WHAT ARE THE PROBLEMS WITH BITCOIN?
A number of criticisms have been made of bitcoin, including the fact that the mining process is incredibly energy-intensive. A calculator on the University of Cambridge's website tracks energy consumption, and at the beginning of 2021, more than 100 terawatt hours of energy were estimated to be consumed each year. Based on the total electricity usage of the United Kingdom in 2016, 304 terawatt hours were used.
Critics point out that cryptocurrencies can be used to make black market transactions as well, which makes them a perfect tool for criminal activity. The truth is that cash has served this purpose for centuries, and bitcoin's public ledger may actually be used by law enforcement to enforce the law.
HOW LONG DOES IT TAKE TO MINE ONE BITCOIN?
The time it takes to mine one bitcoin is usually around 10 minutes. Nevertheless, this setup assumes an ideal set-up of hardware and software, which few users can afford. According to the most reasonable estimate for most users with large setups, it takes 30 days to mine a single bitcoin.
See Also How Much Is 1 Bitcoin In Naira