Cryptocurrency has become a popular investment option for many individuals around the world. However, finding a reliable platform to exchange these digital assets can be daunting. This is where peer-to-peer (P2P) exchanges come in.
P2P (peer-to-peer) crypto exchanges are platforms that allow individuals to buy and sell cryptocurrencies directly with each other without the need for an intermediary like a regular exchange. It is more like a marketplace where people connect and trade with each other directly.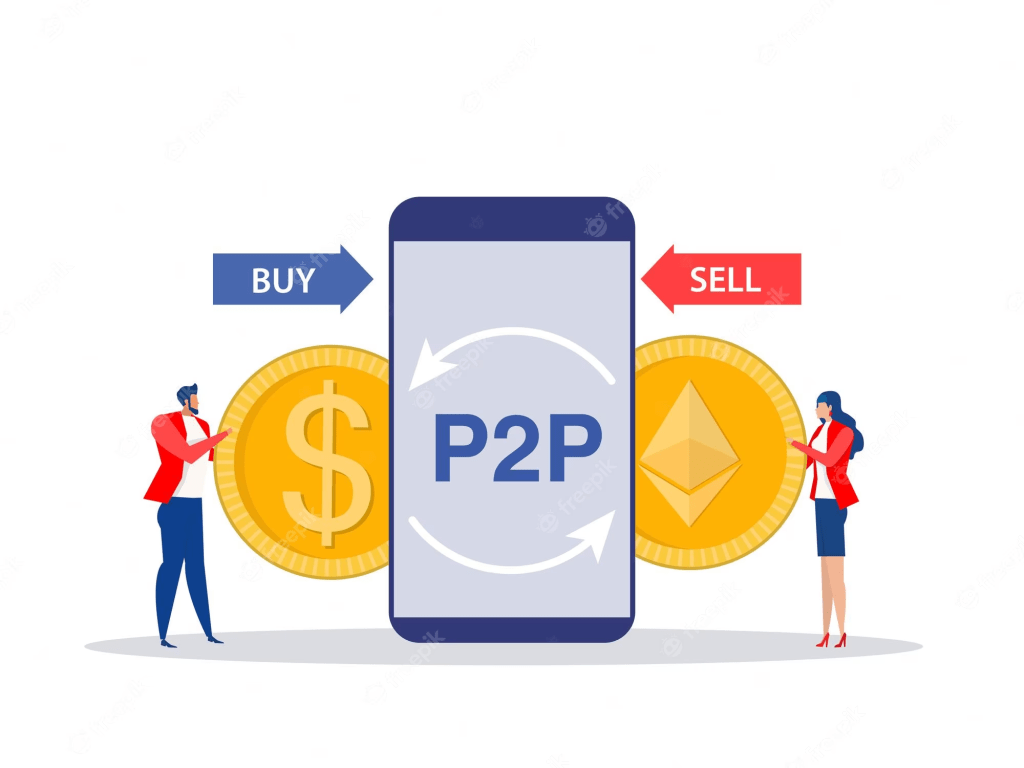 When using a P2P exchange, people can make lists of the cryptocurrencies they want to buy or sell. Then, they can look through other people's lists to find someone who wants to trade with them. Once they find a match, they can talk to each other to decide on the details. The features of a P2P exchange include:
Decentralized: P2P exchanges are decentralized, which means that they operate without a central authority. Users interact directly with each other to buy and sell cryptocurrencies.

Privacy-focused: P2P exchanges usually offer greater privacy than centralized exchanges, as they typically do not require users to provide much personal information.

Lower fees: P2P exchanges may have lower fees than centralized exchanges, as they do not have the overhead costs associated with operating a centralized platform. There are usually no fees for depositing or withdrawing funds.

Greater control: Users have greater control over their transactions on P2P exchanges, as they can negotiate directly with other users and set their own prices.
Also Read: How to Build a Profitable Crypto Portfolio in Nigeria
With the rise of P2P exchanges, the risk of scams has also increased. Since there is no authority to regulate these exchanges, it's essential for users to take extra precautions to avoid scams. Let's explore some of the most effective ways to avoid scams on P2P crypto exchanges and how to keep oneself safe while using these platforms.
Conduct thorough research: Before conducting any transactions on a P2P exchange, it's necessary to do an investigation into the exchange's reputation and history. Check online reviews to see what other users are saying about the exchange and if they have had any negative experiences.

Use reputable exchanges: Use only well-established P2P exchanges that have been in operation for a while and have a proven track record of secure transactions.

Avoid private trades: Avoid private trades with users who have no prior transaction history or have recently joined the exchange.

Be cautious with payment methods: Be wary of payment methods that are irreversible. You can use escrow services that hold funds in a neutral account until the transaction is complete.
Best P2P Crypto Exchange Alternative
While there are several P2P crypto exchanges available in the market today, one exchange that stands out is Dart Africa. Dart Africa was founded with the aim of providing Africans with access to the world of cryptocurrencies, and it has quickly become one of the best exchanges in Nigeria and Ghana. Let's explore some of the key features that set Dart Africa apart from other platforms in the market.
User-friendly interface: One of the biggest advantages of using Dart Africa is its user-friendly interface. The platform is designed with simplicity in mind, meaning even those who are new to cryptocurrency trading can easily navigate their way around it.

Exceptional customer support: Dart Africa offers 24/7 support through various channels such as live chat, email and phone call. This means that users can get help whenever they need it, regardless of their location or time zone.

Best rates: Dart Africa offers some of the best rates in the market. This means that traders can get more value for their cryptocurrencies when they trade on this platform.

Variety of Cryptocurrencies: Dart Africa supports a wide range of crypto, including the most popular ones such as Bitcoin, Ethereum, and Litecoin.
While P2P crypto exchanges offer a convenient way to buy and sell cryptocurrencies, they can also be a breeding ground for scams. To avoid falling victim to these scams, it is important to do your research before using any exchange, use secure payment methods, and always be cautious when communicating with other users.