Sell Bitcoin within 5 minutes: Trading a cryptocurrency like Bitcoin within 5 minutes might seem like a near-impossible task for many traders and exchanges. However, Dart Africa exposes traders to a new side of crypto trading. With Dart Africa, you have entered a hive of endless possibilities in crypto trading. Dart Africa has successfully optimized the crypto trading on its app and website to a 5 minutes process, even if you are trading for the first time. Here's what Dart Africas's bitcoin to Naira trading looks like:
Step one: Create an account
The first thing you want to do before trading on Dart Africa is to register an account. This is crucial for record keeping and helps us to serve our traders easier and better. The Registration process is straightforward once you have all the vital details to get things rolling. From start to finish, you do not have to spend more than 2 minutes if you have a working internet service.
Note that there is no need to provide any means of Identification whatsoever. Dart Africa thrives on its ability to reduce excesses and focus on the areas that matter in its crypto trading process. A working and accessible email address, a working phone number, a unique username, and a strong password are the necessary details for registering an account on Dart Africa. With these, you are set to register an account with Dart Africa on the spot. The following steps will guide you to register an account with the fastest crypto trading platform in Nigeria and Ghana:
Sell Bitcoin within 5 minutes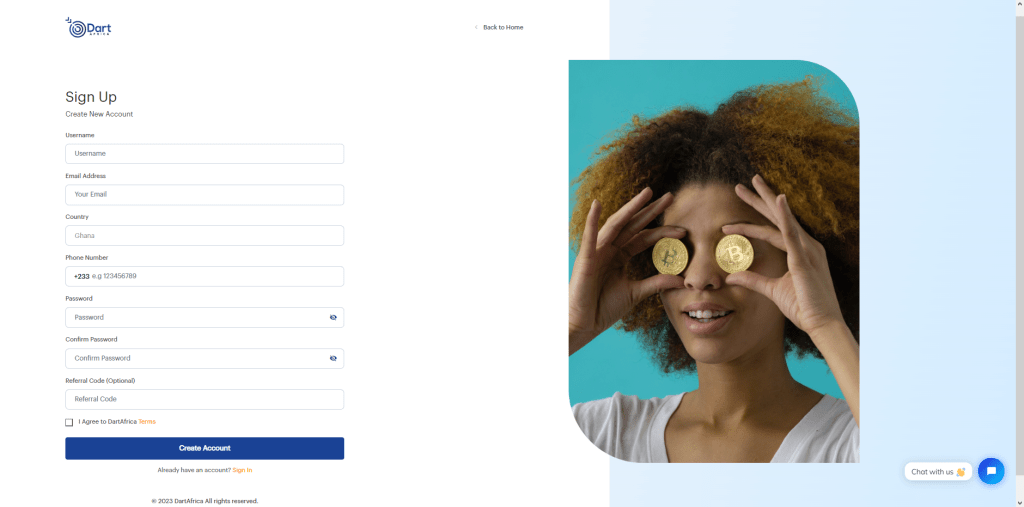 Visit Dartafrica.io. Here, it is important to note that Dart Africa operates a two-option trading platform. You can either choose to join Dart Africa on the website or get the mobile app for your Android smartphone. To do that, head to the Google Play Store and search for "Dart Africa." Hit install on the app with the Dart Icon and developer's name as "Flip Digital Technologies." This installation process should take less than 5 seconds with a good network since the app is not up to 10MB. A network that runs at 2MB/s would download it in 5 seconds, not to talk of those with better internet services. After installation, you are ready to register an account.
Select the "Sell coin" button on the homepage. The website version is available for any kind of device. Just type the URL in the browser on your PC, iPhone, or any device.
Click on the sign-up link below the login page. This link will take you to the page where you can enter your registration details.
Input your username, email address, phone number, and password, and do not forget to select the correct country. We have made the process similar for different countries, although different countries have their peculiarities in terms of currency type and withdrawal options.
Verify your email address. This is one of the reasons why traders must provide the correct information when registering an account. Dart Africa makes email verification a compulsory action to complete the registration phase so that there can be an assurance that the email works. Dart Africa would have to reach out to traders from time to time on matters concerning their trading process and experience, as well as better offers that might help improve traders' overall experience on the exchange.
Step Two: Sell a coin
For this post, we would use Bitcoin as the coin we want to sell. There are BUSD, USDT, and other coins that you can sell for naira on Dart Africa. This is one of the beauties of trading coins with Dart Africa; trading more than one coin at the best rates with one platform. All you need to do for this phase is to enter the trade details and transfer coins; the rest is history. Follow these steps: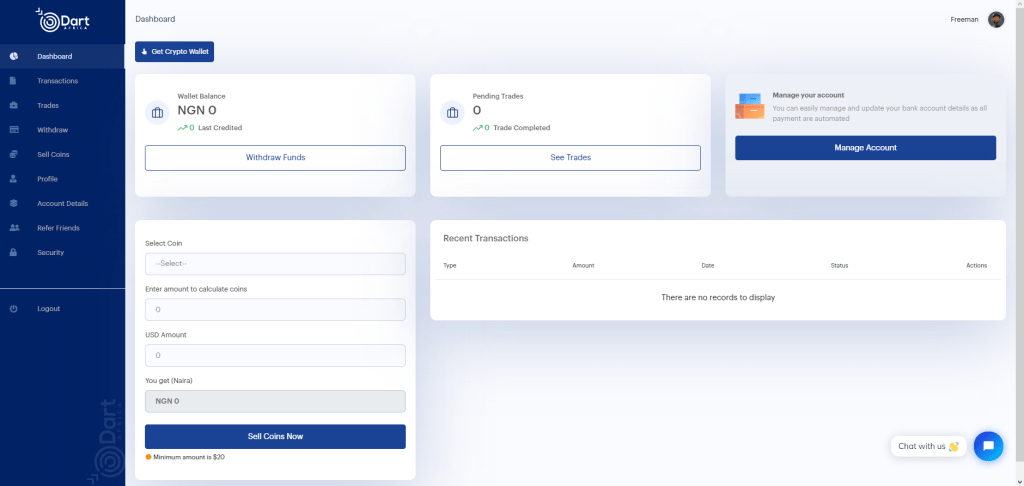 Find the "Sell Coin" section on the dashboard or navigation bar on the top left.
Select a coin
Enter the amount
Click on "Submit Trade" below
Copy the wallet address displayed to make the transfer
Payment will reflect in your wallet on the dashboard after two confirmations
Check the transaction history on the navigation tab to know the status of your trade.
Step Three: Withdraw money from wallet to Bank Account
Click the withdraw button just below the wallet balance to initiate a withdrawal sequence. Provide your bank details, create your transaction PIN, and input the amount to withdraw as prompted on the website or app. After submitting, the payment will reflect in the local bank account in less than 2 minutes. Yes! That is how to get fast payment for crypto trading in Nigeria. If you still want to inquire, reach out to our 24/7 customer service on the live chat icon by the lower right corner of your screen.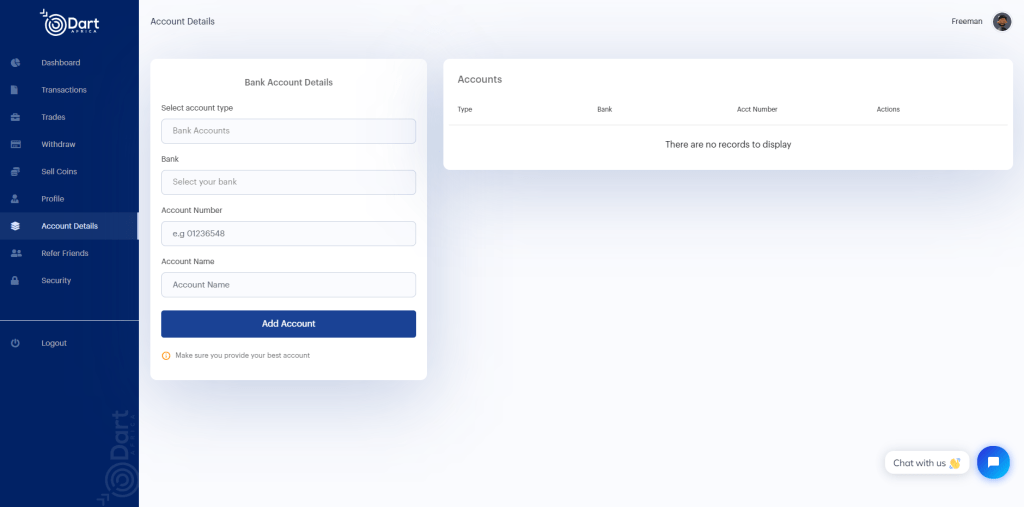 Trade smart; Trade Fast! With Dart Africa.