Buying Bitcoin, Ethereum, Dogecoin and other cryptocurrencies can be confusing if you're new to the world of cryptocurrencies in Saudi Arabia or any part of the world. Learning the ropes is pretty simple. Following these easy steps will help you get started on how to buy Bitcoin and other Cryptocurrency: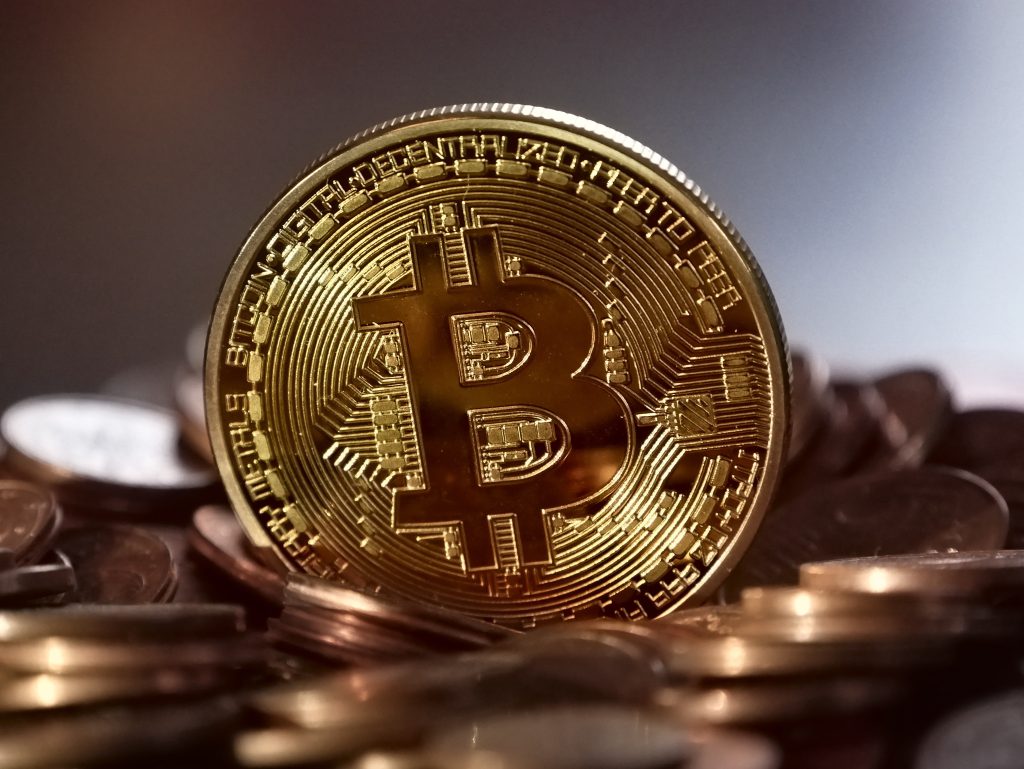 1. Choose a Crypto Exchange Platform:
The first step is to register with a platform, app or exchange and complete a Know Your Customer (KYC) process.
A cryptocurrency exchange is an online platform that facilitates the buying, selling, and trading of various cryptocurrencies. It serves as a marketplace where users can exchange one type of cryptocurrency for another or convert cryptocurrencies into fiat currencies like Saudi Riyal, US dollars, euros, or other traditional currencies. Cryptocurrency exchanges play a crucial role in the cryptocurrency ecosystem, enabling individuals and investors to participate in the digital asset market.
Where To Buy Bitcoin In Saudi Arabia
Rain: Rain stands as a pioneering cryptocurrency exchange in the Middle East, proudly holding the distinction of being the first to obtain a regulatory licence. This achievement places Rain in the esteemed ranks of globally recognized exchanges. With a commitment to customer service, Rain provides round-the-clock support. It also adheres to the highest standards of security as a cryptocurrency custodian, aligning seamlessly with the Crypto-Currency Security Standard (CCSS). Furthermore, Rain has secured a licence from the Central Bank of Bahrain, solidifying its role as a licensed Crypto Asset Brokerage.
BitOasis: BitOasis stands as the largest digital asset trading exchange, platform, and wallet service across the Middle East and North Africa (MENA) region. With a broad reach, customers from various countries such as the United Arab Emirates, Saudi Arabia, Oman, Kuwait, Egypt, Morocco, Jordan, and Bahrain can conveniently purchase bitcoin through wire transfers or credit/debit card transactions. UAE clients further benefit from the option to deposit funds via exchange houses. BitOasis prides itself on offering a local bank deposit choice with no fees, all complemented by a user-friendly interface available on both Android and iOS platforms.
Binance: In just eight months since its launch in July 2017, Binance experienced a rapid ascent to become the global leader in cryptocurrency exchanges based on trading volume, handling over $1 billion in daily transactions. Binance allows buying and selling Bitcoin with 4 forms of payment in Saudi Arabia, Credit Card , Debit Card , Bank Transfer (SEPA) , SWIFT.
Note: If you're new to the world of cryptocurrency, it's essential to select an exchange platform that facilitates transfers and purchases using Saudi Riyal, the local fiat currency in Saudi Arabia. Certain exchanges exclusively permit cryptocurrency-to-cryptocurrency transactions, necessitating a separate exchange to acquire the tokens your chosen platform supports before you can commence crypto trading on it.
2. Complete the KYC process:
Upon registering with an exchange platform, you'll be required to undergo the Know Your Customer (KYC) process, which involves verifying your identity and address. This mandatory legal procedure is applicable to nearly all exchanges in Saudi Arabia.
To finalise this stage, have your photo ID on hand to capture images of its front and back sides.
In the majority of instances, your verification will be swiftly approved, with the process typically taking a maximum of 1-2 days.
3. Deposit Cash to Make Purchase:
To acquire cryptocurrency, you should ensure that your account has sufficient funds. You can add funds to your cryptocurrency account by connecting your bank account, initiating a wire transfer, or even using a debit or credit card for payment.
Both Rain and Binance offer various payment options, including SWIFT, FAWRI, FAWRI+, Debit Card, Credit Card, MADA, KNET, and BENEFIT.
The duration for the funds to reach the exchange varies based on the chosen payment method, ranging from a few minutes to several days.
4. Buy Bitcoin:
You can buy your first bitcoin once your account has been funded. It's crucial to remember that you don't have to purchase a complete bitcoin.
The majority of exchanges allow you to purchase bitcoin or any other cryptocurrency for as little as a few dollars.
5. Send your bitcoin to a personal wallet:
Once you've completed your Bitcoin purchase, you have the option to either retain it within your exchange wallet or safeguard it in your personal cryptocurrency wallet.
There are two primary categories of cryptocurrency wallets: Cold Wallets and Hot Wallets.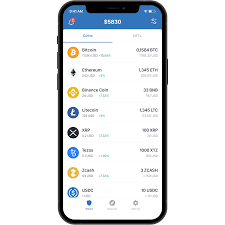 Hot Wallets are stored online and operate on internet-connected devices such as computers, tablets, or phones. While convenient, they carry a higher risk of theft due to their internet connectivity. Examples of Hot wallet are Trust Wallet and Metamask.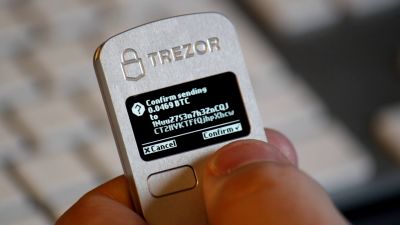 On the other hand, Cold Wallets are not linked to the internet, making them the most secure means of storing cryptocurrency. These wallets typically come in the form of external devices like USB drives or hard drives. An example of Col Wallet is Trezor.
Also Read: How To Buy Cryptocurrency In UAE
How To Buy DogeCoin In Saudi Arabia
Similar to Bitcoin, you can utilise the outlined steps to acquire Dogecoin in Saudi Arabia. It's essential to confirm that the chosen exchange platform supports Dogecoin. Binance is a notable platform that provides a wide range of cryptocurrencies, making it a suitable choice if you intend to explore options beyond Bitcoin.
Here is a list of some popular cryptocurrency you can buy on Binance;
Bitcoin (BTC)
Ethereum (ETH)
Dogecoin (DOGE)
Tether (USDT)
XRP (XRP)
USD Coin (USDC)
Binance Coin (BNB)
Binance USD (BUSD)
Cardana (ADA)
Solana (SOL)
Is Bitcoin legal in Saudi Arabia?
Saudi Arabia is a sovereign Islamic nation located in Western Asia, spanning over two million square kilometres and home to a population of approximately 35 million individuals. Saudi Arabia possesses some of the world's largest proven oil reserves and has long been a significant player in the global oil market. Oil exports have historically accounted for a substantial portion of the country's GDP, government revenues, and export earnings.
Bitcoin is not entirely illegal in Saudi Arabia. One can exchange and buy Bitcoin in Saudi Arabia. However, the Saudi Arabian Monetary Authority (SAMA), the central bank of Saudi Arabia, has issued warnings about the risks associated with trading cryptocurrencies and has emphasised that cryptocurrencies are not officially recognized as legal tender within the country.
SAMA has also stated that it does not oversee or regulate cryptocurrencies, and therefore, there is no official framework for their use or regulation. However, Saudi Arabia has shown interest in exploring the potential of blockchain technology for various applications, including in sectors like finance, logistics, and government services.
Bitcoin ATM In Saudi Arabia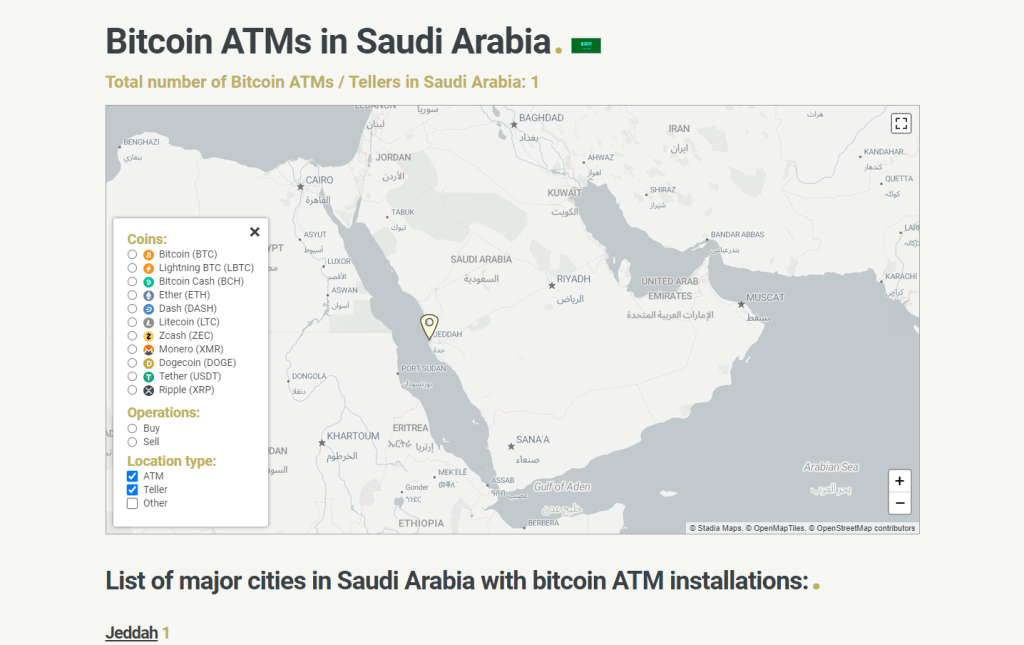 Bitcoin ATMs typically offer two main functions – buying Bitcoin and selling Bitcoin. You can insert cash or use a payment card to purchase Bitcoin, and in some cases, also sell Bitcoin holdings and receive cash in return.
Bitcoin ATMs provide a convenient way for individuals to access and participate in the world of cryptocurrencies, especially for those who may not have easy access to online exchanges or who prefer to conduct transactions in person.
Typically, this approach comes with relatively higher fees (approximately 5-10%). However, these fees reflect the trade-off for the convenience of swiftly converting your Bitcoin into cash within a span of less than thirty minutes.
There is just one Bitcoin ATM in Saudi Arabia, located in Jeddah.
You need a cryptocurrency wallet to use a Bitcoin ATM. You can scan the Wallte's QR code to send Bitcoin or copy the address code provided by the ATM.

How To Sell Bitcoin In Naira
In the dynamic world of cryptocurrency, finding a reliable and efficient platform to convert your Bitcoin to local currency is essential. Dart Africa stands out as a trusted and user-friendly platform, offering seamless Bitcoin to Naira conversion services. Our rates are also favourable. You can check the prevailing exchange rate using our coin calculator.
Our customer support is of the highest quality, dedicated to assisting you at every step. We enable the seamless exchange of well-known cryptocurrencies such as ETH and BTC, and we're expanding our offerings to include other cryptocurrencies like USDT and USDC in the near future.
We have no transaction fees, which sets DartAfrica apart from other exchange platforms and conventional banking institutions and is a key benefit of using us. Our user-friendly platform makes sure that transactions are quick and secure.
Dart Africa simplifies the process of converting Bitcoin to Naira, providing a reliable and efficient solution for cryptocurrency enthusiasts and investors. Whether you're looking to cash out or make transactions in Naira, Dart Africa is your go-to platform for seamless conversions. Experience the convenience and security of Dart Africa for all your Bitcoin to Naira conversion needs.