Do you want to check your UBA Bank account balance but you don't know how? This post explores various ways you can check your UBA account balance and other information relating to managing your UBA account.
One of the basic skills any bank account owner must have is the ability to check their account balance using various means. If you have forgotten your PIN and want to know how much is in your account, this article is tailored for you.
Without further ado, let's get started!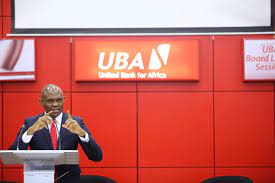 How to Check UBA Bank Account Balance Without PIN
If you find yourself searching for a way to check your bank account balance without a PIN, it's likely that you may have forgotten it and you don't know how to reset the PIN, in this post, we will explain how you can easily do both. In Nigeria, it's important to note that both fintech products and Banks typically require a PIN to access your account or view your account balance online. This strict policy is in place to safeguard against the widespread occurrence of online scams and fraud. It ensures that any activity on your account is traceable to you or someone you've authorized to access your account information. Hence, checking your account balance without your PIN might be tricky but you can still wiggle your way around it.
There are two secure ways to know your account balance without your PIN;
Visit the Bank: Visit a UBA branch near you to check your account balance, your presence is PIN-enough for the cashier that will attend to you. The customer care representative will request your account number and help you check your account balance in their system.
Call Customer Care Service: Another method is to call UBA's customer care service. Call +234 700 225 5822 to speak to a customer care representative and request your account balance. The customer care representative will ask you for information pertaining to your account but not your PIN.
How To Recover Lost PIN
There are various PINs associated with an account, which might be your USSD PIN, Transfer PIN or your online banking password, the steps to reset each PIN differ.
Online Banking Password
If you have forgotten your PIN, you can recover it with the email you used while setting up your Internet banking. Follow the steps below to do just that;
On the Internet Banking Home Page or the UBA mobile app, click on "forgot your password?" Enter your Internet Banking USER ID on the next screen and submit, then provide an answer to any security question set by you and a new password is automatically generated and sent to your registered email address.
Transfer USSD PIN
Here is how to reset your UBA Transfer USSD PIN code if you forgot:
Dial *919# on the phone registered to your UBA account.
Select Next Page
Then, select the PIN set-up option
Choose the desired Reset PIN option:

Reset PIN using Account Number
Reset PIN using ATM card

Create a new USSD 4-digit PIN.
Lastly, re-enter the new USSD PIN.
You can also reset your PIN by going to the nearest UBA branch around you.
How to Check UBA Account Balance Using USSD Code
Using the USSD code to check your UBA account balance is the easiest and quickest way to do so.
Checking your UBA account balance with the USSD code is the quickest and easiest. Note, your phone number has to be linked to your account for this process to be successful.
The UBA account balance code is *919*00#. After dialling, enter your four (4) digits PIN, and then a pop-up containing your account balance will appear on your screen.
Also Read: What Is The Customer Care Number For Access Bank

How to Check UBA Account Balance Using ATM
Checking your UBA account balance using an ATM is a quick and easy process. Here's how to do it:
Visit any working ATM, UBA or not
Insert your UBA debit or credit card into the ATM
Enter your PIN
Select "Balance Inquiry" from the options displayed on the screen
Your account balance will be displayed on the screen
How to Check UBA Account Balance Using Mobile Banking App
Another easy way you can check your account balance is through the mobile banking app. Here is how to do it:
You can download the mobile app from Google Play Store or App Store depending on your device.
Register and log in to the app with your UBA account details
Like most bank apps, your account balance should be on the app dashboard.