How to convert 1 BTC to Naira: Do you have 1 Bitcoin?? You are surely going to make a lot of money from selling to the best crypto trading platforms in Nigeria. Do you not have up to 1 BTC? You still should find your way to sell it at the best rate you can get in Nigeria.
Information from a quick Google search on "what is the value of 1 BTC in Nigeria" gave a whooping sum of over ₦13 million. That's some spread but nothing close to what you will get when trading with Dart Africa. If you want to exchange 1 BTC with Dart Africa at the time of writing, the exchange value is over ₦22 million.
This wide difference in the exchange rate is because some exchanges offer crypto trading at the official dollar-to-naira rate. You would be cheating yourself if you choose to sell crypto for cash at the official international exchange rate. What you can get instead is over 70% more than the official rate has to offer. If you want to check the rate for trading BTC by yourself, you can do that with Dart Africa's coin calculator.
This coin calculator is designed to provide you with the most recent rate for trading crypto in Nigeria. The rates you get on this coin calculator are exclusive offers you can leverage as a trader to make more money from every single trade. The coin calculator is available to anyone and requires a simple process to use. Here is how you can check the rate for 1 BTC with the coin calculator:
Visit dartafrica.io/coincalculator or go to DartAfrica.io and click the check rate button.
Select a coin that you want to check. Since we are checking for the value of 1 BTC, select BTC from the dropdown.
Enter the coin amount. The coin amount, in this case, is 1. The other field labelled "USD AMOUNT" is useful when you are checking for the value of a coin in USD. If you enter "1" for the USD amount, it would mean that you are checking for $1 worth of BTC.
The exchange value in GHS and NGN will display on the screen immediately after the fields are filled.
Note that you can as well check for the rate of other coins with this same process. You could check for $200 BUSD, 8000 USDT, or more. The possibilities are endless! If you are finding any form of difficulty with checking your rates, see the FAQs on the landing page at Dartafrica.io or send a message to customer service. Our customer service is a 24/7 swift response team of professionals. They reply immediately after you send a text. Chat with our support team via the live chat icon on the lower right corner of your screen.
How to convert 1 BTC to Naira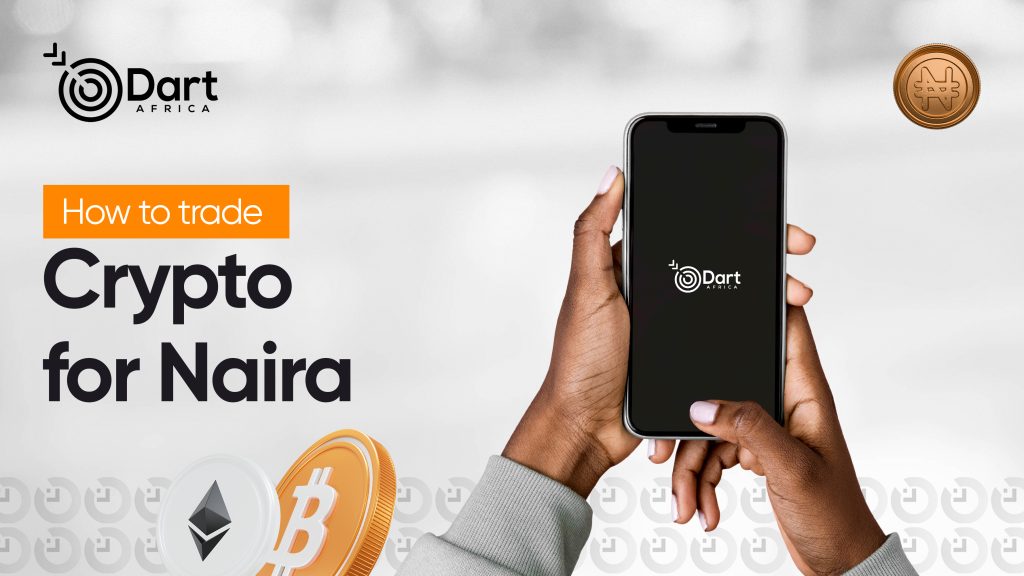 Convert 1BTC to Naira with Dart Africa
To sell your BTC for cash on Dart Africa, you need to first register an account with a few details. These details are what Dart Africa uses to improve your experience on the exchange and make your trading blissful. There are two platforms that traders can use to sell coins with Dart Africa; the website and the mobile app. These two platforms are fast and functional to bring you your best crypto trading experience.
The mobile app is available on the Google Play Store for Android users. Other device users can use the website, which works amazingly well. Note that Android users can also make use of the web version. Search for Dart Africa on Google Play Store, Hit the download button, and launch the app. Visit DartAfrica.io with your mobile or pc browser to use the website. The following steps will help you sell your BTC for cash in minutes:
Click on Sell coin
Click sign-up if you do not have an account. Enter your login details if you already own an account.
Ensure to verify your email address before proceeding to log in.
Go to the account details tab on the menu to update your bank details.
Return to the sell coin dashboard to select coin type and enter the amount.
Submit trade and transfer coins to the wallet address displayed.
Wait for payment after 2 confirmations and hit the withdrawal button below the wallet balance.
Choose your withdrawal option, enter the amount, and submit. You should receive cash in your bank account instantly.
Check the transaction history to see the status of your trade, in case you do not get funds in your wallet. If the status is pending, your transaction is yet to get verified. You can chat with customer service and get an instant response if you have an issue to sort.
Dart Africa, Trade like a KING!