How To Invest In Bitcoin In Ghana: Cryptocurrency investment especially Bitcoin has been gaining popularity over the years, and Bitcoin has become more popular within the investment market. During this same time, there has been debate on the authenticity of Bitcoin and other cryptocurrencies–its supporters argue that it is the future of currency, investment, and online identity, while its critics argue that Bitcoin price is too volatile to be considered an investment option, that it might all be a long shot of a Ponzi Scheme.
How To Invest In Bitcoin In Ghana
For a better understanding of the true nature of the Bitcoin marketplace, it is of paramount importance we look at what distinguishes Bitcoin from the traditional fiat currency. People are buying into cryptocurrency hype because the digital currency is designed to thrive on its own without the interference of any regulatory body or central authority, this has opened the technology to new inventions like Smart Contracts, Decentralized apps, Non-fungible tokens (NFTs), and so on. One tailwind, in particular, is the acceptance of Bitcoin by several high-profile individuals and businesses.
What You Need to Invest in Bitcoin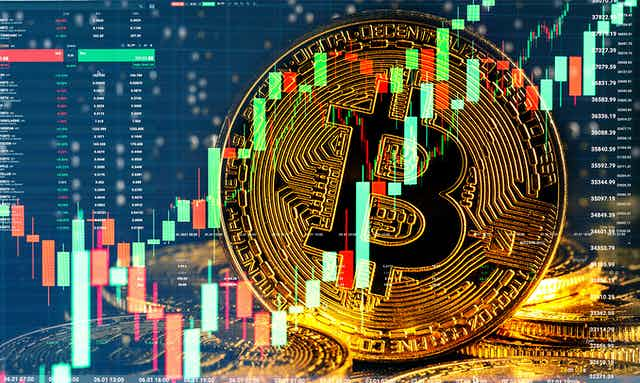 You don't need very much to invest in Bitcoin! You only need the following:
Personal identification documents.
Bank account information.
A secure internet connection.
How to Invest in Bitcoin in 4 Steps
Are you ready to dive into cryptocurrency? You're in luck, as buying Bitcoin is simpler than you might think. Here's how to invest in Bitcoin, in 4 easy steps:
Sign Up With A Bitcoin Exchange.
Get a Bitcoin Wallet.
Connect Your Wallet to a Bank Account.
Manage Your Bitcoin Investments.
1. Sign Up With A Bitcoin Exchange:
When you want to embark on your Bitcoin investment journey the first thing to do is to determine where you want to purchase the Bitcoin. Most Bitcoin investors use cryptocurrency exchanges. Since Bitcoin is an open-source technology, there is no official Bitcoin Vendor or company, these exchanges are the middleman of cryptocurrency investing, just like stock brokerage is to stocks.
You need to decide from the pool of exchanges if you want to purchase your Bitcoin from a crypto exchange platform. Here are a few of the most popular options:
Coinbase: A very popular crypto exchange that insures losses in the event of a security breach or fraudulent transfers
Binance: Founded in 2017, Binance is a crypto exchange with a strong focus on altcoins
Gemini: Launched in 2015 by Cameron and Tyler Winklevoss, Gemini offers services for casual and veteran Bitcoin investors with different user interfaces and fee structures for both
Bitfinex: The longest-running cryptocurrency exchange that's optimized for advanced traders and lenders.
Unfortunately, you can't connect your bank to this exchange platform because of the government ban that is prevalent in most African countries, don't panic there are still ways to use these exchanges without linking them to your bank.
2. Get a Bitcoin Wallet
Crypto Wallets are where your Bitcoin and other cryptocurrencies are stored, some crypto exchange offers crypto wallets when you sign up with them while some don't. There are two types of wallets you can get: a "hot wallet" or a "cold wallet."
A hot wallet is a wallet that is connected to the internet and it is mostly provided by your cryptocurrency exchange or by a wallet provider. Hot wallets are convenient compared to cold wallets that are not connected to the internet because it allows you to use your Bitcoin on the internet.
Examples of hot wallets: Binance Wallet, Trust Wallet, MetaMask, Mycelium, and so on.
Some popular cold wallets: Trezor and Ledger Nano.
If you're only going to purchase small amounts of coin, then you might be fine using a hot wallet with an insured crypto exchange. But if you're going to be trading large amounts of coins, it is advised you use a cold wallet as it is more secure.
3 . Connect Your Wallet to a Bank Account
Normally, when you sign up with a crypto exchange platform you can connect your local bank account or Debit Card to buy and sell Bitcoin, however, the government has restricted banks from operating with crypto exchanges, so this is not possible if you are in Ghana. You can always use the peer-to-peer platform to buy Bitcoin and use provincial exchanges like Dart Africa to sell them when you want to. More on how to sell Bitcoin on Dart Africa.
4. Manage Your Bitcoin Investments
After you have purchased your bitcoin you can now make different investment decisions to make a profit or just keep the Bitcoin in your wallet till the price goes above the amount you purchased it for.
You can sell your Bitcoin on Dart Africa by following the step below;
Log in to your account with your credentials. Or create an account if you don't have one.
Click on the toolbar icon ( three straight vertical lines on the top left corner). You will see this on your account dashboard.
Click on Sell Coins.
Select BTC as your preferred coin option in the coin column.
Enter the volume of BTC you want to sell, and the corresponding USD and Naira amount will be displayed in columns. Note: the minimum dollar price of BTC or any cryptocurrency you can sell is $20.
Click on sell coins now.
A wallet address will be provided coupled with a QR code. You can send the BTC amount you selected from the step above by manually inputting the address or by scanning the QR code. Your Dart Africa wallet will be credited immediately after the Bitcoin transaction is confirmed by our system.