How To Sell DAI For Naira: DAI is an Ethereum-based stable coin whose issuance and development are overseen by the Maker Protocol and the MakerDAO decentralized independent organization. Stable coins are part of the ever-evolving crypto ecosystem, they are predominantly used as a cost-efficient and practical way to transact in cryptocurrency by crypto investors.
They form a channel between popular volatile cryptocurrencies like Bitcoin and Ethereum and stable real-world assets, like fiat.
A Stablecoin is a type of cryptocurrency that is pegged to a more stable asset as a basis for its value. Most commonly, stablecoins are linked to a fiat currency, such as the United States dollar, but they can sometimes have their value linked to other cryptocurrencies and sometimes precious metals. Stablecoins are relatively less volatile compared to other cryptocurrencies like Bitcoin which can have a 10% change in value either upward or downward within a day.
There are different types of stablecoins and Dai happens to be the second-largest decentralized stablecoin by market capitalization with a live market cap of $8,939,290,611. Tether (USDT) is the first and largest stablecoin and it was created in 2014. While DAI is soft-pegged to the United States dollar and cryptocurrencies deposited into a smart contract vault when DAI is minted is used as collateral. Tether, on the other hand, has most of its assets in cash and cash equivalent, short term deposits and commercial paper according to its website i.e for every USDT, Tether should have in hand a dollar.
USD Coin is another well-known stablecoin, launched in 2018. USD Coin is pegged to the U.S. dollar and short-duration U.S. Treasuries with a circulating supply of $49 billion, according to Circle
All the crypto coins mentioned above can be sold on the Dart Africa exchange platform. Dart Africa is the best online platform to sell your DAI in Nigeria. Although there are lots of Cryptocurrency exchange platforms online, however, getting one that is reliable like ours is hard.
Why Dart Africa – How To Sell DAI For Naira
We have the highest exchange rate for your cryptocurrencies in the exchange market, so the maximum return is guaranteed when you trade with Dart Africa. You can easily check the current rate for DAI using Dart Africa's rate calculator. Our App is available for download on both the Play Store and the App Store.
Dart Africa's website and mobile apps are properly designed, and a good User Interface and User Experience practice has been implemented throughout the platform with the hope of making your experience on our platform a splendid one. The Mobile apps and website are designed so that both amateur and professional crypto traders can easily sell their cryptocurrency.
Payments are automated, so you will receive your payment within a few minutes of sending your cryptocurrency to the provided address when you trade with Dart Africa. There is a 24/7 customer support system to attend to any issue you encounter on the platform.
To sell your DAI, you must first create an account on Dart Africa. Make sure to use a valid email address and phone number. With just this account you can sell your DAI or any other Cryptocurrency listed on our platform.
How to sell your DAI on Dart Africa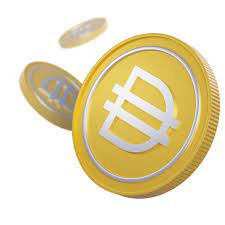 Follow the steps below to trade your cryptocurrency:
Go to their website, Dartafrica.io
Click on sell now on the top-right corner of the homepage
Click on sign up here to create a new account if you don't have an account with them.
Fill in all the required details in the columns provided. The details include preferred username, valid email address and phone number, password, and nationality.
Read and agree with our terms and conditions.
Click on create an account.
Immediately you click on create an account, you will receive a verification email from Dart Africa to the email provided.
Log in to your account with your credentials.
Click on the toolbar icon ( three straight vertical lines on the top left corner). You will see this on your account dashboard.
Click on Sell Coins.
Select DAI as your preferred coin option in the coin column.
Enter the volume of DAI want to sell, and the corresponding USD and Naira amount will be displayed in columns. Note: the minimum dollar price of DAI and any cryptocurrency you can sell is $20.
Click on sell coins now.
A wallet address will be provided coupled with a QR code. You can send the DAI amount you selected from the step above by manually inputting the address or by scanning the QR code. You will be credited immediately after payment is confirmed.
Keep reading HOW TO TRANSFER BITCOIN TO MOBILE MONEY