Acquiring a loan in this age has been made easier by technology. You can now apply for a loan right from your phone and get approved in a matter of minutes. Perhaps you've heard about Newcredit loans but are wondering, "Is NewCredit Legit Or a Scam?" or "What Are The Requirements To Borrow?" If so, you're in the right place.
We will help you know if the Newcredit loan app is the right choice for you and if it is legit. So, without wasting time, let's dive straight in and get started!
About NewCredit App
Newcredit Loan is an online lending platform in Nigeria that offers convenient access to personal loans, business loans, and other financial products. Its user-friendly app enables borrowers to swiftly apply for collateral-free loans, providing a versatile solution for individuals seeking financial aid. Covering a loan range of N5,000 to N500,000, the platform provides borrowers with adaptable and competitive loan options tailored to their specific financial requirements.
One more limitation of Newcredit Loan is that its website lacks comprehensive information about its services. The sole action possible on the website is to download their app.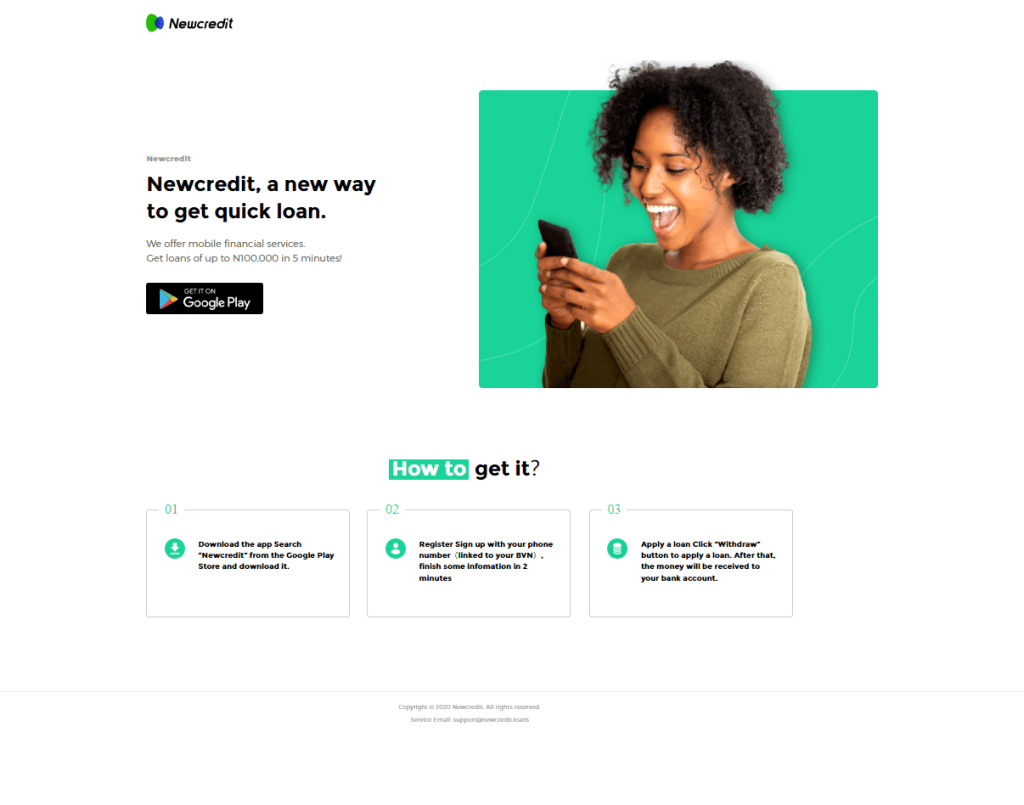 What are the requirements to borrow a loan?
Before you can borrow a loan on the NewCredit platform, you must meet the following requirements:
1. You must be a citizen of Nigeria or a Legal Resident.
2. Be between the ages of 18 and 55 and have a valid source of steady monthly income.
3. You should be willing to link your valid ATM card to your NewCredit account and give details of your next of kin.
4. Your credit score should be good and you must have no outstanding loans from any other lender.
The legal status of the NewCredit App can't be confirmed at the moment, while there have been no reports of gross misconduct by the organisation, there is also no record of it being an approved loan provider in Nigeria. NewCredit is not on the list of approved loan merchants by FCCPC.
Note that an unregistered loan platform is likely a disaster waiting to happen because they are not guided by rules set by governing bodies since it is technically not part of the industry.
What is the NewCredit loan interest rate?
NewCredit claims to have a low interest rate between 4% to 24% monthly, and an APR of 24% to 56%. However, customers have complained about high interest rates in the app review on the Google Play Store. Interest rates are a critical factor to consider when taking out loans on any platform.
Also, note that the interest rate on your loan increases every day. Hence, you should try as much as possible to pay back your loan on time if you choose to borrow from NewCredit.
Also Read: Easyloans Review: Important Things to Know About the Loan App

What To Do When Loan Sharks Harass You
The Socioeconomic conditions in Nigeria have made room for loan sharks to operate almost freely in the country and one thing they are known for is borrowed harassment. If you are been harassed by a loan shark, here is what to do;
Stay Calm: Loan sharks often send messages to their victims to get them provoked and exploit their vulnerability. They view the interaction as an avenue to manipulate individuals and gain an upper hand. it is important to remain composed in such a situation. You have to remain calm and maintain a stand to prevent them from exerting undue pressure on you.
Report to authorities and seek legal advice: It is understandable that many Nigerians may not have what it takes to seek legal advice. However, taking this step can reduce the level of loan sharks harassing you. A legal practitioner can get a court order that stops the loan shark from harassing you.
Avoid meeting loan sharks: Many loan sharks schedule meetings with their victims, it is best to avoid meeting them and if you want to, do it in a public space for security reasons.
Lastly, avoid collecting loans from loan sharks so they won't harass you.