Years before now, putting up the title "bank loan without collateral in Nigeria" would have seemed unbelievably ridiculous. Fast forward to a few years later; there are now various platforms that give out loans to people without collateral.
This statement acknowledges the presence of various loan organizations in Nigeria, with a notable prominence of financial technology companies in the lending sector. Evidently, traditional banks have recognized the necessity to adapt and alter their approach to align with the changing landscape.
FastLoan is a microloan processing application offered by Fidelity Bank Plc. This application enables swift loan disbursement, typically within a mere 2 minutes, and offers hassle-free loan repayment options, all without the need for extensive documentation, collateral, or in-person bank visits.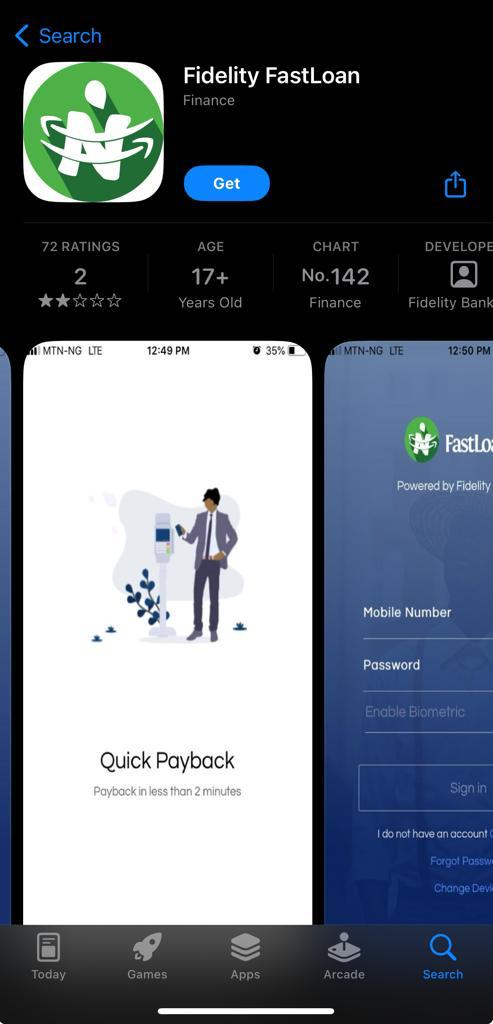 Fidelity Fast Loan App Review
Fidelity Bank is one of the fast-rising commercial banks in Nigeria and its Fast Loan app is just a branch of the service the bank offers. So the platform is legit and approved by the appropriate governing authority in Nigeria.
The Fidelity Fast Loan app seems to be available only on the Apple Play Store and it has a rating of 2 stars out of possible 5. So the app is not that impressive but it seems to be functional.
However, it is worth mentioning that the platform seems to have a problem with sending OTP (One-time password) as the two most current reviews on the App Store point to this issue.
03/27/2023
"Don't bother downloading, dear Sir/Ma
Opt, sorry, OTP na war for una….. Maybe una go send am tomorrow sha, on God"
05/16/2022
"Fake fidelity loan app
Your loan app is fake… you can't send the OTP code"
Different Types Of Loans Offered By Fidelity Bank
Fidelity Loan On Account Turnover (FLOAT): this service is for current account holders who have an existing relationship with the bank.
Fidelity NYSC Loan: This loan service is for serving members of the National Youth Service Corps (NYSC) to meet their financial needs before receiving monthly allowances.
Fidelity Point of Transaction (POT) Loan: is a short-term loan designed for Fidelity Bank customers for immediate completion of their financial transactions initiated on ATM, Web, Point of Sale (PoS)
Also Read: Is Zedvance Limited Legit?

Conclusion
Before applying for a bank loan, we advise conducting thorough research. In addition to the information we've supplied, it's important to stay informed about these banks to determine which platform aligns best with your needs.