In this post, we will review and provide information about the Nairabox loan app. The Nairabox loan platform claims to be an instant loan app that gives instant loans to Nigerians.
About Nairabox
Nairabox claims its mission is to improve the financial health of everyday Nigeria. And also provides timely and affordable loans to cover their financial needs and make opportunity and dream ready. These claims are all false, as we have discovered that Nairabox is a fraudulent platform.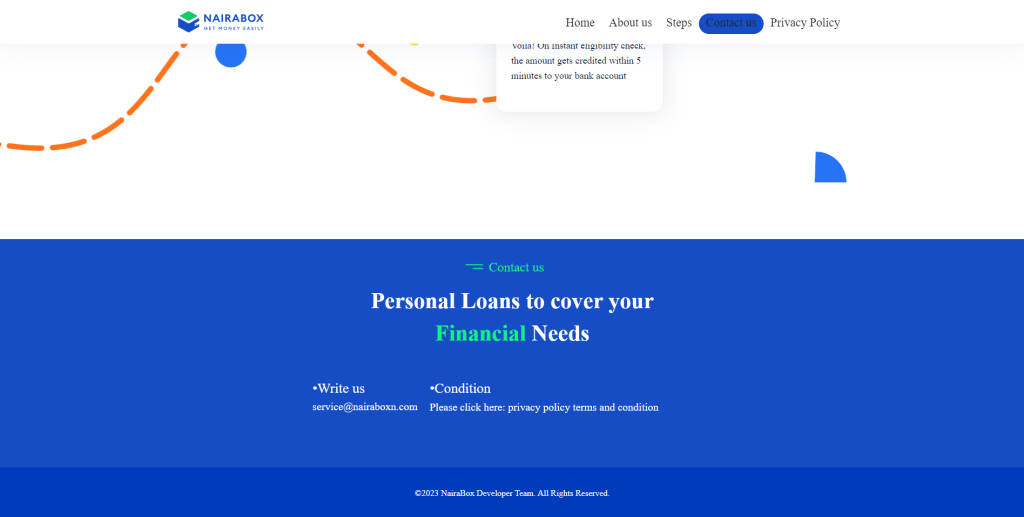 The mobile app is no longer on the Google Play Store but the website is still up.
Is the Nairabox loan legit?
No, Nairabox does not provide loans to its customers. The app exhibits typical characteristics of a scam application. It solicits upfront payments and redirects users to other money lenders. Many of the reviews on the Google Play Store for this app are likely fake, as they do not originate from genuine users. These fake reviews often give the app high ratings.
Furthermore, the address listed on the app is fake, and there is no functional developer contact provided within the app. These red flags strongly suggest that Nairabox is not a legitimate or trustworthy platform.
The Nairabox loan app should not be confused with Nairabox.com, the latter is a legit app and website that serves as a payment gateway for movie tickets and other services.
How To Detect A Fake Loan App
To ensure your safety, it is advisable to select a loan platform from the list of 173 platforms recently licensed by the Federal Competition and Consumer Protection Commission (FCCPC). The FCCPC's intervention was prompted by the proliferation of illegal lending apps, and the approval process ensures that these lending apps are legally permitted to operate nationwide. These approved platforms are obligated to adhere to industry standards, promoting ethical operations for the benefit of all users. You still have to look out for these red flags just in case;
KYC and BVN Information: It's normal for loan apps to request Know Your Customer (KYC) information, including your BVN (Bank Verification Number). However, be cautious if an app asks for upfront payments or processing fees, as this is often a red flag for a scam.
Customer Reviews: Always read reviews from other customers on platforms like the Google Play Store or dedicated review websites before downloading any loan app. Genuine user experiences can provide valuable insights.
Also read: Is Cashpro Loan App Legit?

Contact Information: Check if the app provides a contact phone number, and ensure that it is functional. The absence of contact information or a non-functional phone number can indicate potential issues with the app's legitimacy.
It's important to be vigilant and cautious when dealing with loan apps, especially regarding reviews on the Google Play Store. Many of these apps may pay spammers to write fake reviews, often from foreign accounts, with artificially high ratings and no meaningful comments.