Sell ETH For Naira At The Best Rate: Dart Africa is arguably the best place to sell your ETH or any other type of cryptocurrency in Nigeria. Dart Africa has proven to be an efficient cryptocurrency exchange platform and their continuous drive to be top of the market is excellent. Before we dive into how you can sell your ETH for the highest return, let's do a little bit of Cryptocurrency 101 to know the position ETH holds in the market.
As of 2022, ETH is only second to Bitcoin in the cryptocurrency market. ETH is powered on the Ethereum Blockchain technology. The distributed nature of blockchain technology is what makes the Ethereum platform secure, and that security enables ETH to accrue value. ETH can also be called ether or Ethereum.
The Ethereum platform does not only offer ETH, there are dApps ( decentralized apps), smart contracts (Smart contracts are self-executing contracts with the terms of the agreement between buyer and seller being directly written into lines of code on the blockchain network) and the latest world of NFTs. 
Difference and similarities between ETH and BTC
Ether is only second to BTC in the cryptocurrency market-cap index, so a comparison between these two is only natural.
However, there are similarities between Ether and bitcoin; each is a digital currency stored and traded online using different types of cryptocurrency wallets. Both use the online distributed ledger technology known as the blockchain. Both of these currencies are decentralized meaning there are no central regulatory authorities in charge.
The major difference between ETH and BTC is that Bitcoin is designed to primarily serve as an alternative to traditional currencies and hence a store of value and a medium of exchange. Ether or ETH on the other hand is a value for the applications programmed on the blockchain this includes smart contracts, Defi ( decentralized Finance) and NFTs. The primary purpose of ETH is not to substitute traditional money but rather to facilitate and monetize the activities of Ethereum smart contracts, Defi and NFTs.
The Ethereum ecosystem has experienced a tremendous increase over the years, thanks to their various projects like art and collectables ( non-fungible tokens or NFTs), dApps in areas like finance, gaming and technology. The ETH increase by 510% in market cap as of Nov. 29, 2021, making it about one-half of BTC's $1.08 trillion. This is from its previous one-tenth value of BTC's market cap in 2020.
Where to sell your ETH for Naira – Sell ETH For Naira At The Best Rate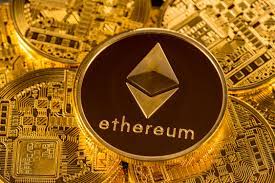 If you want to sell your ethereum on an online cryptocurrency exchange platform, Dart Africa is the best place to go. Dart Africa has the highest rate for your ETH coin in Nigeria and payment is made within minutes of confirmation.
Dart Africa is a fully automated cryptocurrency exchange platform so payments are automatically made within minutes of sending your ETH to the wallet address provided by them. The equivalent naira amount of your ethereum will be sent to your Nigerian bank account of your choice. You can check the exchange rate with Dart Africa's rate calculator.
To sell your ethereum cryptocurrency on Dart Africa, you must first create an account using your valid email address and phone number. After creating an account, you become eligible for the Dart Africa crypto wallet and can trade as much as you want.
How to sell your ethereum
Dart Africa's website is an amazing one, you will be wowed by the ease of navigation and the beautiful aesthetics. The Cryptocurrency platform is straightforward to use itself as it only takes a few clicks to set up your account and start exchanging without assistance. Follow the steps below to sell your Ethereum:
Click on sell now on the homepage
Click on sign up here to create a new account with us.
Fill in all the required details in the columns provided. The details include preferred username, valid email address and phone number, password, and nationality.
Read and agree with our terms and conditions.
Click on create an account.
Immediately you click on create an account, you will receive a verification email from Dart Africa to the email you submitted. Dart Africa uses the verification email to ensure your safety and prevent fraud occurrences.
Now that you have an account with us; (Note all the steps above can be skipped if you already have an account with us)
Log in to your account with your credentials.
Click on the toolbar icon ( three straight vertical lines on the top left corner). You will see this on your account dashboard.
Click on Sell Coins.
Select ETH as your preferred coin option in the coin column.
Enter the volume of ETH you want to sell, and the corresponding USD and Naira amount will be displayed in columns. Note: the minimum dollar price of ETH or any cryptocurrency you can sell is $20.
Click on sell coins now.
A wallet address will be provided coupled with a QR code. You can send the ETH amount you selected from the step above by manually inputting the address or by scanning the QR code. You will be credited immediately after payment is confirmed.
Sell ETH For Naira At The Best Rate – Fastest Platform To Sell Bitcoin In Nigeria