African startups are actively promoting the acceptance of cryptocurrencies as legitimate mediums of exchange and stores of value. For instance, BuyCoins, a Nigeria-based company, introduced Sendcash, an online platform enabling direct Bitcoin remittances to Nigerian bank accounts. This initiative reflects the growing trend of integrating cryptocurrencies into mainstream financial services across the continent.
In this post, we will take a look at Sendcash
An Overview of SendCash
SendCash is a digital platform that allows you to make quick and affordable fund transfers to and from Nigeria. The platform allows you to receive foreign currency directly to your account at a cheap exchange rate. Also, you can send money from Nigeria to over 80 countries worldwide. The Helicarrier group launched SendCash in 2020 to facilitate seamless cross-border transfers.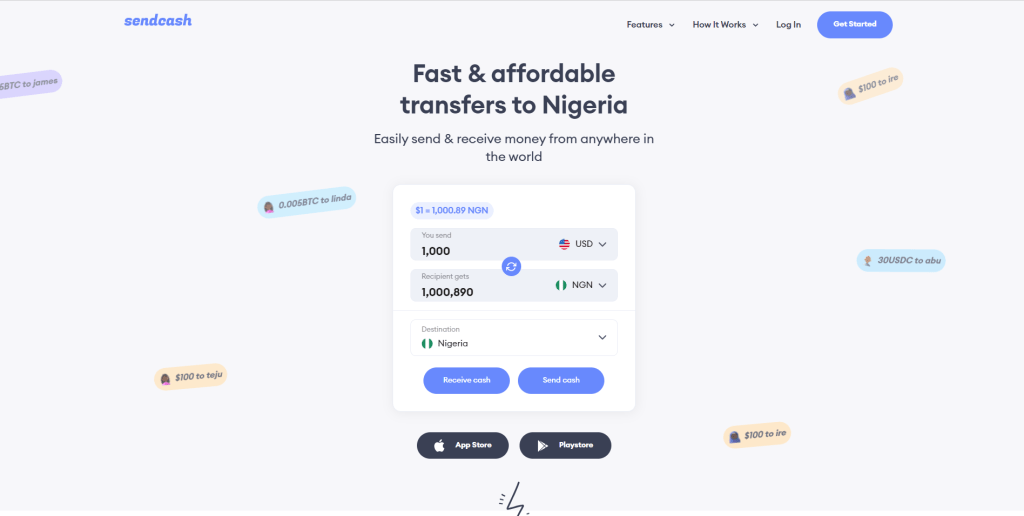 How Sendcash Works?
Sendcash leverage, the borderless capability of cryptocurrency to transact funds on its platform.
On Sendcash, the recipient doesn't need to interact directly with Bitcoin. For instance, Mathew in Texas, United States, can send Bitcoin to a wallet address. Meanwhile, Adekolarin in Lagos state, Nigeria, receives a naira credit alert, simplifying the process for users and making cross-border transactions more accessible and user-friendly.
With Sendcash, it is like you are selling Bitcoin on the platform, but instead of receiving payment, you transfer it directly to someone. Sendcash claims this happens within 5 minutes on the platform.
Sendcash has a built-in limitation: the maximum amount that can be credited to a receiver's account per day is the naira equivalent of $1,000. Even if a sender attempts to send more, only the naira equivalent of this upper limit will be accessible to the recipient each day. This restriction ensures a controlled and secure transfer process.
Is Sendcash Legit or Scam?
Sendcash is a legit platform to send and receive money in Nigeria from anywhere in the world. They boast of a competitive exchange rate and fast transactions. The Sendcash app has received ratings of 3.8 stars on Google Play and 4.1 stars on the Apple App Store, indicating a decent user satisfaction level. The app's review section includes both positive and negative feedback, but the majority of reviews are positive. It is advisable to read through these reviews before choosing the app, as they provide insights into the user experience and can help you make an informed decision about using the platform.
Also Read: Full Review: Is Instarem Legit?

Sendcash Features
– Send Money To Nigeria.
Whether you are an employer outside Nigeria or you have family and friends within the country that you want to send money, Sendcash is an ideal platform for you. Sendcash offers multiple payment methods, including debit/credit cards, Bitcoin, and USDT. Best of all, your recipient will receive Naira in their bank account within minutes.
– Receive Money From Outside The country.
Sendcash makes it very easy to receive money from anywhere in the world if you are in Nigeria. All you have to do is create a payment link that contains your bank details and share it with the person sending you money.
– Stash Money In a USD Wallet.
You can't save funds in your USD wallet on Sendcash.