Trade Your Bitcoin In Nigeria: Cryptocurrency is still considered to be in its emerging state by many experts because of the potential that can still be unpacked in the sector.
However, most cryptocurrency stakeholders have their take on the sector already, buy crypto coins, hold value in cryptocurrencies, send and receive cryptocurrencies and sometime use crypto assets for purchases, this is what most everyday users of cryptocurrencies use it for and the crypto market in Ghana and Nigeria is no different There are various ways to trade your cryptocurrency for cash and this article aim to explain the easiest one of them all.
Bitcoin is like the trendsetter in the cryptocurrency market, other crypto coins including NFTs follows the price direction of the Bitcoin market. Bitcoin is the first successful attempt at creating a decentralized digital token i.e. the first cryptocurrency and most crypto assets still use the technology used by Bitcoin, this is why Bitcoin is one of the "Big-guys" in the crypto world.
Trading your Bitcoin used to be an easy affair before the government placed a ban on it in Nigeria, you just had to place a withdrawal request on your Binance account or any other international crypto exchange platform you are using, and the Naira equivalent will be sent to your account in no time, the government ban has put an end to this withdrawal method. To use say Binance, you need to understand how P2P cryptocurrency exchange work.
You can also use an over-the-counter crypto exchange service like Dart Africa. Dart Africa is a seasoned cryptocurrency exchange platform in Nigeria and Ghana.
About Dart Africa

Dart Africa is a trusted cryptocurrency exchange platform characterized by its favourable exchange rate for selling cryptocurrencies and its fast payment service. With a focus on customers' ease and ultra-fast payment time, Dart Africa stands out from other OTC crypto exchange platforms.
Dart Africa offers a swift payment gateway thanks to its fully automated trading platform which allow users to trade not only BTC but some other crypto coins seamlessly. Payments to customers are processed within a few minutes, once the cryptocurrency transaction is confirmed the corresponding Cedi or Naira amount will be sent to your account. Dart Africa has proven to be a fast and reliable crypto exchange platform over the years, hence you can trust them with your BTC.
Here is an article about the fastest crypto trader in Nigeria.
Dart Africa always offers the best trade rate in the exchange market. When you trade with Dart Africa, you can only sell your Bitcoin at the best rate available in the market. You can always check the rates for different cryptocurrencies using Dart Africa's rate calculator.
Cryptocurrencies traded on Dart Africa
Bitcoin
Ethereum
BUSD
USD Coin
USDT Tether
Dart Africa's excellent customer service available 24/7 is characterised by its quick and customer-friendly response to any issue you might have encountered using the platform. The customer service is all-around and available anytime you need them.
How to Trade Bitcoin on Dart Africa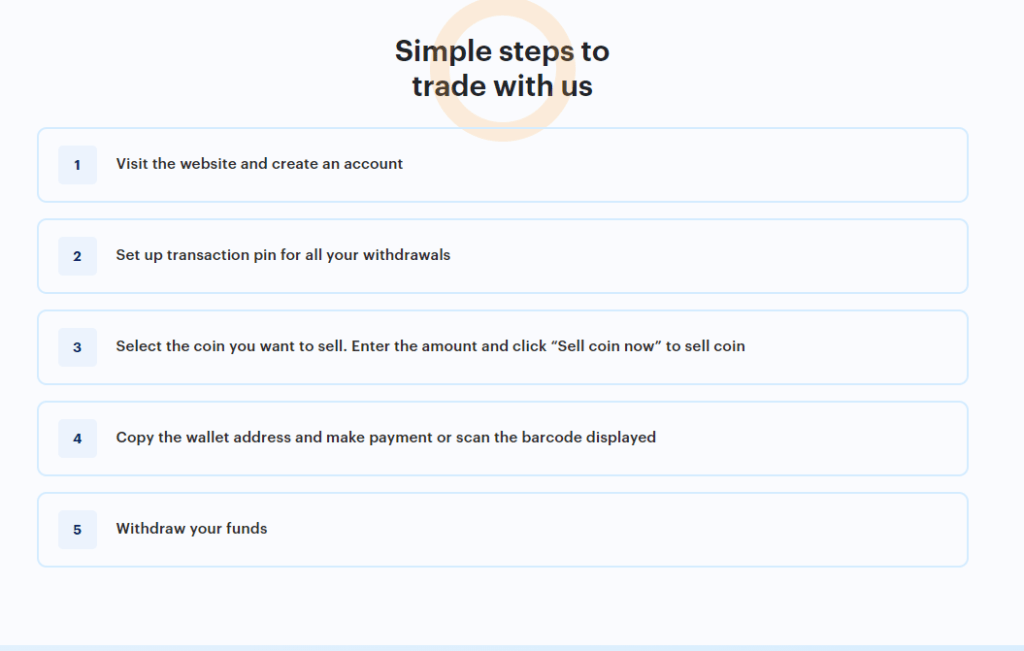 Log in to your account with your credentials or create an account if you don't have one.
Click on the toolbar icon ( three straight vertical lines in the top left corner). This is available on your account dashboard.
Click on Sell Coins.
Select BTC as the cryptocurrency you want to sell in the coin column.
Enter the volume of Bitcoin you want to trade, and the corresponding USD and Naira amount will be displayed in columns. Note: the minimum dollar price of BTC or any cryptocurrency you can sell is $20.
Click on sell coins now.
A wallet address will be provided coupled with a QR code. You can send the crypto amount you selected from the step above by manually inputting the address or by scanning the QR code. You will be credited immediately after payment is confirmed.