bitcoin to bank account in Nigeria: Since the launch of Bitcoin in 2009, there has been exponential growth in the crypto market. The market has grown wider now with the core technology that powers it – Blockchain- being applied to other parts of the economy.
Today, we see Blockchain being introduced to health, government, banking, and finance, as well as other strata of the economy. This growth is not limited to technology alone. Several cryptocurrencies have sprung up, each of them being launched to address problems and contingencies from the last. There have also been rumors that cryptocurrencies, especially bitcoin, can eventually be used for the day-to-day running of the world's economy, thereby replacing fiat currencies.
These rumors have not been practically established. However, there are several theories that prove it will happen. It has been noted that some businesses have started accepting payments in bitcoin, so there is a massive step in the direction of world economy currency.
Bitcoin to bank account in Nigeria
It is, for this reason, several investors, businesses, and individuals have decided to invest and transact bitcoin. Nigerians, in particular, are able to attest to the ease with which they can send money back home to friends and family. Having a bitcoin account eliminates the need for a credit card or a domiciliary account. It is an incredible opportunity for those who do business online or do transactions online. The service, however, requires you to create a bitcoin wallet account.
If you don't have a bitcoin wallet, follow these steps to create one:
How to create a Bitcoin Wallet
Step 1: Visit blockchain.com
The first step in creating your bitcoin wallet is to visit www.blockchain.info/wallet. Blockchain is the most popular cryptocurrency wallet, so it is safe, tested, and trusted. When you visit the page, click on "SignUp" or "Get Started."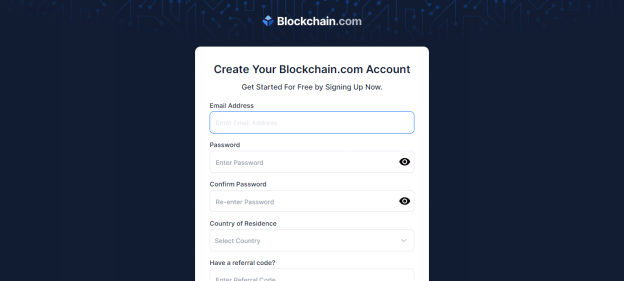 Step 2: Signup
Input your email address, password, and password confirmation (use a combination of letters and numbers for your password). Once you've ticked the terms of service, click "CONTINUE."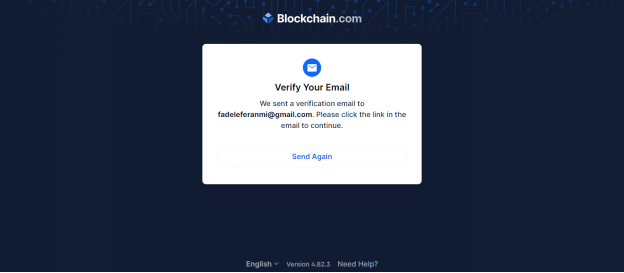 Step 3: Verify your account registration in your mail.
Go to the email address you used to sign up and open the mail you received from Blockchain. Click on "Verify email." You will then automatically be redirected to a page showing that your email has been verified by clicking on VERIFY EMAIL.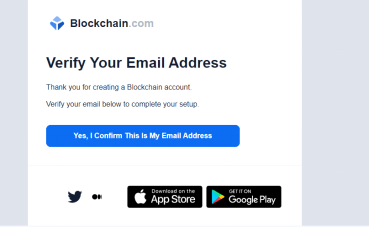 Step 4: Setup your Bitcoin Wallet
Once you've verified your email, log in to your blockchain account.
After logging in, you will be shown a page like this. If you're here, it means your bitcoin wallet has been set up. Just click on "Bitcoin" in your portfolio on the left side of the screen. Then, click on Private wallet (receive). You'll see your bitcoin address there.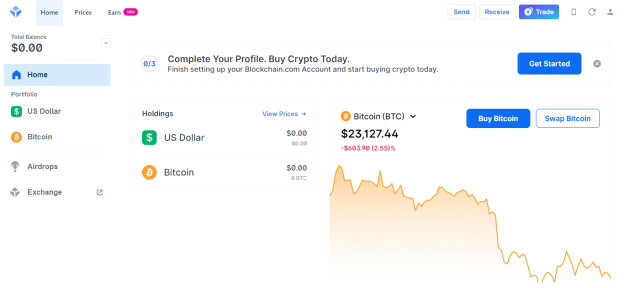 Step 5: Fund Your Bitcoin Wallet
In order to fund your bitcoin wallet, you can use a variety of methods. Among them are:
Alternatively, you can find a person with bitcoins in his account and send him a payment equivalent to those bitcoins. The owner of the bitcoin account will enter the requested dollar amount in your bitcoin wallet ID.
When you want to convert bitcoins into naira, you have to do the opposite. For this, you have to contact online vendors or trading platforms like DartAfrica to run your exchange.
Receive as a gift or as payment for services
This is another way to acquire bitcoin. You can choose to receive bitcoin as a payment option for your services. You can also decide to receive bitcoin as a gift from any location worldwide.
It is necessary to point out that bitcoin is not yet a legal tender in Nigeria, so you j will need to convert your bitcoin to cash before you can spend it. This process has been simplified into two processes.
Convert your bitcoin to cash via DartAfrica
Transfer your cash equivalent to your bank account.
Convert your bitcoin to cash on DartAfrica
DartAfrica is one of the fastest-rising bitcoin exchange platforms in West Africa. It is an amazing platform that provides the best rates for exchange and an easy-to-use user interface that lets you access its services seamlessly.
To get started, follow these steps
Create an account on DartAfricia
Follow this link – dartafrica.io – and click on "Get started." This takes you to a page where you will be asked to sign up.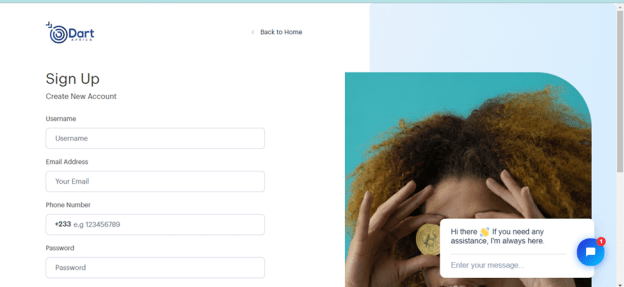 Follow the instructions that have been provided and set up your account.
After creating your account successfully, log in to your account to access your dashboard.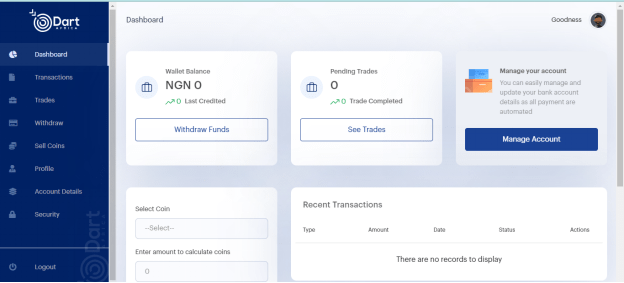 On your dashboard, click on "Sell Coins." Here, you will select the cryptocurrency you want to trade. In this case, select "BTC'. Then fill in the amount of bitcoin you want to sell and check out the naira equivalent of this. When you've done that, you will need to transfer that amount of bitcoin to the bitcoin wallet provided on the platform. You can also scan the QR code provided if you can.
Follow the other instructions given to complete the transaction.
How to transfer your cash to the bank account
After selling your bitcoin, the cash will reflect in your DartAfrica Naira wallet. You will then need to withdraw this money from your naira wallet to your bank account.
To do this, follow these steps
Click on "Withdraw" in your dashboard

Add your account if you've not done that.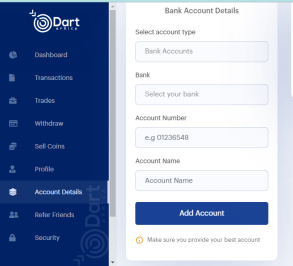 After that, you will include the amount you would like to withdraw and other necessary details requested. Then, click "Withdraw."
DartAfrica has made this process so easy and straightforward that it can be completed in a few minutes. You can trust DartAfrica to give you the best rates on the market at any given time. Trade with DartAfrica today.