Are you a UBA account holder seeking a loan from the bank? This guide will provide you with the correct USSD code for loan applications. With your UBA account, you can apply for a "No Wahala" or a "payday" loan among many others
UBA bank offers diverse loan options tailored for individuals, large-scale businesses, and SMEs aiming for growth. Each loan type has specific features, benefits, and eligibility criteria, which applicants must meet.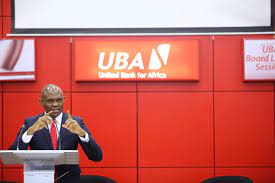 Code To Access UBA loan
The UBA magic banking code is *822#. This code gives UBA account holders in Ghana access to various banking transactions offered including loans. This code does not require you to have internet access, all you need is the phone line that is connected to your UBA account.
Flexi Loan
This product is a consumer loan designed to give easy access to credit facilities to all Public and Civil Servants (55 years and below), who draw salaries through the Controller and Accountant Generals Department (CAGD).
Features
This loan offer is available to both account holders and non-account holders.
Individuals without a provident fund can avail of a limit of up to USD 25,000 equivalent in Cedis, while those with a provident fund can access up to USD 50,000 equivalent in Cedis.
The loan requires no collateral and offers competitive interest rates.
The repayment period is 36 months for customers without a provident fund and 60 months for those with a provident fund.
Additionally, there is an option for loan top-up. Existing customers can easily increase their liquidity by topping up their existing loans. Moreover, if you apply for a top-up, UBA is prepared to take over your loans with other banks.
No Wahala Loan
The No Wahala Loan facility is a mass-market product that offers credit facilities to salaried to enable them to meet personal financing needs.
Features
Tenure: Up to 24 months
Maximum amount: GH₵5,000
Executive Loan
This consumer credit product is meant to enable middle/top executives of well-established companies whose salaries are paid through UBA PLC to meet personal needs like bill payments, holidays, school fees, etc.
One major benefit of this loan is the access loan which can be used to resolve unlimited financial challenges; no equity is required.
UBA Mortgage
The Mortgage Loan is tailored for salary earners working for employers listed on the Bank's approved counterparty list. It assists in partially financing the purchase of residential real estate. This product is aimed at High Net Worth Individuals (HNIs) who possess stable and predictable income sources.
The product is in two variances; Home Financing and Equity Release.
Other financial products UBA bank offers its customers
Besides the loan products above, UBA Bank offers other financial products to its customers. They include:
1. Short-term loans
A set sum with a pre-determined repayment period of up to 12 months.
2. Medium-Term loans
Customers can take advantage of a term commitment that lasts longer than a year but not over 5 years.
3. Overdraft
An overdraft is a flexible credit line that requires repayment upon request. It provides short-term financing solutions for covering working capital gaps, commonly offered on current accounts.

Also Read: How To Transfer Money Between Banks Using Ussd Codes
What are the contact details of UBA Bank Ghana?
For more enquiries on how to get a loan from UBA bank in Ghana or other issues. You can reach out to UBA bank in Ghana through:
Address: Heritage Tower Ambassadorial Enclave Off Liberia Road Ridge Accra P.M.B 29, Ministries Accra, Ghana.
Phone number: +233 (0) 302 634 060
Toll-free number: 0800833833
Email:

[email protected]