The banking industry in Nigeria is an active global player in the industry. The CBN (Central Bank Of Nigeria) has a list of all the Nigerian banks and their sort codes. Sort codes are unique alphanumeric identifiers for Nigerian Banks. They are essential for the proper functioning of all banking transactions in Nigeria.
The Nigerian Financial Intelligence Unit (NFIU) is the government agency responsible for overseeing and regulating the banking sector in Nigeria. The NFIU issued a circular to all banks, emphasizing the obligation to inform their customers with both the bank's Sort Code and Swift Code. If you don't know what your bank's sort code is, this article is tailored for you to figure that out.
What Is A Bank Sort Code?
Sort code has its origin in the United Kingdom and the Republic of Ireland where it was used to route money transfers. In Nigeria, Sort code was used to ease the manual processing of cheques in the early 20th century when it used to be just 2 digits.
In today's age, banks' sort code comprises 9 digits with pairing among the digits that tell specific information about the bank. The sort code typically consists of numbers that serve to identify both the specific bank and the branch where an account is held. This code plays a crucial role in facilitating fund transfers, whether within the same bank from one branch to another or between different banks.
What Are Sort Codes Used For?
For some payment methods, you might be asked to give the sort code for your bank in order to complete a transaction. No two bank branches share the same sort code, hence this can be used as a unique identifier for a particular bank branch. Sort codes are always written on the chequebook issued by a bank. With the proper sort code information, you can determine the bank branch a particular cheque originates from.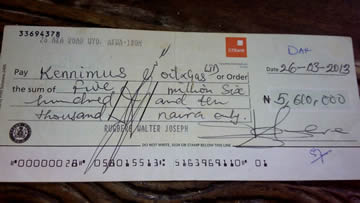 Sort Codes of Banks in Nigeria
Here's a list of banks in Nigeria and their sort codes:
Access Bank PLC: 044150990
Diamond Bank PLC: 063150162
Ecobank Nigeria PLC: 050150311
Enterprise Bank: 84150015
Equitorial Trust Bank Limited: 40150101
Fidelity Bank PLC: 070150003
First Bank of Nigeria PLC: 011152303
First City Monument Bank: 214150018
Finbank PLC: 85151275
Guaranty Trust Bank: 058152052
Keystone Bank: 082150017
Mainstreet Bank: 014150030
Nigeria International Bank (Citigroup): 023150005
Polaris Bank: 076151006
Stanbic IBTC Bank: 221159522
Sterling Bank Plc 232150029
United Bank For Africa Plc 033154282
Union Bank Of Nigeria Plc 032156825
Unity Bank Plc 215082334
Wema Bank Plc 035150103
Zenith Bank Plc: 57150013
It's important to note that the initial three digits represent the actual sort code, while the complete code encompasses the sort code of the bank's head office. Here is a link to the list for all bank branches.

Also Read: What Is The Customer Care Number For Access Bank
How To Get Your Bank's Sort Code?
You can find your bank sort code through any of the following ways:
To find the necessary information, you can either
Open your chequebook and locate the set of three numbers underneath its leaf. In this set, the first number is your cheque number, the second is the bank sort code, and the third is your account number.
Alternatively, you can inquire about the sort code at any official branch of your bank.