Where Can I Sell BTC In Ghana: Ghana, which is one of the fastest-growing African nations is no stranger to cryptocurrency, especially Bitcoin usage. The West African nation is among the several nations getting familiar with crypto assets, especially Bitcoin.
Where Can I Sell BTC In Ghana
Ghanaians have been involved in the trading of Bitcoin to earn a fortune. If you are a veteran or a noob when it comes to cryptocurrencies and you are wondering where you can sell your Bitcoin in Ghana, this article is for you.
The best place to sell your Bitcoin in Ghana is Dart Africa; the best local crypto exchange platform in Africa. When it comes to selling your Bitcoin the first platform you should consider is ours, with our amazing crypto exchange service you won't only get the best value for your bitcoin you will enjoy a stress-free exchange platform that will leave you longing for more.
Best Platform to Sell BTC in Ghana – Where Can I Sell BTC In Ghana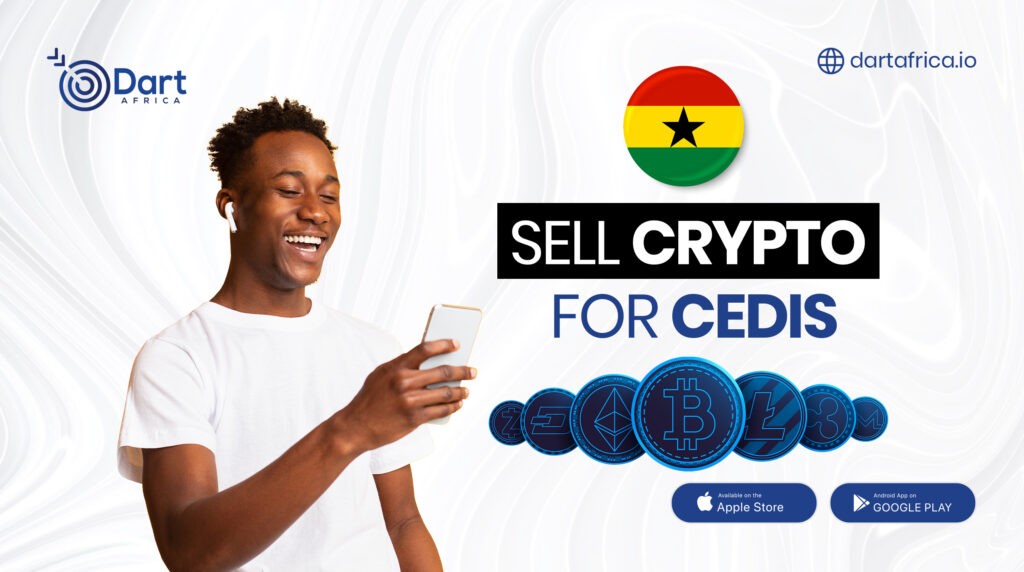 If you are looking for an exchange platform that will give you the best possible return on your Bitcoin, we are the right platform for you. We offer one of the best Cedi to Dollar rates for your Bitcoin, doesn't matter the current condition in the crypto market we always offer the best possible exchange rate for cryptocurrency exchange. You can check the current rate before committing to trade using the coin calculator feature on both our website and mobile app.
The good exchange rate is not the good feature of Dart Africa, you will also enjoy one of the fastest payments time for your Bitcoin exchange. As an exchange platform, we are aware that no one wants to stay hours or days before receiving payment for their cryptocurrency exchange, our platform is automated to disburse payment within minutes of confirming your cryptocurrency transaction. The system provides you with a Bitcoin address to send your Bitcoin, once you do this you will receive payment in your Dart Africa account within minutes.
Where Can I Sell BTC In Ghana
You can access our platform via our website (dartafrica.io) or through our mobile app that you can download on both Apple Store and Google Play Store. Both our website and mobile app have been designed to make it functional for everyone regardless of the trading experience, with our excellent user interface and user experience design, you can convert your BUSD and any other tradable cryptocurrency with a few clicks on both the website and mobile app.
Cryptocurrencies traded on Dart Africa
Bitcoin
Ethereum
Dogecoin
Litecoin
USD Coin
USDT Tether
How to sell your Bitcoin on Dart Africa
– To perform a transaction on Dart Africa you have to have an account with us. Create an account with your correct credentials or just log in if you already have an account. If you are just creating an account a verification email will be sent to the email you provided, make sure to verify your account.
– On your first log in to your account, the system will ask you to create a PIN, make sure you choose a PIN you can remember. This PIN will be used in the future when you want to withdraw from your account.
– Add your bank account details to the account list on your Dart Africa Account.
– You will see a nav menu on the left side of your screen, click on sell coin and choose Bitcoin as your preferred coin for exchange, and the naira value will be displayed.
– Click on start trade and their system will automatically create a wallet address with a bar code, send the Bitcoin to this address and funds will be sent to the Dart Africa account after 2 block confirmations. Note, that you can send any amount to the wallet address provided, their system will credit you based on the amount received.
– Click on Withdraw after payment as being disbursed into your Dart Africa account to send the funds to your bank account. You can check your transaction history to check if the funds have been sent to your bank account.
Things to consider before trading on any platform:
Exchange rate. Make sure the platform you are going with offers the best exchange rate in the market for your bitcoin, Dart Africa does.
Fees. Find out if there are any fees attached to either sending your Bitcoin or receiving your money in your local bank. 
Limits. Check out the Bitcoin and Cedis exchange rates and withdrawal limitations. 
Security. What is the reputation of the exchange platform? Is the platform secure and how serious are they with the security of your data and funds?
Customer service. This is often ignored or overlooked, but it is important to consider their customer support system if something goes wrong. Also, keep in mind the time that they are available. 
Credibility. Look at the perception of the public on the exchange platform by reading user reviews and feedback. It's also a good idea to keep an eye out for negative reviews and observe how the firm responds.
Where Can I Sell BTC In Ghana read also How Much Is 1 Bitcoin In Naira