Double data tariff plan is now one of the latest strategies used by telecom companies to retain and attract customers to their network.
MTN double data plan gets you 2X your data subscription – which means you are getting double value for your money, If N1000 is 1.5 GB, this plan will give you 3GB.
Maybe you have heard of your friends who get a hefty amount of data from MTN and you are wondering how they got it. In this article, we will discuss the tariff plan that gives double data on MTnN and how you can activate it on your line.
Which MTN Plan Gives Double Data?
The MTN Yafun Yafun is a plan that gives you 700% of your recharge every time you buy airtime.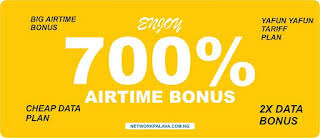 About MTN Yafun Yafun 
MTN Yafun Yafun is a prepaid tariff plan on the MTN network that gives eligible MTN customers a 700% bonus on every recharge to be used for calls and browsing.
Anyways, the 700% bonus you get on every recharge on the MTN Yafun Yafun tariff plan comprises a 400% airtime bonus for calls and a 300% data bonus for browsing.
As of the time this article was being written, MTN's default tariff plan is the Yafun Yafun tariff plan.
This simply means it is the tariff plan that is already preset on all new MTN SIM cards. So, when you buy a new MTN SIM, you'll be automatically subscribed to the Yafun Yafun tariff plan. However, if you are using an old SIM you have to migrate to MTN Yafun Yafun.
How To Activate MTN Double Data On New MTN SIM Card
Probably you just bought a new MTN prepaid SIM, and you are wondering how to double data on MTN. well, you need not worry because we have got you covered because the MTN Yafun Yafun tariff plan is already activated on your SIM.
Can I Activate The MTN Yafun Yafun Plan On An Old SIM?
Unfortunately no. The only way to enjoy the MTN Yafun Yafun Plan is to buy a new MTN SIM.
Some internet folks have claimed a method has worked for them in the past, but this technique is not confirmed. The claim you can migrate to Yafun Yafun with an old sim by dialing *310# > Select the option for "Tariff Plans" > Then, choose the option for "Yafun Yafun".
If you're fortunate enough to find Yafun Yafun on the list of the MTN tariff plan menu, then proceed to activate the plan. Then, consider *310# as your code to migrate to MTN Yafun Yafun.
How Long Does MTN Yafun Yafun Last?
The actual MTN Yafun Yafun plan has a six-month duration. That means you will no longer be able to take advantage of this deal 180 days after purchasing a new MTN SIM card.
Yes, it is gone. Unless you purchase a new SIM, there is no code to migrate to MTN Yafun Yafun once more.
You will, however, automatically migrate to the MTN BetaTalk tariff plan once the Yafun Yafun plan stops working.
Let's see a breakdown of the Yafun Yafun MTN plan validity.
700% bonus on airtime recharge can be enjoyed for 6 months.
A 100% data bonus can be enjoyed for just 4 months.
Also Read: How To Get MTN Transfer PIN

How To Check Mtn Double Data Tariff Balance
Simply dial *312*4# to check your double data balance, A pop-up containing your double data balance will appear on your screen, after which you'll receive an SMS from MTN containing all your data balance including the 100% bonus.