Trade BUSD In Nigeria: Binance and Paxos have launched the fiat-backed stablecoin known as BUSD. Each BUSD token is 1:1 backed by a reserve of US dollars. BUSD intends to offer a more stable cryptocurrency option for investors and traders who want to stay away from the market volatility of digital assets.
By trading volume, Binance is the biggest cryptocurrency exchange on the planet. Introducing BUSD on the Binance platform is a calculated effort to boost cryptocurrency adoption even more. Binance can reach a bigger audience of people who might have been reluctant to enter the digital asset market due to volatility by offering a stablecoin option.
Trade BUSD In Nigeria
BUSD is an Ethereum blockchain-based ERC20 cryptocurrency. It does, however, also support BEP-2. The Binance Chain's creation and transfer of new digital assets are managed by the BEP-2 technological standard.
A blockchain platform created by Binance is called The Binance Chain. Binance can give its users a variety of choices when it comes to digital assets because of its native chain's interoperability with the most widely used smart contract platform. Several wallets and lending services also accept BUSD. This offers the framework required for the widespread adoption of Binance USD.
The Department of Financial Services of New York State (NYDFS) licensed and oversee this stablecoin . This rule, along with routine audits, aids in ensuring that every BUSD token is backed exactly 1:1 with US cash. Investors can use this stablecoin with greater trust thanks to this assurance.
Overall, Binance USD is a stablecoin with versatile features. BUSD has a lot of promise and is supported by the largest cryptocurrency exchange in terms of trading volume.
Binance USD (BUSD) Fun Facts
It has a circulation supply of 16,358,554,490 BUSD coins
Binance USD has a market cap of $16,353,362,691
Developed by Binance & Paxos
Ranked #7 on CoinMarketCap
There is no max supply limit
Where To Trade BUSD For Cash In 2023
Dart Africa:
Dart Africa is a reputable platform for exchanging cryptocurrencies, which is distinguished by its fast payment service and favourable exchange rate for selling cryptocurrencies. Dart Africa differs from other OTC crypto exchange services by putting a strong emphasis on customer convenience and lightning-fast payment times.
You can use our rate calculator feature to check the prevailing exchange rate for types of cryptocurrencies.
Also read: Trade Ethereum For Cash In Ghana
Tradeable Cryptocurrency On Dart Africa
Bitcoin
Ethereum
USDT
USDC
BUSD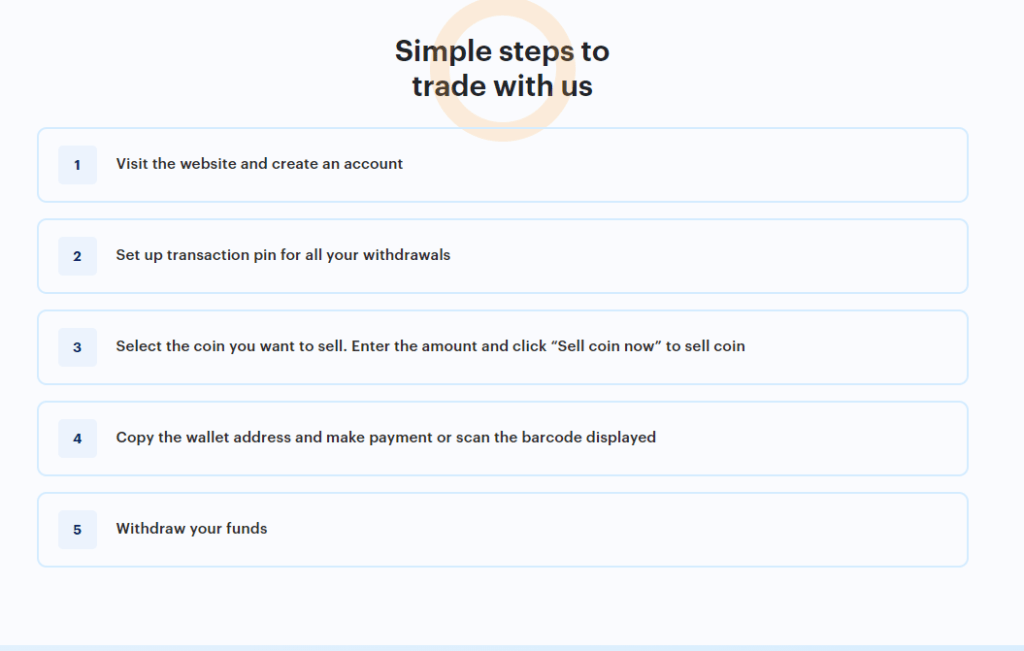 How To Sell Your BUSD On Dart Africa
– To sell your cryptocurrency, you must have an account with Dart Africa. You only need to provide your login information if you are an existing user.
Create an account with a working email address, phone number, and desired username and password if you are new to our platform.
– You will be prompted to create a 4-digit PIN during your first login. This PIN will be used to verify transactions on your account.
– A sell coin interface with a grid structure is available on your account dashboard. Enter the amount in dollars or units and the sort of coin you want to trade. It will be converted to your native currency via the coin calculator (Naira or Cedi). It should be noted that the minimum quantity of cryptocurrency you can trade on Dart Africa is $20.
– The system will give you a wallet address to send your cryptocurrency to after you click "sell coin now," along with the necessary details to guarantee a successful and valid transaction. The quantity of cryptocurrency you send to the particular address will determine how much credit you receive, not the amount you enter into the coin calculator.
– Your account will be credited as soon as our team has confirmed the cryptocurrency transaction. Be aware that the time it takes to complete a cryptocurrency transaction varies depending on the blockchain. For example, whereas a USDT transaction may take two minutes or less to complete, a Bitcoin transaction may take up to fifteen minutes or longer.
How to Withdraw your funds after selling BUSD
It is simple and quick to withdraw money from your Dart Africa account. To take money out of Dart Africa:
Login to your Dart Africa account.
Click on Withdraw in the withdrawal area of the website.
Select "proceed" after specifying the withdrawal amount.
Choose the bank to which you want to send money. If you haven't already, you must add your bank information.
Type in the transaction PIN.
After you confirm the transaction, you will see the money in your bank account.