What is P2P payment and how it works
What is P2P payment: P2P payment is usually known as Peer-to-peer payment or person-to-person transaction. It is a payment structure that allows a person to send money directly to another person without the need for an intermediary. Some of the earliest events of P2P payments are what we see in money transfer apps like Cashapp, Venmo, Paypal, Payoneer, and more. They allow users to receive and send money from their mobile phones through a linked bank account or card.
The fun part about P2P payments is that they offer inter-border transfers and make the process as easy as it can get. Recently, P2P payment systems are now being introduced into many other financial service systems. One particular area of interest is P2P trading in the cryptocurrency market.
P2P Trading in the Crypto Market
The convention in the crypto world was always to own a wallet with an exchange app or platform and send/receive funds to your wallet address. Crypto traders purchase their crypto assets from their exchanges and sell them back for cash on the same or other exchange platforms. There has never been a need for crypto traders to transact with each other besides the random crypto transfer.
However, the issue with crypto adoption in many countries gave up the need to trade crypto between persons. In Nigeria, for example, the Central Bank of Nigeria (CBN) sent a circular on what should or should not be tagged as a legal or illegal transaction. In this circular, the agency specifically stated that Deposit Money Banks (DBMs) and Non-Deposit Money Banks should flag and close down bank accounts that send or receive payment to or from Crypto related exchanges, apps or websites. This restriction came into play in February 2021, and many crypto traders that were unconscious or carefree about the circular paid dearly with their funds locked up.
Seeing all the set traps the CBN staged for crypto traders and exchanges, the crypto community launched what we now know as P2P crypto trading. This form of crypto trading allows crypto traders to buy and sell crypto from other persons over an escrow service. The transactions are well monitored to ensure both sellers and buyers get what they need over the exchange.
However, there are still cases where buyers need to file a dispute against the seller for not delivering funds even when payment has been made. There could be a delay with transferring funds and some other funny businesses behind the scene. Hence, Dart Africa proffers a much more satisfactory crypto exchange service.
What is Dart Africa?
Dart Africa is a crypto exchange service that allows crypto traders to trade crypto for cash; swiftly and easily. There are several advantages to trading crypto with Dart Africa. One significant advantage is its availability in more than one country. At the time of writing this post, Dart Africa offers crypto trading to Ghanaian Cedis (GHS) and Nigerian Naira (NGN). So, if you have been looking for how to trade your crypto assets for Naira or Cedis, you are just a few steps from bringing your dreams alive.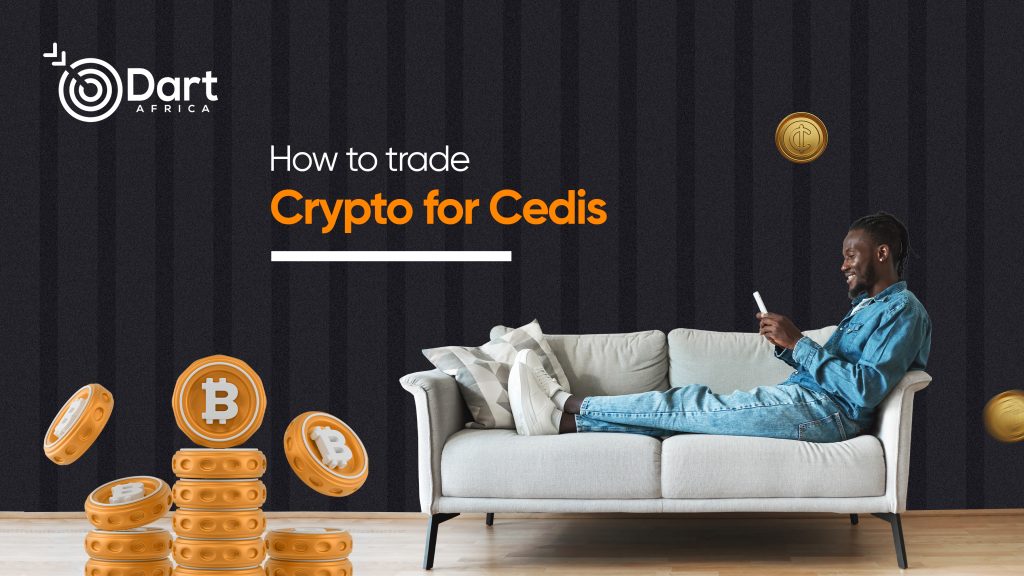 Dart Africa supports more than one cryptocurrency for conversion to naira and cedis. Bitcoin, USDT, and BUSD are some of the top coins that are tradable for cash on the exchange. It is good to know about the exchange, but even better to know how to trade on the exchange. See how to sell coins on Dart Africa.
How to sell Bitcoin, USDT, and BUSD for instant cash on Dart Africa
Dart Africa operates both on a mobile App and a website. Traders can leverage any of the platforms to sell coins for cash in Nigeria and Ghana. To visit the official website for Dart Africa, enter Dartafrica.io on any mobile or PC browser. The App on Google Play Store is available to all Android users. Search for "Dart Africa" on the Play Store, install Dart Africa by FLIP DIGITAL TECHNOLOGIES, and launch the app.
What is P2P payment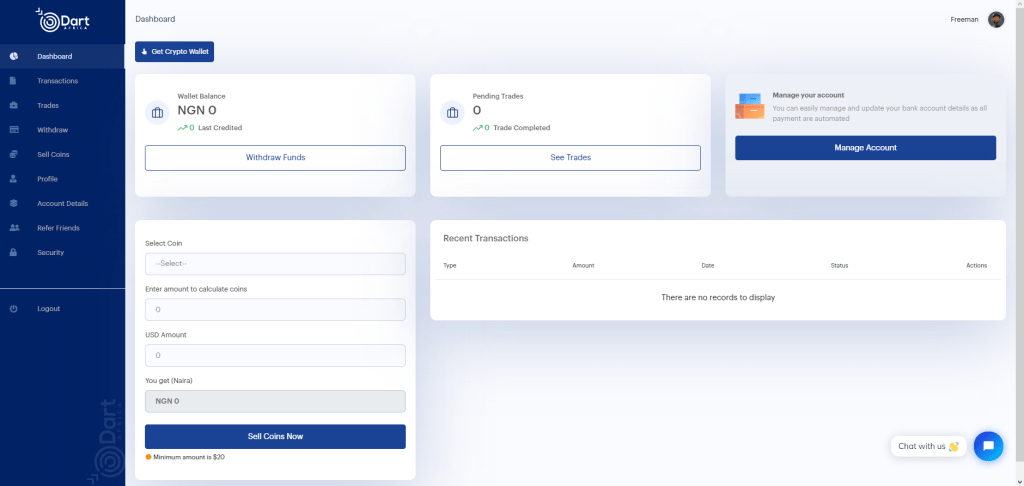 The steps below will guide you to sell crypto for cash on Dart Africa:
Create an account: The process for account creation on Dart Africa is a simple and essential one. All you need is a unique username, email address, country, phone number, and password. To get to the registration page, launch the app or website, click sell coin, and hit sign up. Enter the required details, verify the email address and log in at once.
Sell coin: After Email verification, you can proceed to log in at once. The email verification takes next to no time. Simply check your emails and click the link there to verify your account. Log in and locate the Sell Coin section on the dashboard. Select your coin and enter the amount. The rate will display in your country's currency; check the rate and proceed to submit. Send your coins to the wallet address on display and await payment in a bit.
Withdrawal: The payment will reflect on the Dashboard wallet after two confirmations. Check for the status of the transaction on the transaction history tab. As soon as the payment reflects, hit the withdraw button below the wallet balance, and provide your bank details. Upload details and withdraw to your bank account at once.
What is P2P payment – What is P2P payment